The newest entry on the retro console stage is Evercade, a handheld retro game system aiming to put classic, licensed 8- and 16-bit games in players' hands.
The system is being developed by a team of the same name (Evercade) and is expected to release sometime in Q4 2019.
The team has secured licensing from a number of well-known developers, including Namco, Atari, Data East, and Interplay. Evercade will announce more partnerships in the lead-up to the system's release.
The console's screen is similar in size to the PlayStation Portable's screen, at 4.3 inches, and its rechargeable battery should last about four hours before needing a recharge. The Evercade can also connect to a TV via an HDMI cable and supports 4:3 and 16:9 screen ratios.
Like many other retro systems currently available on the console market, the Evercade relies on emulation to re-create the games as near as possible to their original form. There are a few key differences, though.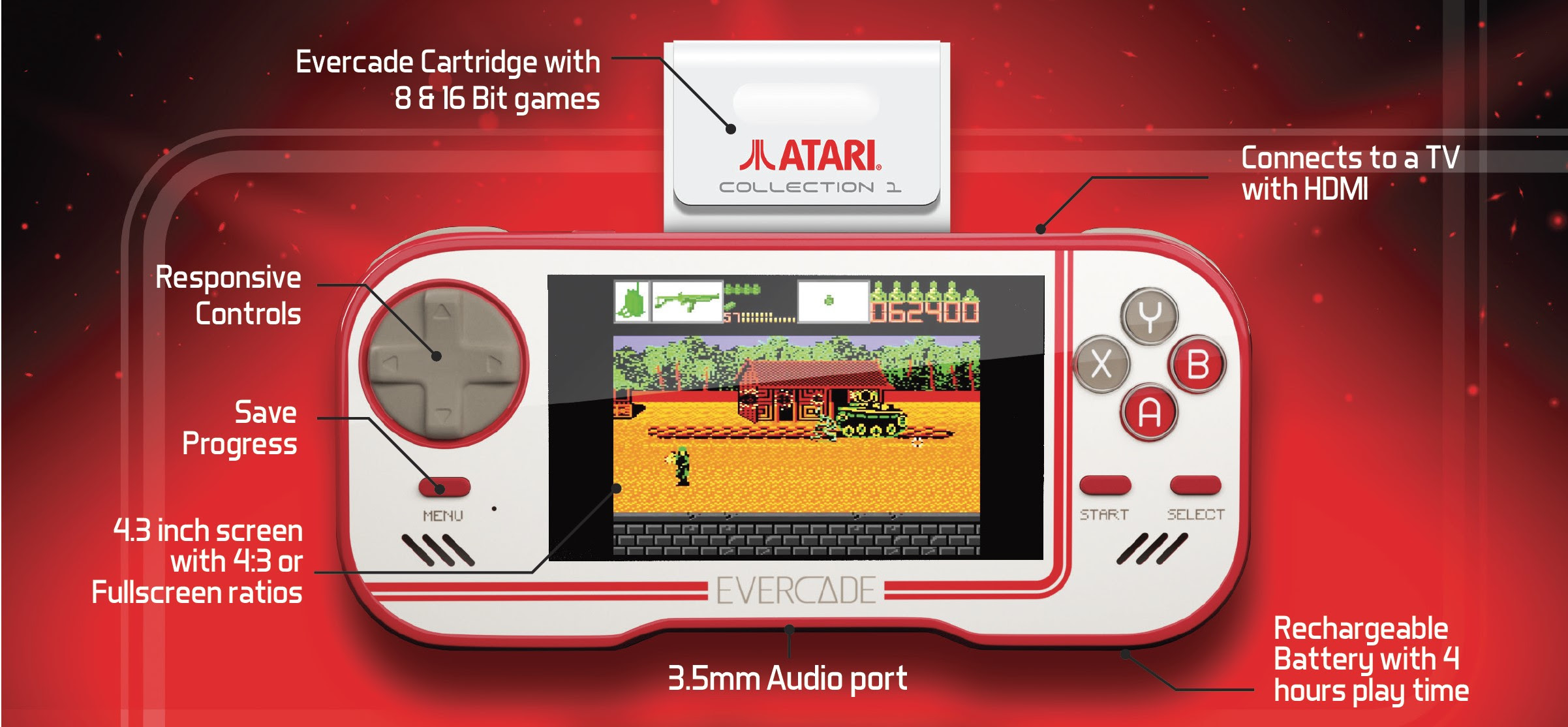 The Evercade team is using licensed versions of the games' original codes, when possible. These games will be compiled in collections on actual cartridges as well, unlike, say, the digital emulation-only SNES Classic Mini. The cartridges are Evercade's own, unique design, which means no inserting a homemade SD card with ROM dumps. How many games each will include ranges from six to 20, depending on the specific collection.
That being said, Evercade mentioned plans are in the works to allow developers of retro-style games to work with the company and potentially have their games included on an Evercade cartridge.
Some of the games players can expect on the console are Atari classics like Asteroids and Ninja Golf, Namco Museum games like Pac-Man, and Interplay's Earthworm Jim games and Claymates, among many others. A full list of the first wave of games can be found here, with more to come after launch. All games will support save states too.
The Evercade will come in two forms: the Standard edition, which includes one cartridge and is priced at $79.99, and the Premium edition, which includes three cartridges and will cost $99.99. Additional cartridges will be available for $19.99. However, it isn't clear yet which cartridges will come with either version or if the consumer can choose them.
2019 is certainly shaping up to be the year of the classic retro revival. From Anstream's retro streaming service to Hyperkin's new N64 mini-console in the works, and Atari's own classic-meets-modern console, it seems the trend begun with the NES Classic Mini is showing no signs of stopping.
About the author