This year's E3 featured a series of exciting announcements by Square Enix, including a new NieR game that will be a collaboration between Square Enix and Platinum Games. Currently its official title has yet to be announced, so it's being referred to as 'NieR New Project'.
NieR, originally designed to be a spin-off of the Drakengard series, was an action RPG developed by Cavia and published by Square Enix, released for the PS3 and Xbox 360 in 2010.
Square Enix main staff members – director Taro Yokoo, producer Yousuke Saitou, and composer Keiichi Okabe – returned from the previous NieR game to work with Platinum Games character designer Akihiko Yoshida and game designer Takashi Taura.
Below is a translation of select parts of the NieR New Project game development team interview from E3 2015.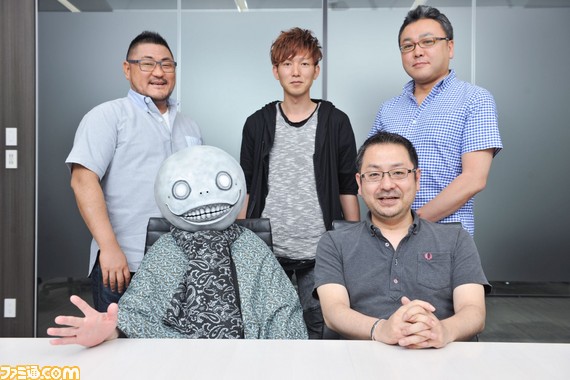 Q: 5 years have passed since the launch of the preceding work NieR. Can you first tell us what led to the start of this project?
Saitou: From the very start we always had the desire to do something new with the IP NieR. At first, because there are many people who have not yet played NieR, there was talk of adding some components and creating a PlayStation Vita version.
Yokoo: ILCA President Takuya Iwasaki (who was serving as company director for Cavia when developing NieR) told me "I'd like to continue working with Saitou-san. Like on NieR". At the same time Iwasaki was serving as company president for a company called ORCA, and so I suggested plans for a PS Vita version. That was around March 2011. However, ORCA got involved with work for Dragon Quest X, and the PS Vita version was left unrealized.
Saitou: Then Platinum Games expressed a desire to do something together. And so because there had been a five-year-long gap, we thought if we're going through all the trouble why not make something new, and so we approached Platinum Games with talk of a new NieR work.
Yokoo: And so Saitou-san asked me "Why don't we make a new NieR work for the next generation machine?" which pretty much led us to this point.

Actually, right after the previous work was launched I told the at-the-time assistant producer Yuuki Yokoyama "I want to make a sequel to NieR," but I was told "It's not really selling well so a sequel would be tough, wouldn't it?" and so I gave up on it at the time, but looking back still made me nostalgic.
Saitou: You must have known deep down that we'd do it someday!
Q: Taura-san and Yoshida-san, what impressions did you have of NieR?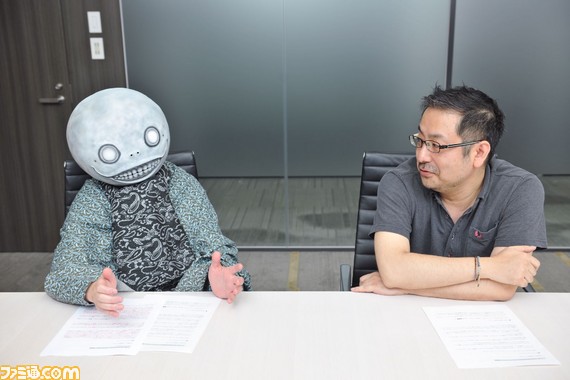 Taura: I played NieR originally when it was launched, and I got the impression that it was a work that betrayed your expectations, in a good way. You believe you're going to be playing 3D action, and then before you know it's become a shooting game or a side view action. Coupled with that, the script and the BGM were incredibly good. I thought that I wanted to make a game like this someday.

Now that that wish has come true, the tension has been raised incredibly high for me. There are many NieR fans within the company, and as Platinum Games we have never tried our hand at this kind of game until now… For example, a story that has divergences, subquests, or components where you talk with NPC characters. It gives me such a feeling of excitement.
Yoshida: I thought that NieR was a rare full throttle "Yokoo World" game that was fearless of taboos and could rival the Drakengard series. Aside from that, I got the impression that the fans were immensely enthusiastic, having personal acquaintances that are such, and that it was a work with a lot of female fans. To be in charge of the character designs for the sequel of such a work, I'm actually quite scared of those fans' reactions.
Q: Will there be a connection to the world view from the previous work?
Yokoo: Setting-wise they will be connected, but that does not mean there will be a connection story-wise.
Q: When looking at the image board, we see a world of devastated forests and cities.
Yokoo: If I were to speak my mind without holding anything back, for the previous work making realistic ruins was too difficult, we removed cities completely and cheated with a natural terrain. With this work, the set design staff have a lot more power now, so the sense of ruins can be more accurately reproduced and that's why structures like an abandoned theme park and fair amount of specific things have gone in, making a stronger ruined reality.
Q: There appears to be a robot drawn, this is…
Yokoo: This has to do with the "angel letters" that appear at the end of the PV, but I think all the fans will get great enjoyment out of it. I can't give specific details.
Q: Aah, so if one deciphers the angel letters at the end of the PV, one might understand the meaning a little more, I take it… Well then, let's move on to discussing characters. The character that appears in the PV, may we consider her the protagonist, or heroine of the story?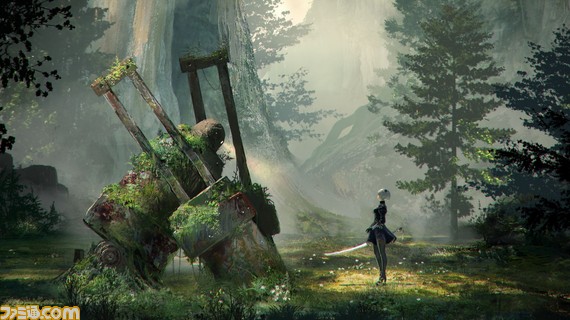 Yokoo: Main character… Yeah, that's right, she's the protagonist.
Q: There seems to be some hidden meaning to that statement… In the image board there is the back of a boy drawn that looks a lot like Nier.
Yokoo: That is not Nier.
Q: Will any characters from the previous game appear?
Yokoo: I won't say that all of the characters from the previous game appear, but some of them do, however as I said before, in order to make this a game that people can play and enjoy independently, they will not be principal members.
Q: And the character mask you are wearing will appear as well?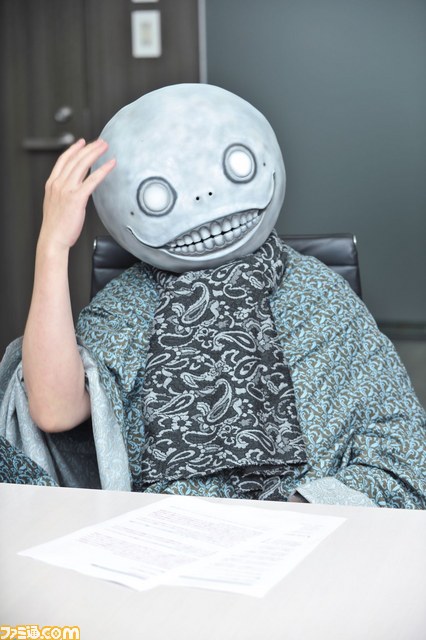 Yookoo: He appears. He appears, but…
Yokoo very purposefuly refrains from saying anything more here.
Q: The weapon the female character in the PV is holding is a Japanese sword, yes?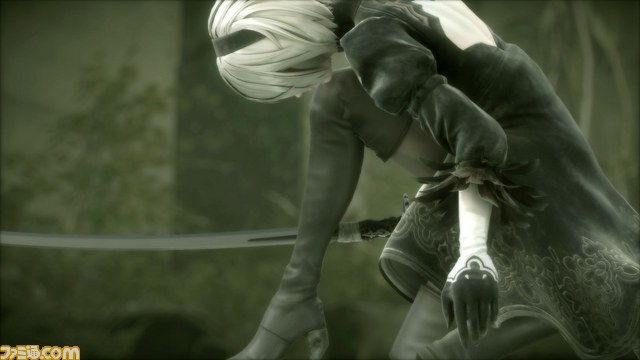 Saitou: Yes, that's correct. In the game, of course, you will be able to carry various weapons, but the first weapon you will have is a Japanese sword.
Q: I have heard that there will be various types of weapons available.
Taura: Yes. For each type of weapon in the last game, you can expect there to be a little more than usual.
Saitou: From the increased range of weapons to the expanded variations in movements, every bit of it is cool.
Yokoo: Thanks to Platinum Games' hard work, the kinds of things you can do in this game compared to the previous one has been extended.
Taura: Every one of our staff has a lot of determination, especially the animation staff who apply movements, and by expressing their mental image even just a little, they have raised everything up to such an incredibly good product. I hope that everyone looks forward to the action.
As of E3 2015, NieR New Project was described as being only about 10% complete and thus has no projected release date.
Hopefully the developers will be more forthcoming with information about the game further down the line.
About the author