Update 4/16 10:48AM: Alison Rapp is receiving backlash for using a fake name for moonlighting to pay off her student loans. In her response she said she wasn't doing it in secret.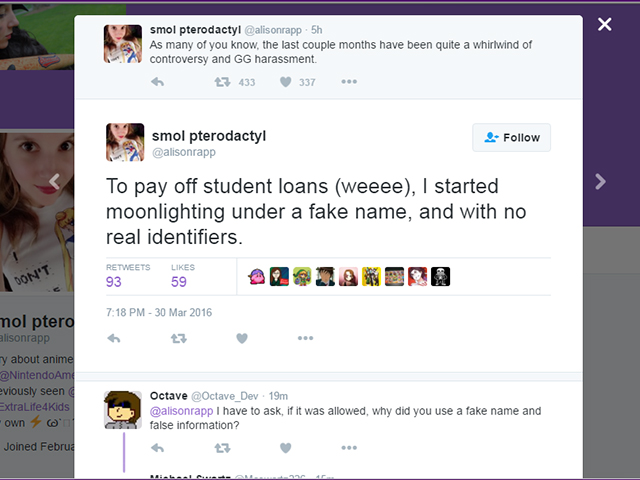 We received information that Rapp's second job included her selling photos of herself.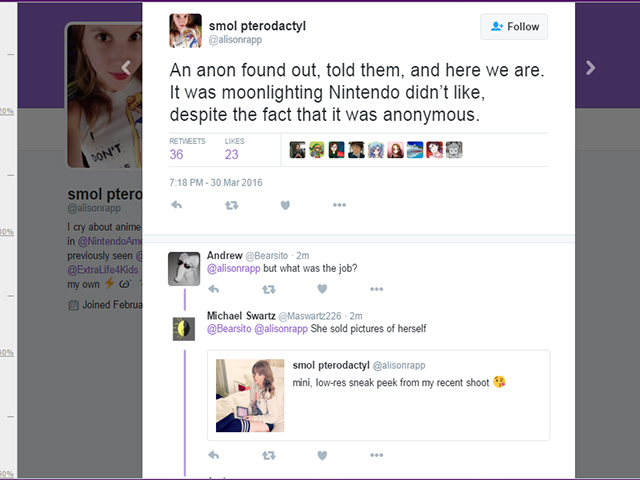 Nintendo employee, Alison Rapp, was fired today. While some believed that her severance was due to harassment she's received via social media, Nintendo says it was because she was holding a second job. Her tweets reported she obtained a second job to help pay off her student loans. She who had previously been a marketing officer, tweeted the announcement of her termination.
In Nintendo Of America's response, they denied firing Rapp because of the harassment she's received in the past. Fans on social media had lashed out at Rapp due to the desexualization of Xenoblade Chronicles and Fire Emblem Fates characters. Though she had nothing to do with Nintendo of America making the decision to alter the looks of the female characters, Rapp became the scapegoat because she has history of supporting feminism through her Twitter posts.
Nintendo went on to explain that Rapp's termination was due to her maintaining a second job which "conflicts with Nintendo's corporate culture." Rapp says she was moonlighting (working a second job) under a fake name to pay off her student loans, and moonlighting is legal with Nintendo.
Nintendo's statement read:
"Though Ms. Rapp's termination follows her being the subject of criticism from certain groups via social media several weeks ago, the two are absolutely not related. Nintendo is a company committed to fostering inclusion and diversity in both our company and the broader video game industry and we firmly reject the harassment of individuals based on gender, race or personal beliefs. We wish Ms. Rapp well in her future endeavors."
The harassment mentioned in the statement has been going on for a while, but Nintendo of America never released any statements for or against Rapp. Rapp said Nintendo stripped her of spokesperson status and moved her away from product management on games. Among the criticisms are complaints about Rapp's tweets. One reader even went so far as looking through her college essays from 2011, one of which explained how Japanese culture views the sexualization of teens (especially in games). That person made it seem as though Rapp was in support of pedophilia, which sparked a new line of attack from anti-sex trafficking group.
We can't say for sure what the real reason was for Rapp's termination — and it's possible that she may not really know herself. Perhaps more information could illuminate the situation.
About the author