Following on from last week's Nintendo Switch Lite reveal and rumors of an enhanced vanilla Switch, Nintendo announced there will, indeed, be a new and improved regular Nintendo Switch.
The improved Nintendo Switch will be sold as Model HAC-001(-01), and it's expected to start shipping in the middle of August.
It looks like consumers will also be able to tell the model difference based on packaging; the new model is shown (left) in a red box, where the original came in a white box — plus there are some other differences in how the product is shown off.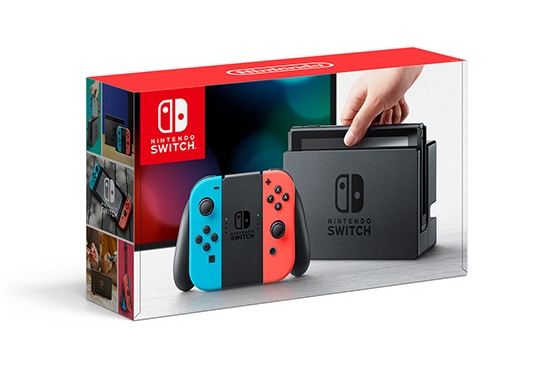 As we reported on last week, after new FCC filings surfaced, these improvements aren't related to graphical enhancements or anything of that nature. Instead, it's all about improved battery life, likely thanks to the changes in storage and the new processor mentioned in those Class II FCC filings. Otherwise, the system itself is the same.
What's more, these improvements mean the enhanced Nintendo Switch will actually outperform the Nintendo Switch Lite in terms of battery life.
Nintendo provided a comparison of how the three systems stack up:

As can be seen, the HAC-001 Switch model almost doubles the battery life of the original and offers a definite improvement over the Switch Lite as well. That's just with Breath of the Wild as a reference point, too. It's one of the Switch's most demanding games and sucks the battery dry rapidly. Other games aren't quite so greedy, hence the estimate that battery life could last up to nine hours.
Customize your #NintendoSwitch even more with these new Joy-Con colors – Blue/Neon Yellow and Neon Purple/Neon Orange. Available beginning 10/4 for $79.99. #MyWayToPlay pic.twitter.com/231TcnnTG2

— Nintendo of America (@NintendoAmerica) July 17, 2019
That's not the only new thing coming to the Switch. On October 4, Nintendo fans are also getting two new sets of Joy-Con: Neon Purple/Neon Orange and Blue/Neon Yellow. These will retain for the usual $79.99. Just as a reminder, the Nintendo Switch Lite won't have removable Joy-Con, so these new sets are only for the original Nintendo Switch and its enhancements.
About the author