As Rick And Morty Season 3 finally arrives after long delays, Pocket Mortys is kicking into high gear — not only with the arrival of its own comic book, but also with weekly updates offering new Mortys based on each and every episode of the season!
Since Episode 1 already aired as an April Fool's "gag" on a repeating 24-hour reel earlier this year, the first update is arriving ahead of the Rick And Morty Season 3 premiere date of July 30.
Below we've got a full run down of what you can now get once the app updates to the latest version, including new Mortys #200 and 201. Expect that Morty Deck to expand significantly over the coming 10 weeks with each new episode!
New Mortys In Weekly Update #1
We all knew it was coming: Morty #200 in the complete roster of Mortys is Lawyer Morty (sadly minus his fabled collection of pogs). A stooge that is kept around by the council of Ricks for his fun factor rather than his legal expertise, he's not the kind of guy you want representing you in a court case.
Battling rival Mortys to the death, on the other hand, is more inline with Lawyer Morty's skillset. Lawyer Morty is a paper type that can be found immediately at level 1 in the Mortyland section of multiplayer mode, as well as in other areas in upgraded versions. His available skill lineup includes:
Chastise

Recitation
Hornswaggle
Soul Search
Fortify
Lawyer Morty
Two lawyer Mortys can be combined to upgrade to the more powerful (and easily riled up) Judge Morty, in addition to him being found in the wild in Pocket Mortys' multiplayer mode.
Besides upgraded stats and much higher health, Judge Morty gets extra available skills to learn above and beyond Laywer Morty's basic lineup. Available skills for Judge Morty include:
Cheek Pinch
Chastise
Dig
Outpour
Recitation
Hornswaggle
Soul Search

Strengthen
Erase
Fortify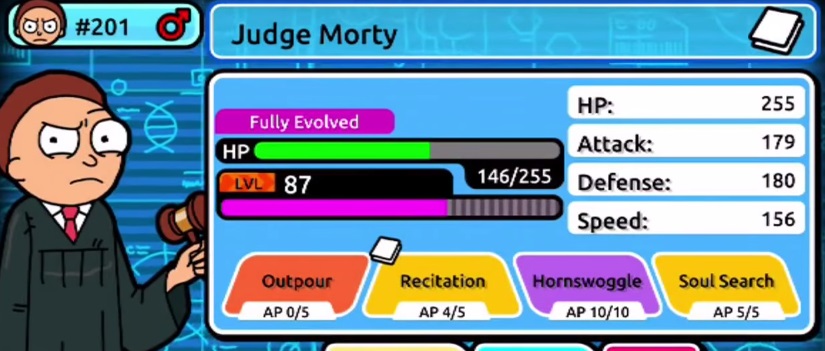 If you haven't seen the hilarious non-episode segment that Judge Morty is taken from, buckle up and get ready for a wild, and very, very NSFW ride in the video below.
This scene isn't actually in the show, but comes from a panel appearance where the cast of Rick And Morty read a transcript of actual court case The State of Georgia v. Denver Fenton Allen (yes, everything in the clip below was said by real human beings in a real court of law).
The animation was later added in by a dedicated fan and is now considered quasi-cannon, since there are countless universes with different Ricks and Mortys in every conceivable occupation.
New Ricks In Weekly Update #1
Two new Mortys deserve at least three new Ricks to try out in multiplayer or campaign mode, and that's what we get with the Season 3 Episode 1 weekly update.
First up is the inaccurately titled Weird Rick (which seems like it describes every Rick if you ask me), who is just a normal Rick in a wind breaker, followed by the stylish sci-fi Radar Rick, and finally military leader Commander Rick.
In campaign mode, these three are available for 10 Blips And Chitz coupons. As with all the current trainer lineup, the new Ricks are mostly just for aesthetic purposes and to differentiate players. They don't actually offer any in-game changes during battle or any particular perks over the other Ricks.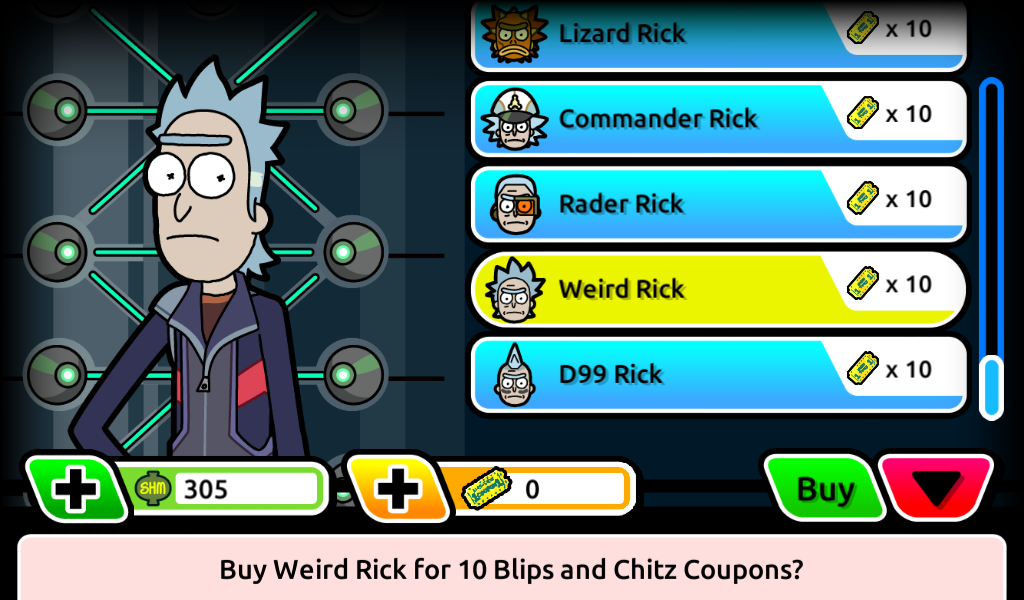 Weird Rick
More Pocket Mortys Guides
Rick And Morty Season 3 will feature a full 10 episodes, so stay tuned for 9 more weekly updates coming with even more Morty options! In the mean time, up your game with our handy Pocket Mortys guides:
About the author