Customization has always been at the core of the Saints Row franchise, becoming more in-depth with each installment. It's no surprise, then, that developer Volition has put character, vehicle, and weapon personalization at the center of its upcoming reboot, taking its "Self Made" tagline quite literally.
By way of an expansive, 15-minute-plus presentation and accompanying trailer, Volition has given fans a glimpse of the mammoth customization system they've built for Saints Row, set to release on August 23. Nearly everything about the game can be tailored to your personal stylings, from the look of your Boss, gang members, and hideout, to your weapons and vehicles. It's "Over-the-Top" taken to what could be gleeful extremes.
Every aspect of your Boss can be tweaked. Staples like eye color and skin tone can be adjusted, but it's all with Saints Row's penchant for zaniness in mind. There are options for snake eyes and starry eyes, for example, the latter of which swaps pupils for stars reminiscent of those found on Captain America's shield and suit. You can have kaleidoscopic skin, metal wood, jade, or stone, and there are multiple teeth options such as canine teeth, meth teeth, hockey teeth, and Candy Corn teeth.
More granular options allow for customizing facial structure, body type, and voice. Still, perhaps the most compelling feature is the ability to create asymmetrical faces, where you can customize features on each side of your Boss' face independent of the other side. Eyes can be different sizes, cheekbones different heights, and lips different shapes.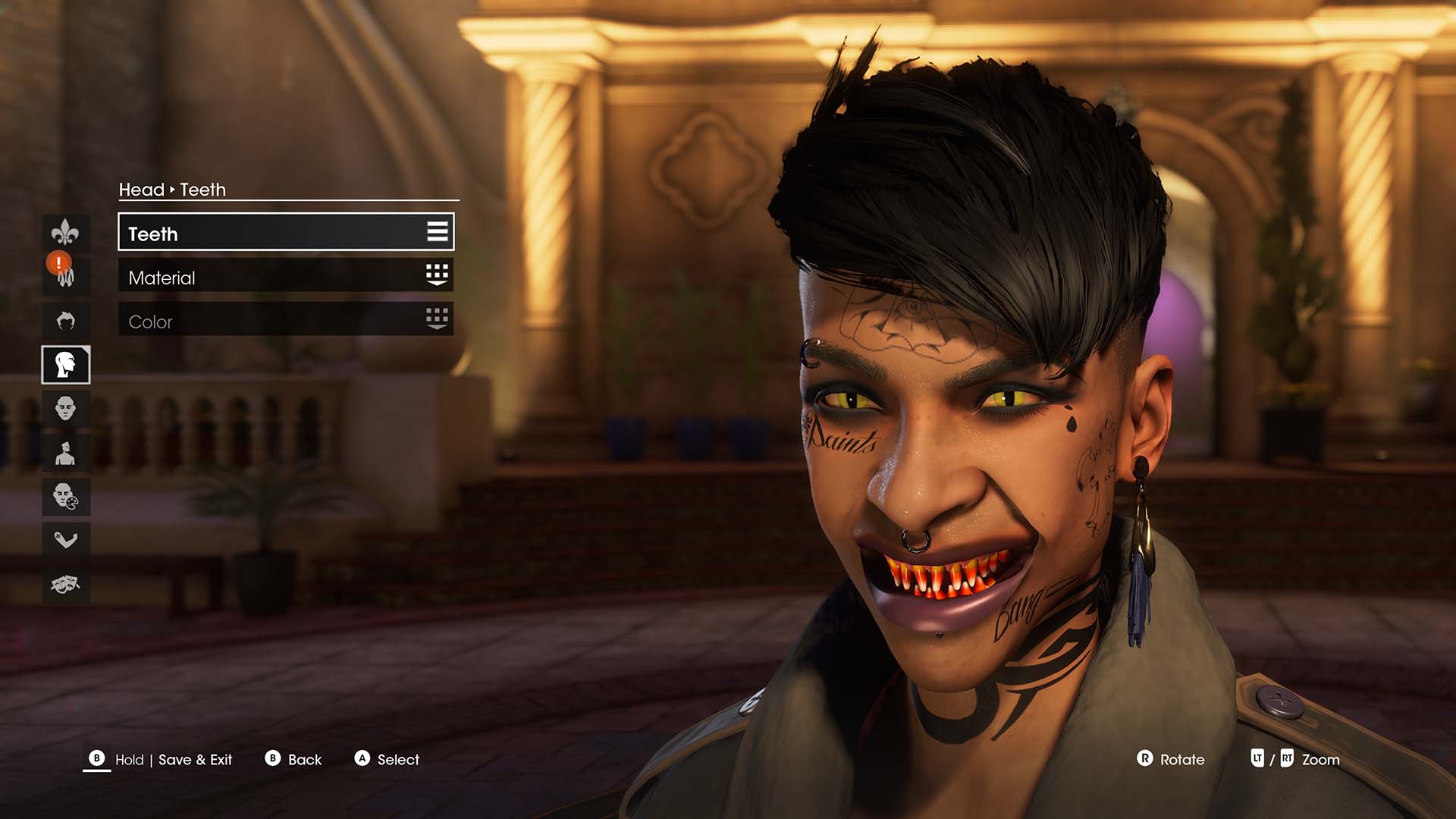 Besides your character's physical traits, clothes – or lack thereof if you choose because this is Saints Row – go a long way in defining your Boss and gang. There are dozens of options to choose from highlighted in the customization trailer alone, with ensembles and a la' carte pieces.
Neatly, you can layer individual pieces like T-shirts, vests, and jackets to create your own looks. These aren't all combo pieces where you simply change a few colors. You can, in essence, create your own unique wardrobe. If you want to take over Santo Ileso in your birthday suit, you can do that too, choosing to cover your unmentionables with stickers and emojis – or not. There will be options to censor or block nudity, as well, if you lean a bit more puritan or just don't want to see peens out and about.
Tattoos feature heavily, too. You can cover your Boss from head to toe with a variety of options for face, head, arms, neck, torso, back, and legs. Arm and leg prostheses add another layer of individuality and come in a variety of presets, though it's not 100% clear if the designs and color palettes of these presets can be further adjusted.
Weapons and vehicles follow a similar customization philosophy; even if the options aren't as many, there's still a lot that can be done. Each part of a weapon can be customized visually with stock or bespoke colors and stickers and skins. Metal types and finishes, too, can be swapped around and tweaked.
Some weapons can even transform into other objects completely, like an RPG that can be morphed into a guitar case or an assault rifle that can masquerade as an umbrella. Though, it does appear these unique options are locked to certain weapons. For example, it didn't seem like the RPG could become an umbrella in the trailer, so we'll have to wait and see how expansive these options are.
Vehicles are another extension of your style. Outside of their own stats and qualities, there are myriad ways to create unique looks and designs for all of them — including tanks, it seems. From simply changing colors and finishes to adding hood ornaments and side skirts, the breadth of options is far and wide. Wheel height and depth are individually tweakable, and rim types can be modified per wheel. You'll also be able to customize horn audio and sound effects for transmissions and engines.
On top of all that, certain mods can add to vehicles ejector seats, kneecappers, wrecking balls, and tow cables. These are unlocked by leveling upgrade kits, it appears, and the team said there are more mods to unlock throughout the game than were shown. More info will be shared about those additional customization options in the future.
All of these options also extend to the other vehicles in Saints Row: boats, helicopters, planes, hoverboards, and motorcycles.
The one thing we didn't get as much information on is how customization factors into the Saints HQ. It's clear that the church will act as a hub, having a wardrobe, garage, and armory where you'll be able to store outfits, vehicles, and weapons, further customizing them outside of the style app (clothes) or at Jim Rob's garage.
The presentation shows that specific collectibles can be acquired and placed throughout the church headquarters on pedestals strewn across the grounds, letting you add some spice to the surroundings. But as for other, more granular decoration options, we'll have to wait and see how the HQ upgrades over time and how much control you'll have over that.
Outside of the HQ, brick-and-mortar stores make a return, selling all kinds of things, from whacky cowboy boots to goth stylings and everything in between. Of course, there are weapons shops to visit, too, though it's unclear how diverse they'll be and what exactly they'll sell.
There's a lot more to learn about Saints Row in the lead-up to its August 23, 2022, release on PC, PS4, PS5, Xbox One, and Series X|S, including Criminal Ventures, which was briefly covered near the end of the presentation. Stay tuned.
About the author