Little Nightmares 2 is out February 11, but Nintendo Switch, PlayStation 4, and Xbox One owners can get a taste of the dark puzzler action on offer now thanks to the Little Nightmares 2 demo.
Little Nightmares 2 follows Mono, a young child with a bag on their head, and Six, the raincoat-clad heroine from the first game, as they try to restore order in their dark world. A nearby tower emits a strange signal and transforms everything into nightmarish forms of their true selves.
Though we haven't yet played it ourselves, it looks just as creepy, if not more so, than the original.
Alongside the demo, a new Little Nightmares 2 trailer gives fans a taste of what's to come, including a Resident Evil 7-style dinner from hell, a child's cafeteria twisted enough to make Dickens' Mr. Bumble quake in fear, and dozens of platforming and puzzle challenges awaiting Mono and Six.
In short, it's even more of what we already love from the original Little Nightmares.
Pre orders for last-gen consoles and PC are currently open over on the Bandai Namco store for $29.95. Alongside those, fans can also purchase Little Nightmares 2 apparel (the Pale City and Mono Tees look pretty great if we do say so ourselves), as well as Stay Tuned bundles that include the game, its soundtrack, an artbook and steelbook, and a Mono and Six diorama. Currently, there's a waiting list for each of those bundles.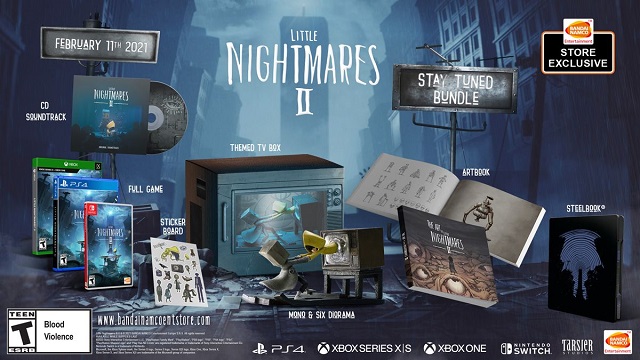 Lastly, Bandai Namco is giving away a free Steam code for Little Nightmares until January 17, 2021, at 11:59 p.m. PST. Fans can enter here.
But perhaps even better, Little Nightmare-ites have the opportunity to snag a custom Little Nightmares 2 Switch console, which includes "a custom dock & Joy-Cons," a burlap sack, a Mono patch, a Six patch, a reversible hat, a Stay Tuned bundle, and the game.
Four Limited Launch Kits are also up for grabs, which includes everything listed above sans the custom Switch console.
The Little Nightmares 2 demo is out now, while the full game releases February 11 for PC (via Steam), PS4, Xbox One, and Nintendo Switch, with free upgrades on PlayStation 5 and Xbox Series X|S coming later in 2021.
About the author