With Spider-Man only a few hours from release, one question has been worrying fans of late: the game's graphics quality. When gamers started to notice differences in some gameplay screen shots between advance review copies and an E3 demo, some started to wonder if the game had been downgraded.
Despite claims from Insomniac that only the size of the puddle had changed, fans quickly created the term "Puddle-Gate."
The issue in question can be seen when comparing a section of the game that was used in the game's E3 2017 demo. In it, Spider-Man fight's some goons on a rooftop. There are puddles around the goons, and many noticed that the lighting and reflections of those puddles, as well as Spider-Man's suit, were not of the same quality in the release as they were in the pre-release.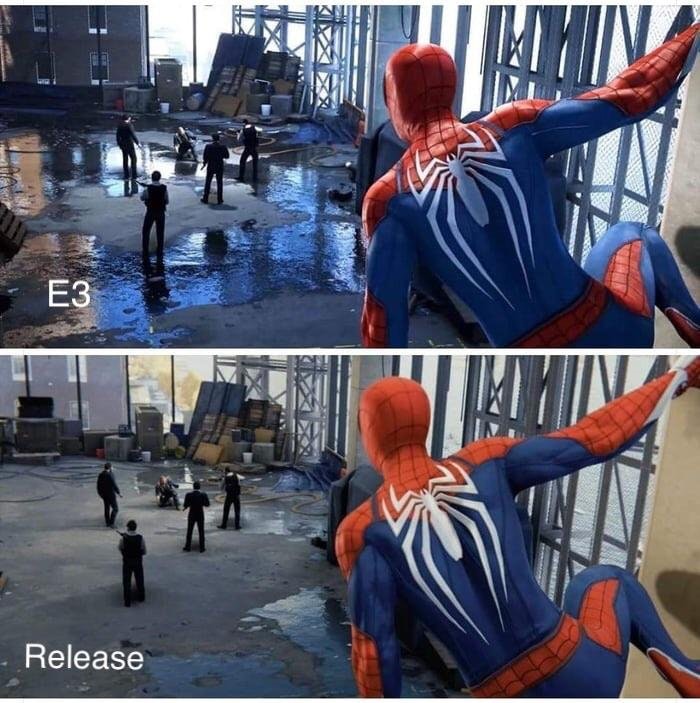 With that information in hand, game tech analysts, Digital Foundry, found the opposite results in their analysis of Spider-Man.
In the video, John Linneman outlines how most of the changes, like Spider-Man's suit, where made to make the game less "shiny" and more realistic:
The final game exhibits a softer, more diffuse appearance, which is arguably more realistic. The E3 demo simply appears overly shiny and plasticky in comparison….. This is clearly an artist driven change, not a technical one made to save on performance"
When talking about the puddle images, Linneman theorized that it probably had less to do with man power, and more to do with tech power:
The thing about changes like this is that, in most cases, the reason has more to do with manpower than hardware power and I believe that's the case here. In this case, reflections work just as they did in the E3 Demo. It's just the underlying art that has been changed.
Spider-Man releases September 7 on PlayStation 4.
About the author