DICE has released it's Deluxe Edition for Star Wars: Battlefront, and the news comes straight from Walmart: along with your game, you will receive your very own personal Han Solo mini fridge.
Its design features good old Han Solo in his carbonite block from The Empire Strikes Back and Return of the Jedi (thanks Jabba). The mini fridge can hold up to 6 standard 12oz. cans of soda and not only keeps your drinks cold, but also comes with a warming function in order to keep your food (pizza?) warm. It is the perfect binge-gaming tool, that comes at the price of $130.
The mini fridge has a carry handle, if you ever want to take the fridge over to your friend's house because you don't want to be stuck gaming alone at home with your cat. It also has a removable shelf, just in case. Its dimensions come out to 10in x 7.48in x 12.2in, perfect to fit snug anywhere near your console.
Not the first, maybe not the last
Although a great idea, DICE are not the first to have come up with handing out mini refrigerators with their games. In the Juggernog Edition for Call of Duty: Black Ops 3, a mini fridge is also a part of the package. This one is bigger, however, being able to hold 12 standard soda cans, and comes with Perk-a-Cola coasters.
The Call of Duty: Black Ops 3 Juggernog Edition also comes with a season pass, a collectible book, limited edition concept art cards, "The Giant" Zombies in-game bonus map, 3 personalized packs (including weapon camo, reticles and a calling card) and the official game DLC Soundtrack.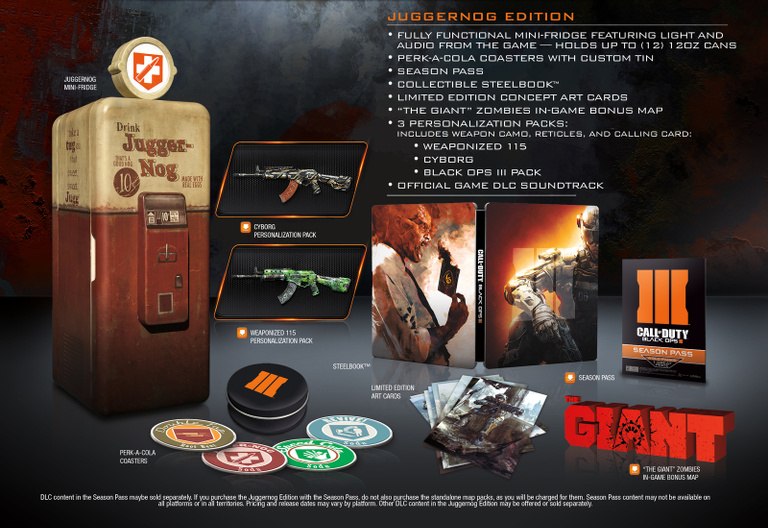 As a reminder, Call of Duty: Black Ops 3 is set to release November 6th on PC, PlayStation 4, PlayStation 3, Xbox One, and Xbox 360.
If you don't teach your children to be alone, they'll only know how to be lonely."
About the author