In nearly 40 years since George Lucas' space fantasy first took audiences to another galaxy, video gamers have been trying to relive those big-screen moments on their own smaller screens. Indeed, the people and places of Star Wars captured the imagination of an entire generation. A generation that grew up playing video games.
When Carrie Fisher, whose inspirational Princess Leia, passed away Tuesday, the Star Wars Universe felt a loss greater than any tremor in the Force. So, it's no surprise that those in the gaming community would take time to honor the actress and author who brought the character of Leia Organa to life.
On A Diplomatic Mission
Tuesday night, players of Star Wars: The Old Republic gathered on the various servers at House Organa. In the MMORPG, several planets from the Star Wars films and books are represented as locations that players can visit.
On Leia's adopted home planet of Alderaan, the Organa family's home became the site of a memorial. Players assembled in the great hall to pay honor in their own way.
You can watch a video of one of the gatherings here:
As game avatars of all kinds stood or sat in the great hall, players listened as a eulogy was spoken. Such impromptu in-game events are not uncommon in various MMOs. Others have been held in games like World of Warcraft or EVE as gamers express themselves as a community.
Part of the Rebel Alliance
Many players of the Star Wars: Galaxy of Heroes mobile app are honoring Carrie Fisher this week by placing Princess Leia in the Leader position of their teams.
The squad-based RPG pits teams of up to 5 various Star Wars characters against other units. Players can mix and match their teams as well as upgrade their characters.
Also on the EA Forums for Star Wars: Battlefront, several players indicated they would be playing Princess Leia in the PvP game this week to pay tribute.
The Star Wars: Battlefront series has been a popular shooter since the original was released in 2004. Princess Leia was added as a playable Hero character in Star Wars: Battlefront 2 a year later, and she's still part of the next generation of Star Wars: Battlefront.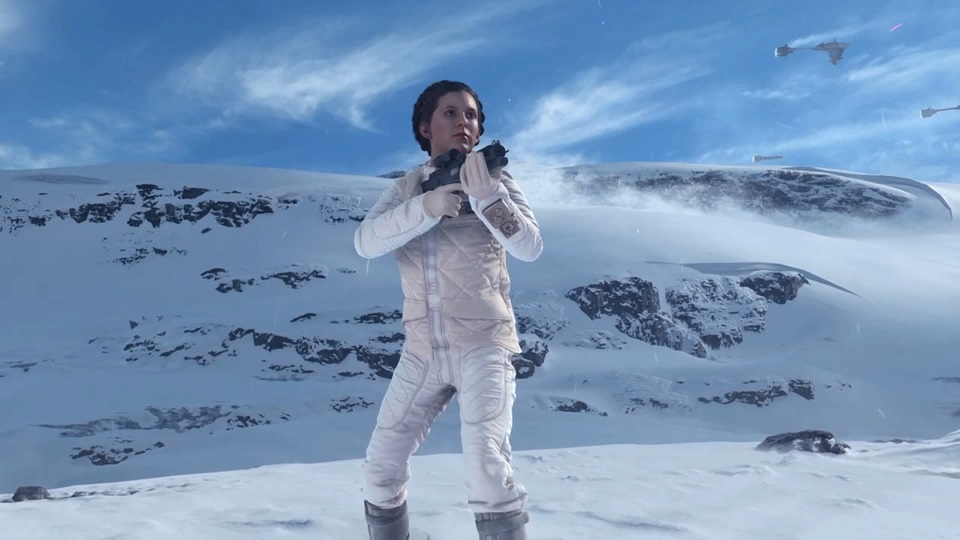 From Princess to General
Like Leia Organa, Carrie Fisher was royalty. Hollywood royalty. She grew up the daughter of entertainment legend Debbie Reynolds (Singing in the Rain, The Unsinkable Molly Brown) and pop singer Eddie Fisher.
Star Wars was only Carrie's second movie but it launched her to world-wide fame. She would go on to play dozens of roles, mostly in comedies like When Harry Met Sally, The Blues Brothers, and The Burbs.
She also wrote several novels, non-fiction books, plays and was a successful screenwriter; often going uncredited for scripts she rewrote or "fixed" for numerous feature films like Sister Act and The Wedding Singer.
But, Princess Leia Organa was her first big role that she'll always be remembered for. A character who flipped the damsel in distress trope on its head and inspired many more strong female characters that were to come.
Star Wars: Galaxy of Heroes is Free-to-Play from Google Play and the iTunes App Store.
Star Wars: The Old Republic is Free-to-Play from BioWare, EA and LucasArts.
Star Wars: Battlefront is available for PS4, Xbox One and Windows 10 PCs.
About the author