Building off the critical acclaim of games like The Elder Scrolls V: Skyrim and The Elder Scrolls Online, British games publisher Modiphius has announced a new entry to the overarching franchise: The Elder Scrolls: Call to Arms.
Call to Arms is a tabletop miniature game.
This is not the first time Modiphius has teamed up with Bethesda. Fallout: Wasteland Warfare was their first partnership with the video games company; the game is currently shipping out pre-orders.
Because of the positive reception of that game from board game and tabletop players alike, Bethesda and Modiphius decided to turn their attention to Bethesda's other critically acclaimed franchise, The Elder Scrolls.
Call to Arms uses the same base as Wasteland Warfare. However, it has been revamped by writer, editor, and game designer Mark Latham to accommodate the inhabitants of Tamriel.
Players will pick factions, heroes, and troops while managing stamina and magicka as they move across the board. Advanced AI enemies lurk around every narrative twist and bend.
Forces will typically include 1-6 heroes and 3-15 troops. Familiar Elder Scrolls faces such as Lydia, Hadvar, Ulfric Stormcloak, and Mjoll the Lioness, will make appearances among others. These heroes will lead troops through Dwemer Ruins, into Drauger infested tombs, and across the frozen wilderness of Skyrim.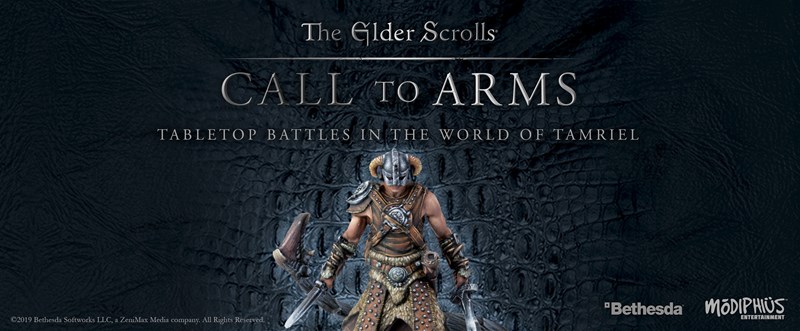 On top of the miniatures game, Modiphius is also releasing an exclusive figure, Dragonborn Triumphant. Standing 32mm tall, the multi-part resin miniature will be shipped in three waves starting in June, July, and August. The figure is also available for purchase at the UK Games Expo in June and at GenCon in Indianapolis, Indiana, in August.
A Two-Player Starter Set coming in December will have instructions on playing the Dragonborn.
Included in the set will be scenarios for various play modes, including co-op, PvP, and solo missions revolving around Stormcloaks vs. Imperials. Reinforcement sets will be released at the same time to bolster available troops.
Planned future content will expand on Skyrim as well as encompass Oblivion and Elder Scrolls Online characters, settings, and quests. Available extras include settlement journals, metal tokens, deluxe dice bags and more to enhance the gameplay experience.
Will you be playing Call to Arms this holiday season?
About the author