It feels like we've been waiting a long time for Tree of Savior to go from beta to launch, but that might just be the hype. Time goes so fast when you're having fun and so slow when you're waiting for it to return.
Tree of Savior is Ragnarok Online creator Kim Hakkyu's most recent creation, packing in a hefty load of nostalgia with a heaping helping of newer mechanics for the modern market. It's not all that much like Ragnarok Online, but it's the closest thing we're going to get these days.
Tomorrow's Exclusive Access will serve as the game's own brand of Founder's Pack early access as seen in other MMORPGs, allowing Exclusive Access buyers into the game before the waves of totally free and skeptical players can play the game themselves.
There are a few things to know whether you're on the fence about Exclusive Access, have decided against it, or have already thrown your money at it — specifically information on the server situation during the early period, pricing, and Exclusive Access benefits.
In addition to the information below, it's highly recommended you play with the skill simulator on the fansite Tree of Savior Fan Base before playing the game. This way you can get some sort of idea on how you want your class and stat progression to go, so you don't make any mistakes you can't undo.
What to know about the Exclusive Access period
Exclusive Access is going to last from March 29th all the way to April 28th, which is quite the time gap compared to other MMO releases. You can take a look at the packs yourself on Tree of Savior's Steam page under DLC.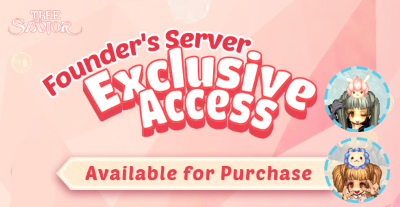 Players in Exclusive Access will get a full month's worth of leveling before free to players, which is massive in a party-oriented mob-grind heavy game like Tree of Savior. In addition, the two more expensive options offer some good benefits.
Holders of the Exclusive Access 1 pack ($49.99) will receive 650TP (cash shop money), 60 days of premium membership, two cosmetic accessories, a free Hoglan companion, one Skill Reset Potion, and one Stat Reset Potion. According to IMC Games, there is no way to obtain a Stat Reset Potion in-game.
Exclusive Access 2 ($29.99) holders will receive 380TP, 30 days of premium membership, and one cosmetic accessory.
Exclusive Access 3 ($9.99) holders receive 160TP.
Additional TP will be available for purchase once the game fully launches on April 28th, so do bear the above prices and TP amounts in mind. 90TP equals around $10.
Buyers will only be able to redeem their extra pack benefits on one server and they can be redeemed at any time, even far after the Exclusive Access period.
Token benefits
Tokens work as Tree of Savior's premium membership, which has become F2P MMORPG staple. Token benefits include:
The ability to to 1 on 1 trading
10 emotes
The ability to train 2 Attributes at your Class Trainers at once
The ability to put 5 items on the market instead of 1
20% less sales tax (10% down from 30%)
+3 movement speed
20% additional EXP on kills
Servers and timezones
Two servers will be available immediately on Exclusive Access launch: Orsha and Klaipeda. These two servers will open for character creation and play at 2AM EST/11PM PST/6AM GMT for all international players. Both are hosted in North America.
Regional servers are not currently in the works, according to this news post on the official Tree of Savior website.
IMC Games gives some Exclusive Access purchase data from Steam, indicating the two largest buying regions are North America (30%) and Latin America (26%) — further regional servers will only be considered should actual player data down the line show a large demand. It's unfortunate, but that's how it is. (Update: An EU server, Fedimian, has been added.)
New servers will be on standby through Exclusive Access in case more are needed (they always are) during the pre-launch play period.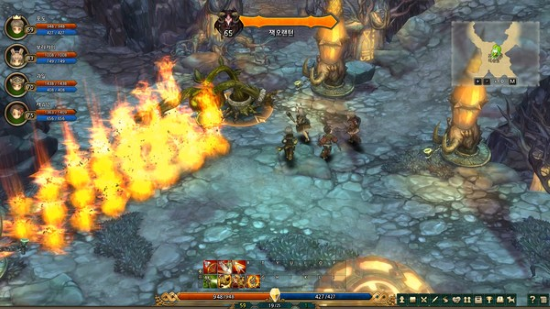 Exclusive Access discount begins April 21st
If you just don't want to buy into the game a month early or want a good deal, IMC Games will be reducing Exclusive Access pricing by 30% come April 21st. This means the pricing will be reduce down to approximately:
$49.99 pack – About $35

$29.99 pack – About $20
$9.99 pack – About $6
This is pretty much the perfect option for anyone who wants to play but isn't hyped enough to spend as much as the default prices nor wants to start a full month early.
Free to play launch
Free to play launch is a little over a month away and IMC Games are already touching on their plans for Tree of Savior's full launch April 28th. Servers will be gradually opened starting April 28th based on the amount of new players hopping on.
Only Exclusive Access holders will be able to access the servers Klaipeda and Orsha, but Exclusive Access holders will be able to transfer to the new servers. Transfer applications will open up on launch day but transfer will not be applied until 3 weeks after a server launches to lessen the effects these transfers will have on the economy.
Pack holders are less than a day away from being able to log on and play Kim Hakkyu's latest and (hopefully) greatest title. Will you be buying into Tree of Savior's Exclusive Access, or will you wait until after free to play launch to see reviews and what the hubbub is about? Let us know in the comment section below.
About the author