(Update) …Always Be A Pirate
Since seeing the first gameplay videos, this old salt admits that Rare Ltd.'s upcoming pirate game, Sea of Thieves for Xbox One and Windows 10, had me pining to jump aboard, ride the waves, and head for the horizon.
And now, that time is nigh — Rare has announced that their first Technical Alpha Test will begin December 16th-18th. That's only 1 week away!
*NOTE: Rare's first Technical Alpha (Update 0.1.0) test is going to be for the Xbox One only. This is due to the Xbox One being a more consistent hardware platform since it is primarily the device same across all players, unlike PCs. They do want to reassure PC players (1/3 of their Insider membership) alpha tests for Windows 10 PCs are coming in the future.*
So…..how do you get into the Alpha?

Stand Before The Mast
Many gamers love inside knowledge, finding something first, seeing what few are privy to. Add the yen of a pirate seeking adventure and you get a taste of the anticipation many have over this title.
To feed that need, Rare Ltd. has been posting teaser images, short videos and more recently doing podcasts and posting gameplay. Now, players have a chance to sign onto their scurvy crew via the Insider Programme.
The Insider Programme (yes, that's the correct spelling) will post email updates and development surveys to those who register. There's even a chance to be part of the Sea of Thieves testing!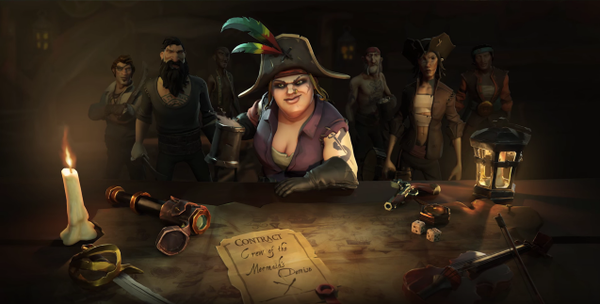 And what's it take to be a part of this crew?
Your first port of call is to head over to SeaofThieves.com/Insider and fill out the survey. Just know there be a couple of stipulations, mate:
Xbox Live Account ID (Takes about 5 minutes to set one up, and it's free)

You Must Be 18 or Older (Testers sign non-disclosure agreements)
Registering does NOT guarantee Alpha or Beta Test selection
What Say You?
For me, the real draw of becoming part of this crew is a chance to play test Sea of Thieves and having input on how to make the game better.
Being part of the Insider Programme crew means:
Insider development email updates

Feedback surveys (game, development, web site, etc.)
A unique "Insider" badge on the official Sea of Thieves Forums
Access to an exclusive Insider discussion space
And all Insiders will be considered for early testing phases
Rare Ltd. is looking for pirates who will give honest responses, meaningful feedback and fill out the emailed surveys. So, sharing and speaking out definitely improves your chances of being selected. They want to know their crew are ready and able to set sail.
Weigh Anchor!
There's no time to spare, mates! With the announcement of Technical Alpha tests starting Friday, December 16th, if you want a chance to get aboard you best shake a peg leg and join the Insider Programme now!
Rare Ltd. will be selecting 1,000 players from the programme — and mum's the word, as everyone must agree to the Non-Disclosure Agreement.
As the testing moves forward, more and more pirates will have their chance to prove their sea-faring mettle and try out the game's mechanics and features. One of those features are quests that crews can undertake to find buried treasures. Take a sneak peek at it in this new video:
Remember mates, testers give feedback to help make the game even more fun for those who follow. So if you want to help shape the game, now is the time to do it.
More on Sea of Thieves
The Golden Age of Piracy has colorfully captured the imagination, even if that image more often blurs out a darker reality. Fictional pirates of books, film and television create a wide-open world of thrilling adventure where even the most lowly men… and women from any background can find fortune and glory.
While fearsome criminals in their day, the mythos of the 17th century pirate became one of rugged individuals who struggled to live their own free lives in a time of colonialism and oppression. While truth may be something more in a gray area, Sea of Thieves is a full-blown four-color swashbuckling action-adventure MMORPG.
Gamers looking for pirate adventure are wanting high-seas action, ship-to-ship combat, mysteries to solve while exploring uncharted isles, and loot. Lots of loot. And they want the chance to be their own captain while feeling they're part of a bigger crew on a journey together.
On the MMORPG front, a few games have tried to capture that experience, but most only had mixed results. Sea of Thieves is promising to be everything a sailing scallywag wants and more.
To find out more, check out Rare Ltd's Forums and Sea of Thieves SubReddit.
Are you as hyped as me about Sea of Thieves? Have you signed up yet? Have you ever beta tested a game before?
About the author