Have you ever felt like World of Warcraft has lost touch with the "RP" in MMORPG? Are you one of the many who shun the retail version of this historic game because of a lack of community and player involvement? Are you like me, eager to experience something different in World of Warcraft but not sure where to start? Well, today I present to you a remedy to all of these issues, one of the grandest annual events in WoW roleplaying: the Tournament of Ages on Moon Guard (NA).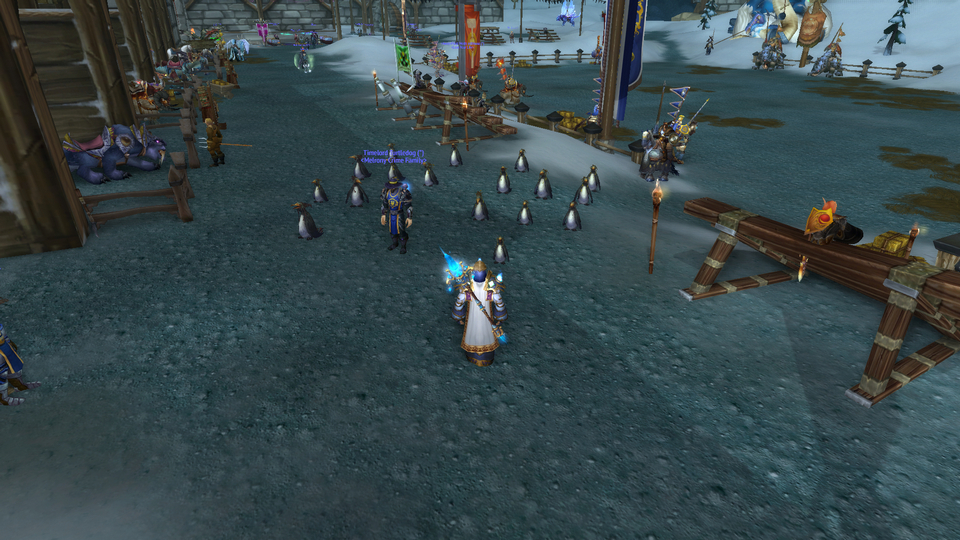 Behold the Charmer of Penguins!
Nestled deep in the forgotten and foreboding zone of Icecrown buzzed thousands of hopeful roleplayers, gamers, and noobs alike in what has to be one of the most memorable experiences I, a longtime World of Warcraft player, have ever experienced in any game, like, ever. Never before have I seen the Argent Tournament Grounds — or any place in WoW — so alive. There were jesters, knights, penguin charmers, adventurers, entrepreneurs, storytellers, cultists, contestants, shopkeepers, scholars, thieves, and potentially every other archetype imaginable humming with excitement over the spectacle of the event unfolding before players' eyes.
Throughout the much-too-short event, I, a human priest, got drunk with a dwarf; stumbled into the midst of a motorbike gang; got charmed by the magics of a passing temptress; experienced contests of riddles, fighting, riding, jousting, and storytelling; bought soba noodles from a friendly-yet-suspicious Pandaren (was that you, Nomi?); and met a wide array of amazing people — both in and out of character — all whilst patrolling the (surprisingly large) grounds of the Argent Tournament.
Not yet sold on the magic of this experience? Feel free to take a look at the YouTube video below in which I (in sloppy first person) patrol the grounds of the event!
Returning in 2018
And yes, I realize I'm "a bit" late to the party with this posting. The 2017 event has long since passed as Icecrown, yet again, has returned to its icy slumber. However! For you players who missed out on this experience, or for those who attended the tournament yet thought it was a one-time thing, the event will return for 2018! In fact, preparations are already underway as the event quickly approaches (set to occur August 5-11). If you'd like to contribute to the event, or just plan accordingly, head on over to the WoW Moon Guard forums or to the Tournament of Ages website at http://tournamentofages.com/. Also, be sure to check out their epic and official trailer for the upcoming 2018 event in the YouTube video included in the header! Hope to see you there!
Stick with GameSkinny for more information on the Tournament of Ages and all things World of Warcraft!
About the author