Red Dead Redemption 2: Rumored but Likely
There are rumors and then there are RUMORS, inbetween the hype and the facts somewhere sits Red Dead Redemption 2.
The rumor mill is always churning out false hopes, and sometimes not so false, for game titles such as another Final Fantasy game or the next installment of Mass Effect. It's no surprise that Rockstar's successful game, Red Dead Redemption, has been rumored for a Red Dead Redemption 2 since its release back in 2010.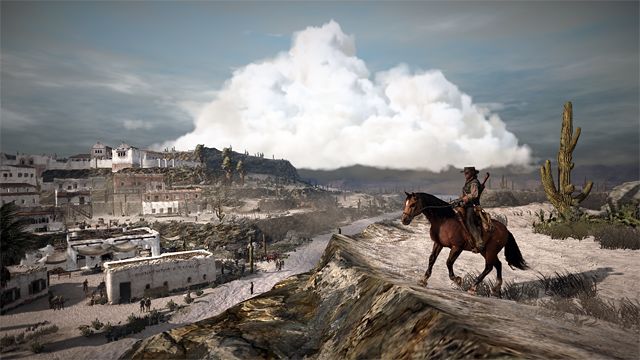 Whispers have been heard frequently since 2010 but a large boost in hype in late 2013 from a professional networking site, LinkedIn, from the Senior Graphics Engineer, Doron Feinstein. On his profile he put he was "working on a sequel to a famous IP from Rockstar", leading people to leap right to either of their two heavy hitter games, Grand Theft Auto or Red Dead.
This rumor was squashed when Feinstein was announced to have done work on GTA V and not long after its release, he left Rockstar New England for TURBO Studios.
Though the hopes were dashed at this information, the mood was soon lifted earlier this year by CEO of Take-Two, who spoke at a conference regarding their "Permanent Franchises." Strauss Zelnick spoke openly about their future use of games like GTA and Red Dead, he was quoted to say:
I pretty much know the ones that I can assure you are permanent. It's obvious that GTA is a permanent franchise as long as we keep delivering this incredible quality; it seems quite obvious that Red Dead is a permanent franchise, again with the same caveat, or Borderlands, for example, and NBA and others.
It shows that there is a small glimmer of hope for Red Dead Redemption 2, given a status of permanent means a sequel is more than likely. Rumor has it, that on the convention floor this past PAX behind closed doors, a reveal of Red Dead Redemption's HD release for PC, PS4, Xbox One was shown. The release date was slatted as March 2015.
In this same reveal, RDR2 was mentioned (or shown) but no I have not been able to confirm it in my search in other than a repeated post around the net talking of excitement and a likely reveal. That same word has predicted to be seen in an official reveal by E3 2015.
I know it's not a lot to go on, hearsay and over excitement, but with the information adding up, it seems more likely to be coming. Seeing how 4 positions have been put up for Rockstar San Diego (developer of Red Dead Redemption), including Newtorking programmer to sync game mechanics in open world games and design/security for in game content (like missions, etc.) dating back to at least 10 months ago.
With the huge success of the last installment and the reveal of an HD Version coming to Current Gen consoles, the signs are here so we now at least have a solid footing for the likelihood of seeing a Red Dead Redemption 2.
Published Oct. 10th 2014