Food is good.
It's a simple, Kindergarten level statement, yet at the same time, I don't think anyone would try to say it isn't true. And, since video games often star people as the main characters, it makes sense that they would like food too.
Here, I'll be taking a brief look at eleven of the tastiest looking foods in video games. I'll give the background and descriptions of each food item if available, and, since I have a culinary background, I'll give my two cents on how I think each food item is made.
Princess Peach's Cake (Super Mario Bros. Series)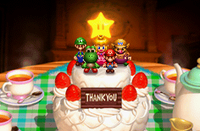 Throughout the Super Mario games, we often hear that Mario's reward for rescuing Princess Peach from Bowser is cake.
Now, cake is tasty, but for Mario to still be saving her after, at the very least, ten separate kidnappings, Peach must be one of the greatest bakers to ever grace the Mushroom Kingdom.
One of the few times we actually get to see what I've dubbed, "Motivation Cake," is in Super Mario 64, the above image coming from its DS remake.
Now, from the outside, this looks like a basic vanilla cake with buttercream frosting. However, we must remember that this cake is baked specially for Mario, the Italian stereotype to end all Italian stereotypes.
Maybe, just maybe, that cake is filled with not cream, but spaghetti and meatballs.
Sea Salt Ice Cream Popsicle (Kingdom Hearts Series)
Moving on from the possibility of one of the strangest, most unrealistic cakes ever, we have something that you can actually make for yourself quite easily!
Sea salt ice cream is a frequent motif in the Kingdom Hearts series, and, like many things in those games, it's used as a symbol of friendship. It's greatest use was in the criminally underrated Kingdom Hearts: 358/2 Days, in which it's used to represent the bond between Roxas, Xion, and Axel.
Now, salty ice cream is pretty delicious, especially if you mix in some dulce de leche, but if you just want to replace the blue ice cream bars seen in the games, all that's really necessary is to make some vanilla ice cream with sea salt in the mixture, and color it blue.
Ramen (The World Ends with You)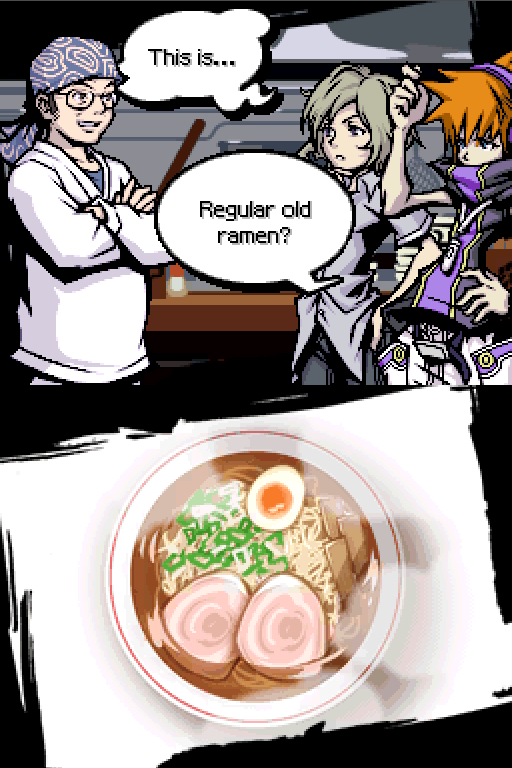 Regular old ramen? I think not!
In the JPRG, The World Ends with You, one of the quests in the game involves assisting a traditional ramen chef. As Neku, you must help him figure out a way to have his restaurant complete with a new, trendy ramen bar.
While many different types of ramen are shown off, and even more are available for purchase throughout the game, it's the old fashioned, plain ramen, which is described to be the tastiest.
A traditional ramen dish consists of wheat noodles in a meat or fish based broth, usually flavored by miso or soy, and includes toppings such as pork seaweed and onions. Looking at the soup shown in the game, a quail egg may add some tasty extra flavor.
Sandvich (Team Fortress 2)
The Sandvich is a secondary weapon for the Heavy in Team Fortress 2. When eaten, the Heavy regains up to 300 health, and, it can also be shared with a friend.
Unlike most of these foods, we know exactly what the Sandvich consists of. Between the slices of bread are lettuce, tomatoes, Swiss cheese, and a few slices of both ham and bologna. Lastly, topping the Sandvich is a green pimento-stuffed olive.
Who wouldn't like to eat a sandwich the tastes great AND heals your wounds?
Spaghetti (Undertale)
In the hit indie game Undertale, one of the main supporting characters, the skeleton Papyrus, loves to make spaghetti.
Now, while those who have tasted it have said that Papyrus's spaghetti tastes rather bad, there would be a serious upside to eating it.
Papyrus… only serves spaghetti to his friends.
And no matter how unpleasant the taste of his spaghetti may be, getting to be Papyrus's friend would be worth it, as he is possibly one of the nicest characters in any video game.
Pumpkin Soup (Skyward Sword)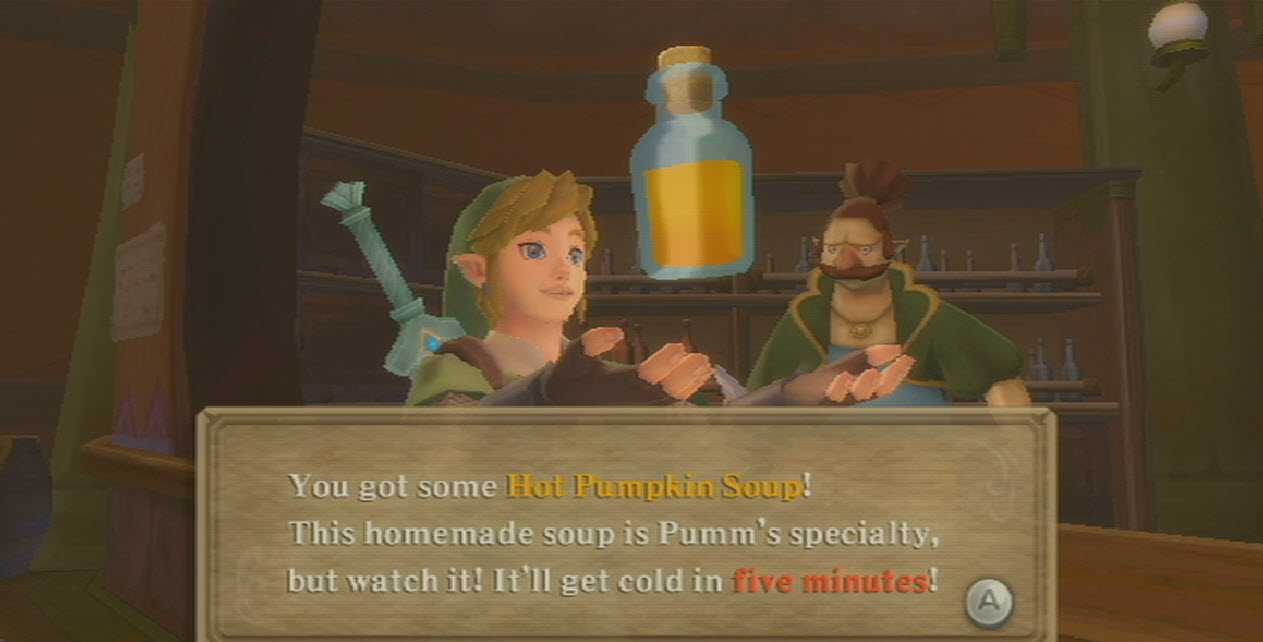 Pumpkin flavored anything may now be synonyms with stereotypical, vapid teenage girls, but when you get down to it, pumpkin is still a very tasty ingredient.
In The Legend of Zelda: Skyward Sword, you can visit a pub known as The Lumpy Pumpkin. There, in addition to completing several quests, you can purchase Hot Pumpkin Soup.
While it'll lose some of its healing capabilities after it gets cold, when it's nice and hot, it's more effective than a red potion.
In addition to healing your wounds, we know that this soup tastes fantastic as it is the preferred food of the sky guardian Levias. And if it's good enough for a giant sky-whale, it's good enough for you.
The Cake (Portal)
Here, we have what appears to be a basic cake with chocolate frosting, topped with cherries and whipped cream.
While that would definitely be tasty, during the final battle with GLaDOS, the intelligence core recites the entire recipe. While there are plenty of items in the recipe that could make a cake extra delicious, such as coconut pecan frosting and fish shaped candies… there are also items included in the recipe like "Fish shaped volatile organic compound and sediment shaped sediment" and "Injector Needle Gun."
My advice? Leave out the ingredients that will cause you to die, and sit yourself down to enjoy a tasty chocolate cake with coconut pecan frosting.
Heart Stopper Burger (Grand Theft Auto 4)

DO NOT TRY TO ACTUALLY MAKE THIS!
Unlike the cake from Portal, there's no way to remove the lethal elements from this dish without turning it into a normal hamburger.
Lets count for a moment. According to this advertisement, the Heart Stopper 6lb Burger includes at least nine meat patties, five slices of what I can only hope is something resembling cheese, lettuce, pickles, tomato, and onion.
If you choose to make this burger for yourself and eat it, you will die. There's no getting around that. However, it would be the tastiest death ever.
Cup of Lifenoodles (Earthbound)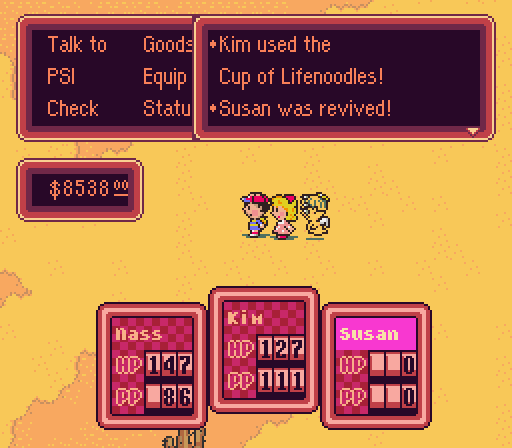 The greatest cup of noodles ever to be cooked!
While as a standard cup of noodles, its taste can't compare to the traditional ramen seen in The World Ends with You, these noodles have the ability to cure any ailment.
Broken arm? Eat a cup of Lifenoodles. Have a fever? Eat a cup of Lifenoodles. Knocked unconscious by a guy because you're enough of a nerd to write about tasty video game food? Have a friend pour some Lifenoodles down your throat.
So long as you can stomach overly-salty gas station noodles, there's nothing Lifenoodles can't help you overcome.
Honningbrew Mead (Skyrim)
Out of all the alcoholic beverages I've had in my life, none have tasted better than homemade mead.
From my experience making it with my older brother, I've learned that there are several crucial aspects of making a good mead. Most importantly perhaps is how long you let it ferment. Quality mead needs a lot of time to sit, with a minimum of a year.
Seeing as how we have no idea what Honningbrew Mead tastes like, I imagine it to taste like one of my favorite flavors of mead: Chamomile, Maple, or Honey.
Since there are readers of this site who aren't old enough to drink, and even more who aren't qualified to make their own alcohol, I'm not going to lay out the process.
However, for those of you who really do want to learn, look around on the internet. There are plenty of tutorials to quench your thirst for knowledge.
Dots (PacMan)
For nearly four decades, Pacman has been eating these white dots. And spin-off games aside, that's really all that he does.
So what do these tiny, little, white pixels taste like?!
Surely, they must be good enough to risk getting killed by ghosts for. However, we have no idea what flavors they contain. Are they salty or sweet? Bitter or sour?
Perhaps the answer… is yes.
Perhaps this is a food so delicious, so perfect, that it perfectly balances all possible flavors.
That is the way of the dot. That is the way of the Pacman.
What food from games do you want now? And what would you throw in the dust, and not even leave for the dogs? Let us know in the comments below.
About the author