Having recently watched the X-Ray kills of Sniper Elite 4 has reignited my love of slow-motion death. Whether it's just simple slow-mo, like in Max Payne or Enter The Matrix, or full bullet time like in Sniper Ghost Warrior, even going as far as Sniper Elite with an X-Ray system showing organ explosions and bones shattering, I cannot get enough.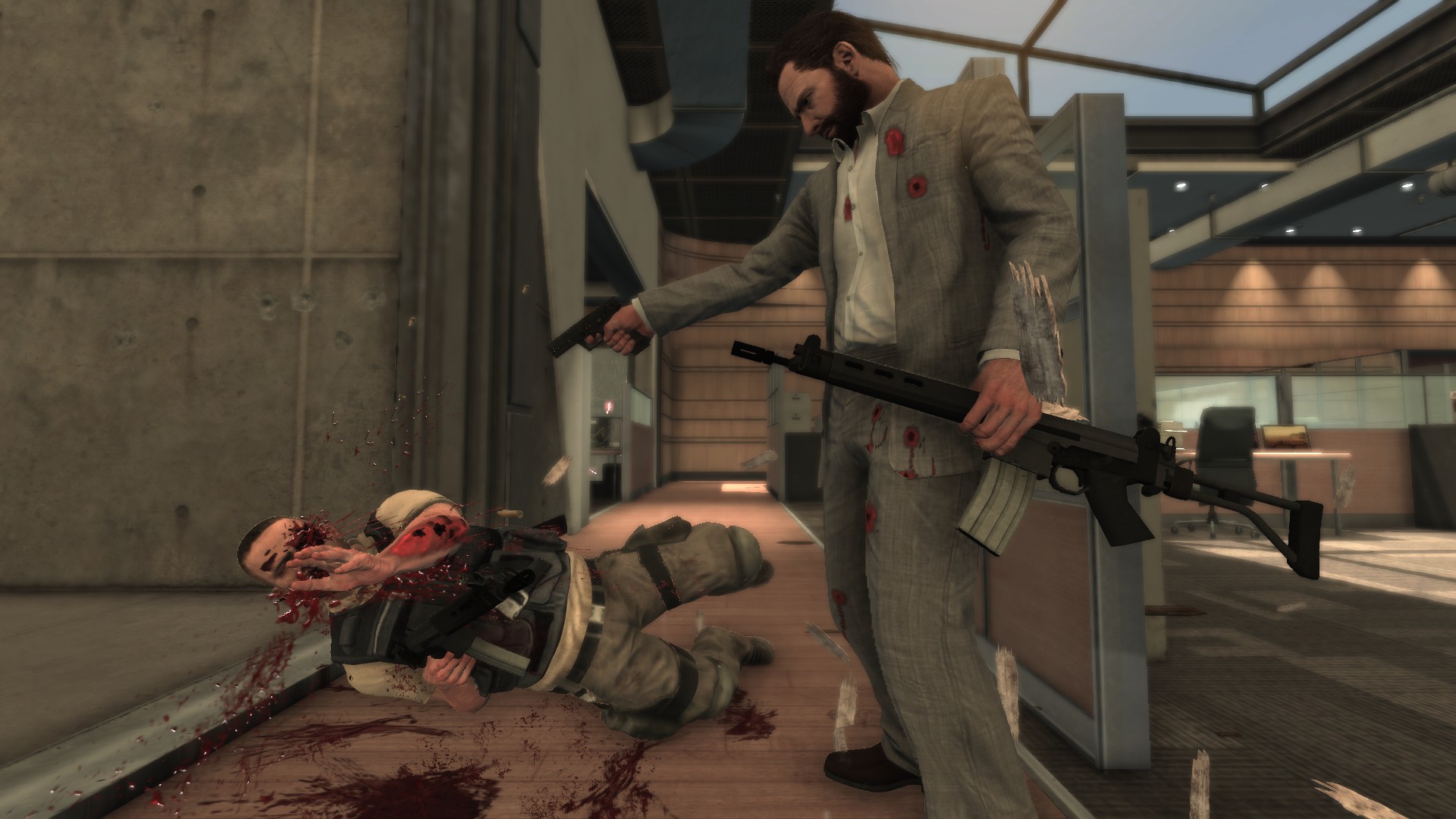 Don't watch… the dead man says.
I can see right through you
I've always had this morbid fascination with seeing slow-motion death. Watching my bullet(s) slowly travel towards the final victim, or if I'm sniping I get a moment of excitement when the camera smash cuts to the gun's barrel. It tells me I've just made "the shot" and I can sit back for a second and watch my work. It only gets better when I can follow that bullet through the body of my enemy, and bask in the gory glory of perfection.
It might be me, but I would love to see more games embrace the bullet time. Quantum Break seems to be using the same style as Max Payne 3, it gives you a stylish slow-motion scene of a man getting shot. But then Remedy are the creators of the original Max Payne games, before Rockstar took the reins with the 3rd in the series, so I'm not surprised that system is in there.
What could possibly go wrong?
The major issue with a kill cam system is how it breaks up the flow of the game, and that can be an issue for many people; stopping them from doing anything by dynamically triggering a cutscene. I understand exactly why this can be annoying. If you're firing from far off you may forget exactly where you were due to the long bullet travel time, or you may just want to fire off a few quick shots at multiple targets.
This can be somewhat fixed by making the right stick be speed changer, where clicking it in makes time go normal speed. This should overcome most of the issues with this, but if anyone really doesn't want to watch their bullet in slow-motion there should be an option to turn it off.
This is what went wrong.
Films have tried, films fall short
The Matrix is arguably the most famous film for making bullet time, but does it put you in the action? Nope, games have always had the jump on films for making you feel like you are the character, that any actions you take are yours and yours alone. Having a kill cam that activates when you have done something just makes it feel special — even if it's set off for every last enemy. You never really know how many combatants enter the arena, so you never know when the kill cam will show.
Bullet time, chill time
Kill cams, above all, look cool while making you think you are cool. By activating when you have just made a skill shot it gives you a sense that you have done that. As long as there is the ability to change the speed, to speed up during long travel time for shots, and slow down to watch your target drop, and devs add the option to turn kill cams off and ensure people who don't like them don't see them, I would love to see more kills cams in games.
Do you have strong feelings for or against kill cams? Or do you just not care? Why don't you care? Let me know in the comments below.
About the author