When it released, Dragon Ball Xenoverse was widely praised for its sprawling customization options, but it was ultimately lacking as a fighter. Its sequel expanded on its predecessor's strengths by having even more customization options and adding more moves, as well as more single player and multiplayer options, however it was still deemed a disappointment by fans of previous Dragon Ball Z fighting games.
Xenoverse 2 obviously wasn't the answer to people's wishes. The real answer comes in the form of Dragon Ball FighterZ. This 2.5D fighter is being developed by Arc System Works, who are primarily known for their work on the Guilty Gears and Blazblue series'. They also developed multiple 2D fighting games such as Persona 4 Arena and Dragon Ball Z Supersonic Warriors, so we can see that this company has a long, long history with fighting games. With this in mind, Dragon Ball FighterZ sounds like it is in very good hands with a team that will elevate the franchise back to its pedestal.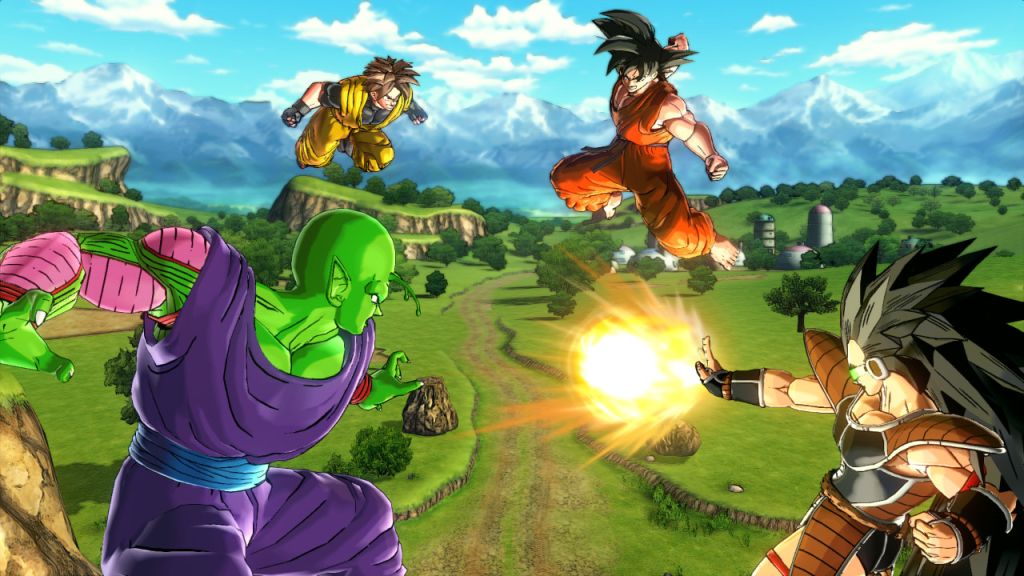 At this early stage, the new game is already looking promising. Instead of taking Xenoverse's approach to fighters by having practically every single character in the series be playable, FigherZ refocuses the spotlight back on the main characters — the Saiyans and the Villains. While the cast could still expand (considering the developer's huge rosters in past titles, it's expected), the very fact that it stays focused on much fewer characters this time around is a clear indication that each character will be unique in design.
While Xenoverse does indeed have many more individual characters, there are a lot of overlaps in the way they play. Aside from initial damage being different, the actual movesets of characters regularly merge together, losing the unique factor that successful fighters possess. With the cast of FighterZ focused on simply a few characters, each one can be given their own unique combos and skills, eliminating this glaring blemish that caused Xenoverse to be a game of missed potential.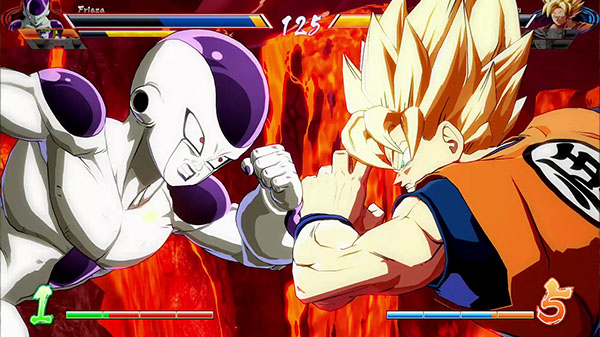 Another thing that FighterZ is looking to do much better is the environments. While Xenoverse already does an incredible job in replicating the various settings of the franchise, FighterZ will be taking it one step further. By condensing the map to a small 2D plane, it is able to emanate the essence of what each environment signifies, therefore creating a unique atmosphere for every area in which you fight. Not only that, it emulates the vast destruction that's common in the series as well.
Impact craters in the ground will stay there for the duration of the fight, environmental backdrops will be physically damaged from the force of your energy attacks, and if you unleash a devastating amount of power in one attack, the stage will straight up change into a destroyed version of the previous map. While Xenoverse had impact craters as well, they quickly disappeared, no doubt due to the size of the maps. The diversity of environments in FighterZ thanks to this small, but significant change will surely make it the superior game.
The thing that sells FighterZ as an incredibly faithful adaptation is the fact that many of the animations are a near perfect rendition of various manga panels. The developers specifically said that they took inspiration from the manga, and it definitely shows. Of course, it helps that the animations themselves are almost excessively smooth, with even dust clouds being smoother than most other games.
With all of this in mind, it clearly goes to show that these guys have gone above and beyond in creating something that fans will truly enjoy. If crafting faithful animations isn't enough, I don't know what is.
Taking all of this into account, FighterZ is looking to blow both Xenoverse games completely out of the water, appealing to both fighting game fans and Dragon Ball Z fans. With a much deeper combat system and a company with a pedigree for the genre, you should keep an eye out for when this game finally hits the shelves.
Are you interested in the latest Dragon Ball Z game? What are your thoughts on previous titles in the franchise? Sound off in the comments below!
About the author