There is no shortage of anticipated games dropping in 2018, but no other game can match the hype surrounding Rockstar's Red Dead Redemption 2, set to release October 26.
The buzz around the prequel is so high it has even scared many of the biggest publishers around into moving dates of their normally-predictable releases to avoid being caught in its wake.
Although Rockstar has been relatively tight-lipped regarding information on Red Dead Redemption 2, what has been released, and reports from early playtime with the game, point to another game entry that will leave players coming back for more.
In other words, Red Dead Redemption 2 is set to take everything you loved about the original and make it better, all while incorporating some fun new mechanics.
A New Face Takes on History
The last Red Dead (which was a spiritual successor to Red Dead Revolver), told the story of John Marston, a man trying to make good on his past as an outlaw. Although it is a thoroughly compelling narrative, once more taking on the role of John in the prequel could only be a letdown. Any deviation from the established backstory of Red Dead Redemption would feel unsatisfying at best.
Luckily, it looks like Rockstar found an elegant way around the problem.
Take the Reigns With a New Character
Red Dead Redemption 2 still puts you in the boots of a member of Marston's old crew, the van der Linde gang, but instead of playing as John, you take on the role of a new character, Arthur Morgan. While Arthur's lack of a presence in the original doesn't bode well for his fate, it's a great thing for you as a player. There's no established path for how Arthur behaved, leaving you free to enjoy the open world elements of the game however you prefer.
Learn More About John Marston's Past
Although the gameplay for Red Dead Redemption was no doubt stellar, what put it over the top was its incredible storytelling, especially in regards to Marston. With John as an NPC, players will get a more thorough look into John's pre-Redemption life.
It seems likely we will even get to take part in the mysterious Blackwater Massacre, the formative event in John's life and the cause of which was left deviously vague throughout the first game.
Taking Skills to a New Level
Redemption was chock full of fun mechanics which players adored, and Red Dead Redemption 2 looks set to take those elements and make them even more engrossing. For example, when hunting animals, Arthur has the option to strap the prey onto the back of his horse instead of merely skinning it. It's a small addition, but one that enhances immersion and heightens the game's realism.
Oh, and speaking of horses, your interactions with your ride will be ramped up this time around, too. With a stronger relationship between you and your horse, it will be interesting to see what new mechanics might wait for us just over that sun-soaked horizon.
Heists are Here
The original Red Dead Redemption wasn't the last time Rockstar had a certified smash hit on its hands. In September of 2013, they dropped Grand Theft Auto V and its popularity continues to this day.
One of the most beloved features in GTA V were (are) the game's heists, where players controlled a team of criminals looking to make a big score.
When you're making a game about a gang of Wild West robbers and have heists in your track record, you'd be insane not to include them, and sure enough, Arthur and the rest of the van der Linde gang will have their own heists to tackle. If you're not excited at the thought of robbing a speeding train, or holding up a town bank, you're fooling yourself.
The Prettiest Wild West Yet
Pretty graphics aren't everything in a game, but they're not nothing either, and fans should be drooling over the chance to explore the open world of Red Dead Redemption 2.
You should always be cautious about assuming everything in a trailer is in-game footage and not generated cut scenes (or vertical slices), but it's clear from the first looks at the game that Arthur will be exploring a truly stunning expanse. When you combine Rockstar's proven track record of making their maps interesting to explore with stunning visuals, you get one heck of a good time.
Honor Among Thieves
The honor system in Red Dead Redemption tracked the overall merit of John's actions. Bring a bounty in alive and you get points. Bring him in dead, you earn fewer. Kill a lawmen and you lose them.
The sum of all of your actions then determines how people within the world view you and react to your actions. Think The Good Place before there was The Good Place.
Of course, this system is back for RDR 2 and it promises to have even more nuanced applications. Many encounters in the game will yield a range of possible resolutions for Arthur, each with its own unique results on how you are perceived. Fans of the first game should be stoked to see an already great system being made even better.
Provide for Your Camp… or Don't
Red Dead Redemption 2 will also feature a camp system, with Arthur capable of providing for Dutch and the gang's needs to keep everyone happy. Put down the pitchforks and blazing torches, because Rockstar already heard you. "Managing settlements? Oh, awesome! I can't wait to meet this game's Preston Garvey!"
To say that the settlement system in Fallout 4 arrived to mixed reviews is an understatement, but fans need not worry about it in RDR 2. While hunting to provide for your camp is always an option for you, it's not mandatory. You don't have to spend every session dealing with a punch of grumpy gunslingers.
There's more content there, but it's not forced on you.
There's a Whole World Waiting for You
John Marston's story wasn't the only brilliant storytelling piece Rockstar has delivered to fans in the past. Simply riding out into the wilds and seeing where the road took you was always a surefire way to come across something interesting to engage with.
With the power of newer consoles, there's one consistent change in open world sequels — larger maps. You'll have more to explore and more to play. It's hard to argue with a game giving you more bang for you buck.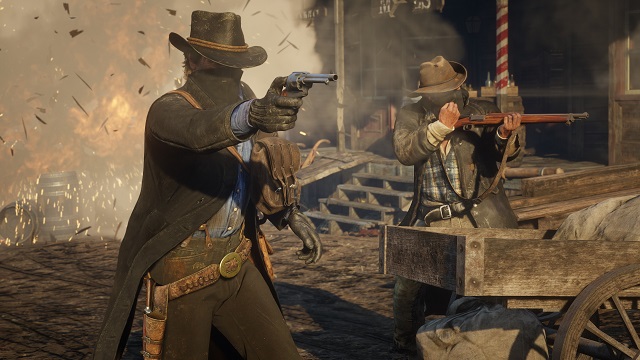 Online is Coming
Although Grand Theft Auto V was already a smash hit with its solo play options, it became a true juggernaut with online play. You can count on Rockstar supporting RDR 2′s online mode with the same fervor as GTA V for a very simple reason — it turns out companies enjoy making money hand over fist.
Rockstar has constantly supported GTA V's GTA Online with new content and tweaks, which has lead to a fantastic and fresh experience for gamers. With a game that players don't want to put down comes financial rewards for the publisher, so there's no way Rockstar has any intentions other than to dive into the online experience for Red Dead Redemption 2 with the same fervor.
—
Simply put, Red Dead Redemption 2 sits atop the heap of anticipated releases for a reason. There's no good justification not to think that it's going to be an unbeatable experience for gamers.
So, what do you think? Are you counting down the days for Rockstar to release it into the wild, or are you able to see the cracks in the facade everyone else is missing? Let us know in the comments.
Related Content

:
About the author