Looking back at the last 11 months, it's apparent that 2016 wasn't nearly as much of a banner year for horror gaming as 2014 or 2015. There was no major survival horror reboot like The Evil Within, no genre breaking and awarding winning Alien: Isolation, no (new) Resident Evil.
Although many notable games did launch in the past few months, what was probably the most high-profile release of the year wasn't even technically a horror game, but rather an FPS.
Biggest Horror Releases Of 2016
Of course, I'm talking about the long-awaited Doom reboot, which was gory as all hell and featured truly demonic enemies. But the game perhaps doesn't entirely belong in the "horror" category, since it was more of an action shooter.
It certainly had the gore aspect in spades — with dozens of executions!
In terms of big name games with AAA developer backing, there were only a handful other than Doom, and not all of those were even new games, like the Resident Evil 0 remaster landing on consoles and PCs back in January.
The other major release was the truncated three episode season of Telltale's The Walking Dead, which focused solely on Michonne and featured even less consequence than usual for Telltale Games.
The storytelling developer will have a chance to rectify that misstep with the impending third full season, which returns with series-staple Clementine, in December.
Whether unexpected 2D hits, asymmetrical titles letting you play the slasher or losing your sanity in a dungeon filled with tentacled horrors, smaller games hit the horror spot in 2016. Many of the highlights from horror gaming went under the radar, as indie games reigned supreme this year.
Before we get into those worth-playing titles, though, there are a handful of overhyped and underdelivered games worth mentioning that marred 2016's release calendar.
Biggest Horror Disappointments of 2016
Thankfully, we didn't have the gut-blow of Silent Hills being canceled this year, but there were some flops to remind us of the existential pointlessness of existence.
Echoing that major catastrophe from 2015, the P.T. inspired Allison Road was canceled this past summer without explanation. The game's Facebook page has since been updated, indicating development has resumed, although it appears the game is going a different direction now, with more questions than answers as to what exactly happened.
Development hell and canceled games are just a fact of life, which is why some game companies have turned to early access to keep funding going while work progresses. Sadly, not all of these games deserve to hit feature-complete status.
Development hell and canceled games are just a fact of life, which is why some game companies have turned to early access to keep funding going while work progresses. Sadly, not all of these games deserve to hit feature-complete status.
While I'm personally a big proponent of crowd funding and early access, they don't always yield satisfying results, which is currently the case with Team Clockworks' At The Mountains Of Madness.
This clunky mess taken from the famous Lovecraft story of the same name is garnering entirely negative reviews in its current state and is need of a major overhaul.
For me, it's just another painful reminder that we'll never get that canceled Guillermo Del Toro / Tom Cruise movie adaptation that was promised…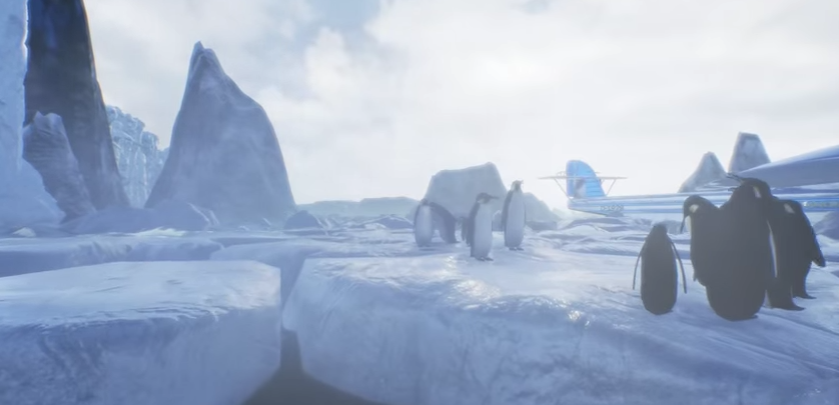 Run – killer penguins!
Of those games that made it through development to release, not all of them were worth the wait. The biggest flop this year had to be NightCry, which was crowd-funded under the title Project Scissors and is a spiritual successor to the woefully underappreciated Clock Tower series.
NightCry definitely evoked the feel of clunky PS1 / PS2 era survival horror games, but not particularly in a good way. It had all the frustration of those games with very little of the payoff.
However, my fingers are crossed that Bloodstained: Ritual of the Night (a similar crowdfunded venture from the forces behind Castlevania) manages to work out a bit better when it lands in 2018.
Who thought running from monsters in high heels was a good call?
Wrapping up our look at the flops for the year, we'll end on the decidedly mediocre Phantaruk. While this indie first person horror game tried valiantly to evoke the feeling of the Frictional titles like SOMA or Amnesia, it just didn't manage to quite stack up with the atmosphere, story or scares. There was promise there though, so I'm hoping Polyslash goes on to refine the formula with a better game in the near future
The Indie Horror Triumphs of 2016
Now that we've covered what wasn't worth playing, it's time to dive into what knocked our socks off, and there were a ton of them from lesser known developers. Too many to even list them all here, in fact!
There's a ton of fun to be had either playing the unkillable slasher hunting down his victims or as the terrified co-eds trying desperately to survive and escape unscathed.
Dead By Daylight came to the asymmetrical slasher party early, pre-empting the dueling Friday the 13th and Last Year, both of which have failed to materialize so far and cover the same ground gameplay-wise.
They may be facing serious uphill battles against their predecessor, which has already landed on a winning formula.
There's a ton of fun to be had either playing the unkillable slasher hunting down his victims or as the terrified co-eds trying desperately to survive and escape unscathed.
Kill your friends one by one!
Available in early access last year, both Layers Of Fear and Darkest Dungeon finally arrived in their feature-complete forms in 2016, offering two very different but equally compelling descents into madness.
Fan feedback and sales have gone well enough that Layers Of Fear already saw the release of an expansion, putting you in the role of a family member returning to the painter's nightmare mansion, while Darkest Dungeon is betting on a vampiric DLC upgrade early next year.
For those who prefer something more fast paced and adrenaline-pumping, the early access Unloved was released in September, offering a modern re-imagining of the Doom 2 mod of the same name. A bloody good time that's somehow even darker and more shrouded in shadow than Doom 3 was, Unloved is a game you want to pick up if you like the idea of fast paced shooters but prefer something with more horror oomph.
A few other indie titles are worth mentioning that horror fans should make a point of checking out that provide very different takes on the genre than you'd typically expect.
Although not without a few rough edges, Iron Fish ditches the typical gore and demons to offer a deep sea psychological thriller experience, while the mind bending Asemblance will utterly break you as you chase the truth down a rabbit hole of jumbled memories.
If you prefer an atmospheric experience along the lines of genre highlights like Amnesia, Layers Of Fear, and so on, then Lethe Episode 1 should be on your shortlist, showcasing that developers other than Frictional can handle that style with aplomb.
On the stylistic front, Camp Sunshine deserves to be tried by just about everyone for its absolute love of all things pixelated and slashery, transforming the typical summer camp machete-fest into a 16 bit world of horror.
Something tells me the camp's name is inaccurate…
VR Horror Gaming
The Oculus Rift and HTC Vive have come, and in their wake will be left a slew of first person horror games. VR is still just emerging though, with games of a very hit or miss variety.
Here They Lie is an early Playstation VR experience that's worth trying out, while Until Dawn: Rush Of Blood took the name and not much else from last year's much-hyped slasher game, throwing you into an on-rails VR arcade experience with a clown fetish.
Virtual reality is guaranteed to get much, much bigger in the next year or two across console, PC and mobile platforms, especially with games like The Walking Dead and Paranormal Activity getting big VR launches.
For now though, most will just have to watch Markiplier and PewDiePie pretend to be scared while testing out equipment that's too spendy for the adverage gamer. For those who do manage to shell out for a new computer and an Oculus Rift, please don't get eye herpes – because that's the real horror potential of VR.
I can't help but notice this is nothing like Until Dawn…
Unexpected 2016 Horror Developments
You might recall that last year the Five Nights At Freddy's series made our "most overyhyped" list, but this year's entry FNAF: Sister Location was an unexpected gem. It wasn't without some big flaws for sure – night 4 still has people in screaming rage fits – but its easily the best one to arrive so far and the most worth actually playing and not just watching playthroughs.
Causing a major kink in this year's horror gaming schedule, Outlast 2 getting pushed back from a Halloween release to Q1 2017 was among the biggest disappointments, but developer Red Barrels thankfully didn't leave us hanging.
Quitely releasing demo showing off the main direction of the story and allowing fans to play through an extremely tense corn field chase, Outlast 2 simultaneously was and wasn't the best thing to arrive on the horror landscape this year.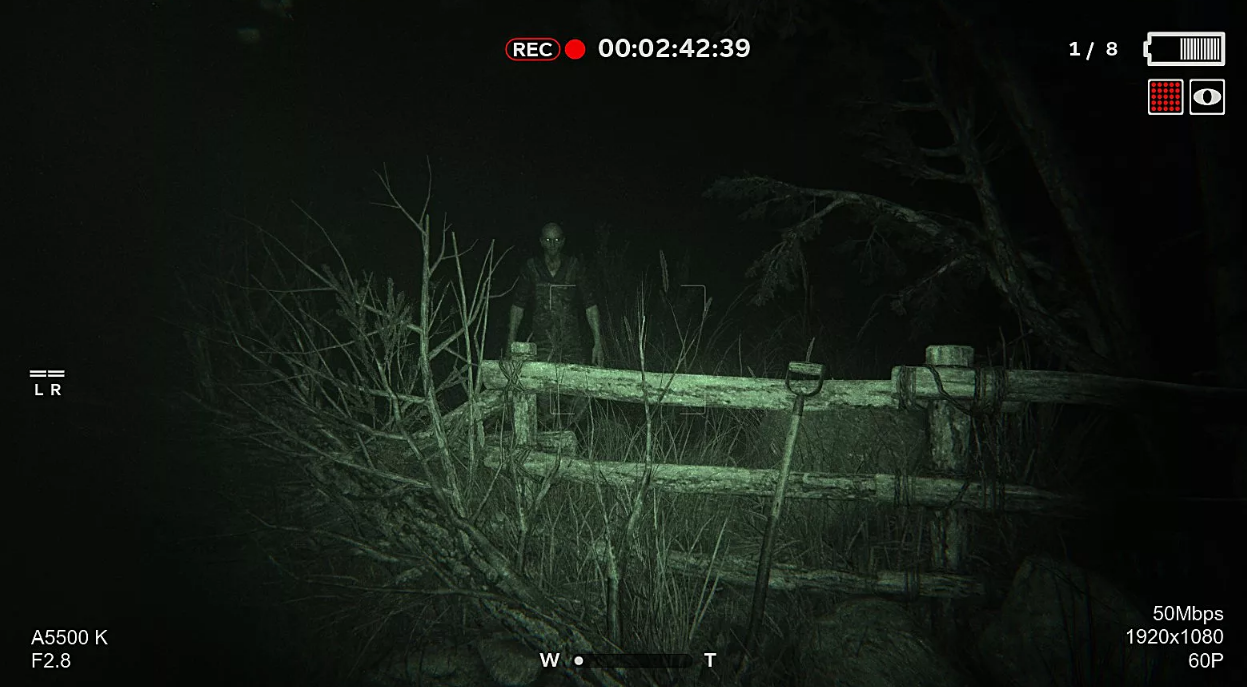 Calling it now – this will be the best found footage horror flick of 2017
Forecast For Horror In 2017
Next year is slated to be filled to the brim with top-tier releases both AAA and indie, assuming nothing get cancels or pushed back last minute as has been known to occur.
Giger is clearly a massive influence on many of the impending releases like Scorn and Inner Chains, and more than a few also delve into the depths of hell where horror belongs. Cosmic horror isn't getting left in the lurch either, as a proper Call Of Cthulhu follow-up is on the horizon.
A more complete look ahead and what's coming next year can be found right here.
So while 2016 was a "weird" year in the horror gaming landscape, with much-anticipated games getting shuffled around and new-comers blowing are socks right off, let us know what your favorite horror game of 2016 was, and what you are most looking forward to arriving soon!
About the author