Abstract Shooter Zenzizenzic will be Published by Adult Swim Games
Adult Swim Games is publishing a new indie game called Zenzizenzic, a new shooter game that has a geometric feel.
A new, indie shooter game called Zenzizenzic is coming to Adult Swim Games. According to the official website, the indie game is "a high paced, adrenaline infused, challenging and addictive twin stick shoot 'em up bullet hell game." The gameplay features geometric shapes that serve as all the action players will experience. At first glance, the gameplay screenshots resemble gameplay from Geometry Wars, only it's not as hard on the eyes. It looks complex, wild and crazy - a perfect fit for Adult Swim Games.
Ruud Koorevaar, indie developer and designer of Zenzizenzic, wrote on the website that he created Zenzizenzic from scratch and he named it after "a mathematical term for the eighth power of a number through squaring". Koorevaar hails from the Netherlands, said he "didn't know a damn thing" about game development until he started using Unity3D and had slightly delayed the game's development a month ago due to an injury he had while snowboarding. But now, he's psyched to have his game published by Adult Swim Games. And they're even going to help him get his game on Steam, which is currently under a Greenlight campaign.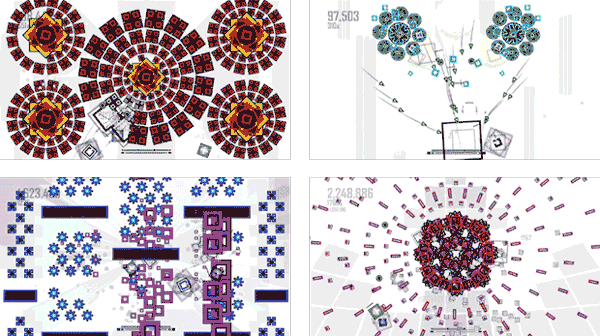 One other branch-off game, Zenzizenzic: Macro, that Koorevaar had in mind is now going to be included in the game's debut release instead of being a separate entity. Koorevaar mentions on his game's site that the reason for this is to "avoid confusion, prevent doing a double promotional campaign and to make a single, very strong release". He's aiming for Zenzizenzic to be released in June 2015. For now, he's put out a beta for interested players to enjoy and to help him improve the game.
If you would like to try the beta or sign up to receive newsletter updates on Zenzizenzic's progress, visit his official website. If you would like to contact Ruud Koorevaar, catch him on Facebook or Twitter.
Published Sep. 1st 2017