Corsair K65 RGB Keyboard Review
Corsair's K65 is boasts fantastic response and so many pretty colors. If only its software were as satisfying to use.
"And though she be but little, she is fierce."
When Shakespeare first wrote this line in A Midsummer Night's Dream, he definitely didn't have a gaming keyboard in mind. But the phrase certainly applies to the K65. The littlest member in Corsair's impressive debut lineup packs some serious punch.
What is this? A keyboard for hobbits?
When I say the K65 is small, I mean it's small. I've mentioned in (nearly) every other tech review that I have very tiny hands. We're talking hobbit-sized here, people. But the K65 fits them perfectly - something I cannot often say about fuller-sized mechanical keyboards. But these short fingers didn't have to do much stretching at all.
In fact, the K65 is a little bit smaller than the keyboard on my 15-inch Lenovo laptop. Some people may find the smaller size a little bit problematic. If you have larger hands, you may be a little bothered by the slightly compact keys. They're almost exactly the same size as the pads of my fingers, but this is offset by the full-size key spacing. Everything is still in the places you're used to - it's just a little less surface area.
Feelsgoodman.jpg
The K65 has fantastic feedback. Its keys respond quickly to light taps, and they do not need to be depressed completely to receive input. This makes doubletapping and button-mashing a breeze.
Unfortunately, this also means that it's easier to hit keys on accident. I had to make a few changes to my hand position to keep from bumping extra keys. Though it did take a few days to get used to, and caused a small number of in-game issues, it didn't detract from my enjoyment once I got adjusted. But if you're heavier-handed or you have larger fingers, it's worth keeping in mind that the sensitivity can make it more difficult to hit key combos accurately.
Typing on the K65 might be a different story. I'm using it to write up this review, and I'm definitely making a lot more mistakes than I normally would. The keys definitely feel like they were made for gaming first and typing second. But there is a very, very satisfying click that accompanies the full depression of a key. It actually feels and sounds a lot like a typewriter - inadvertently appealing to my writerly sensibilities.

This thing is pretty, and this isn't even its final form.
There's no other way to say it - the K65 feels really good. And it's got the looks to match. The smooth, brushed aluminum chassis nicely reflects the colorful backlighting.
A few months back, I reviewed this keyboard's sister mouse, the M65 RGB. I noted in that review that the colors around the click wheel weren't vibrant enough, nor were they mixing well enough to create the illusion of two colors instead of one. This is not an issue at all with the K65. With every color I tried, I got a solid, vibrant glow.
The utility software allows you to customize lighting effects. If you've got the patience, you can create moving effects activated by certain keys. Do you want colors to ripple outward every time you press the spacebar? You can do that. But it's quite a task with the included software (more on this later).
Corsair packed a lot of versatility into a little machine...
...including a ton of keybinding options to help you streamline your gaming experience. You can assign some really complex macros, or enable/disable certain functions to change how the keyboard responds to multiple key presses - n-key rollover, for example, will input every key if multiple keys are pressed.
Corsair's K65 RGB is a fantastic piece of tech in a small package. It boasts a solid design and key input that's both sensitive and satisfying.
The K65 also comes with a nifty detachable wrist rest. If you're a claw person, or if you're limited on space, you can pop it off with no problem. But if you're more of a palm person, like I am, the wrist rest might not be enough. There's a considerable distance between the keys and the chassis of the board, so your fingers are sitting pretty far away from your desk. The wrist rest attachment doesn't quite come up far enough to comfortably rest on. This wasn't a huge problem for me until I was typing or I had to hold keys for longer amounts of time.
Last but not least, there are basic multimedia buttons on the top right side for volume up/down, mute, and backlight brightness. But my favorite extra was the Caps Lock light - something I've dearly missed on my laptop.
But there's still room for improvement.
There are a few minor issues with the K65, the most notable being the utility software. This was another issue that I touched on in my M65 review. The Corsair Utility Engine is notoriously difficult to use. There's next to no inline help to assist you with unfamiliar features. And you kind of have to have a good handle on the software to really optimize your lighting, game profiles, and macro preferences.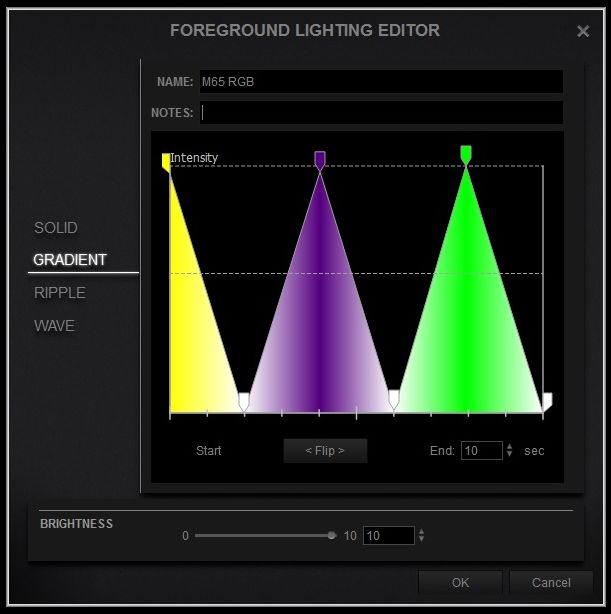 The user manual is available only as a download (because it's huge), and it covers everything in-depth. But the lack of contextualized tips button just made a long process even longer.
Aside from the steep learning curve, the Utility Engine is also outright buggy. Changes to lighting and keystrokes don't always stick. Game profiles don't always work. Unless you really know what you're doing, it's a difficult program to work with. Newcomers will be frustrated.
It's also worth noting a few small quibbles I had with the cord. Like the M65, the K65 comes with a sturdy, braided cord. But increased sturdiness means decreased flexibility, so the keyboard can be kind of hard to position when the cord coming out of the back doesn't have a whole lot of give.
The K65 also comes with two USB cables. Both cables are required if you want to plug into a 2.0 port. When you have a limited number of ports, this can become a hassle.
Overall
Corsair's K65 RGB is a fantastic piece of tech in a small package. It boasts a solid design and key input that's both sensitive and satisfying. Vibrant backlighting and endless customization options further enhance the gaming experience. But its buggy software and less than ideal cord situation sometimes make it difficult to use.
Although it's a great accessory, it's listed at $149.99 on Corsair's website - kind of a steep price for a compact, ten-keyless keyboard. But if you're looking to save space without sacrificing top-tier tactile feedback, this is definitely worth considering.
Our Rating
Corsair's K65 is boasts fantastic response and so many pretty colors. If only its software were as satisfying to use.
Published Apr. 11th 2015