Marvel Puzzle Quest: Your New Favorite Mobile Game
Marvel Puzzle Quest is everything you want in a mobile game. If you're a Marvel Universe fan, all the better. You'll never get tired of playing this.
Marvel Puzzle Quest is one of the best mobile gaming apps available. Combining the addictive match-3 puzzle style of traditional Puzzle Quest games, this app turns it up a notch by employing the Marvel Universe.
A Mobile Game With Serious Replayability
While many people tend to tire of popular mobile games after several weeks (or months, depending on the game and the player), you'll likely find Marvel Puzzle Quest more difficult to put down. Each week the game is updated with a new addition to its Story Mode, a feature that really helps the game to stand out from the crowd. The constant influx of new content keeps things fresh and interesting.
All of Your Favorite Marvel Superheroes
Utilizing the Marvel Universe cast of characters (including the Dark Avengers and several iterations of popular Marvel superheroes) Marvel Puzzle Quest offers panel by panel action with no shortage of clever quips and witty comebacks. The dialog in the game is arguably just as entertaining as the game is itself. Each weeks' update enlists much-loved characters such as Loki, Deadpool, and Captain America, with the opportunity for high-scoring players to earn the featured character and add them to their character roster—which is another amazing feature of the app.

Your character roster allows you to purchase various Marvel superheroes to comprise your team of three which will battle through the story mode or versus mode. Characters are purchased with Recruiting Tokens earned from completing rounds in story mode. The more you play the more characters you have access to. Premium character packs are available as well and can be purchased with your Hero Tokens—in-game money that is a limited resource in the game but can be purchased with real-world funds.
How Gameplay Works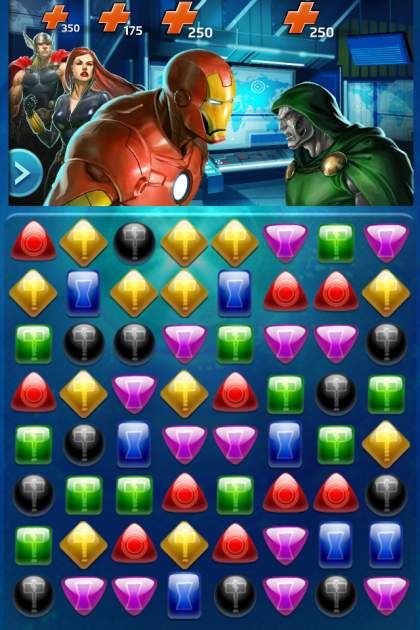 Actual gameplay involves matching colored tiles that, once matched, deal damage to your CPU opponent according to the points each color is worth, multiplied by the number of tiles matched. Bonuses are given for larger matches and match-ups of five or greater results in "Critical" tiles that offer major damage bonuses when matched with two or more tiles of a given color.
As you play each round the colored blocks you destroy and stored and sorted by color. By amassing certain colors in specific amounts you'll be able to unlock the special abilities of each of the superheroes on your team. Special abilities can do everything from restore health to moving blocks on the board or dealing crushing amounts of damage. Like any good battling game, some characters even have damage over time (DOT) abilities.
More than Just Another Tile-Matching Game
If that's not enough to hold your interest, there are weekly leaderboards for both story and versus modes. Top ranking players earn rewards of various in-game assets such as Iso-8 crystals (used to level your characters) or Recruiting Tokens. In short, if you're willing to put in a little time each week you can make great progress in the game for free—you'll never have to spend a dime to complete a mission or stay competitive. Marvel Puzzle Quest also features "Alliances", or the ability to team up with friends (or strangers) to complete objectives and earn greater rewards.
Players can also expect to see certain characters disabled for specific battles. This can occasionally result in some matches being unplayable if the player doesn't yet have the required characters. It's all part of keeping the user invested in the game.
What else could this game possibly offer? Is there more? The answer is an emphatic and resounding "YES". New features and functions are also added to the game. Patches go out on a fairly regular basis. The latest patch, R58, added a lot of cool features on top of adding a Deadpool story arc (and adding him to the overall character roster--much to the delight of Marvel fans such as myself). Full patch notes are available in this forum post on the publisher's website.
App Store User Feedback for Marvel Puzzle Quest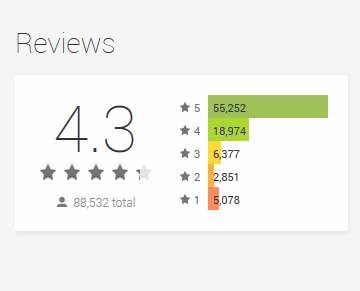 Reviews of the app in both iTunes and Google Play stores are largely positive, averaging about 4.3 stars. While the majority of reviews are positive, negative reviews point out that the game can, at times, be difficult. This stems from heightened level requirements in end-stage weekly story modes where the game has in fact been made more difficult to accommodate players who have reached higher levels. It's fun to win, but its more enjoyable if that win is somewhat challenging.
Before You Download
If you're looking for a great mobile game that doesn't require a major time investment, this is a great app to try. Playing on a Droid Razr Maxx for hours (in one epic stint, 3 hrs.) at a time doesn't put a noticeable drain on battery life. While that may not be the case for all phones, it should be for most newer models. So next time you're stuck in a doctors office or the waiting area at your local mechanic's, you can go in confident that you'll not be bored and you won't get stranded with a dead device killed off by yet another battery sucking succubus app. The only caveat regarding Marvel Puzzle Quest is that the automatic download of the weekly update is a bear. It's often a large file and even on a wi-fi connection it can make your phone sluggish. On a 4G connection it's gonna take some time.
If the information above doesn't quite convince you, you can also rest assured in the knowledge that your friends won't be able to make fun of you like they did when they caught you playing Candy Crush.
Marvel Puzzle Quest is available on mobile devices via the Google Play and Apple iTunes stores and on PCs via Steam.
Our Rating
Marvel Puzzle Quest is everything you want in a mobile game. If you're a Marvel Universe fan, all the better. You'll never get tired of playing this.
Published Jul. 30th 2014