Mario Kart 8: The Karter to Rule them All
Mario Kart 8 is the newest, amazing entry in a long running franchise.
Mario Kart 8 is truly a game for everyone.
That phrase may get thrown around a lot, but it's hardly ever true, not so with the newest entry into the Mario Kart franchise. This is coming from someone who hasn't played a kart racing game since Mario Kart 64. I thought that I would have no interest in this game, honestly, but I was pleasantly surprised with how good it was.
Right off the bat there's a staggering amount of content to unlock and experience. Every cup has four race tracks in it, and there are six cups per race level, bringing the total number of tracks to 24. That's an amazing number by itself, but when you pair that with all the unlockable characters, car customizations, and tracks from higher difficulty levels, Mario Kart 8 becomes a value that no Wii U owner should overlook.
The game handles incredibly well and it allows you to jump right into the action.
There is no tutorial to speak of, which is great. I love that Nintendo lets you get right into the game and figure things out for yourself. There was a bit of a learning curve for me since I hadn't played a kart racer in so long; I didn't know about drifting into turns or that I could get a speed boost from the starting line, but these concepts were relatively easy to pick up.
My experience wasn't dampened at all by not having anyone to play couch co-op with either. You can play through the single player without ever seeing another human and feel challenged by your opponents. Inevitably you will form rivalries with certain AI racers, which makes the rush of hitting Donkey Kong with a red shell after he knocked you off the course earlier all the more rewarding.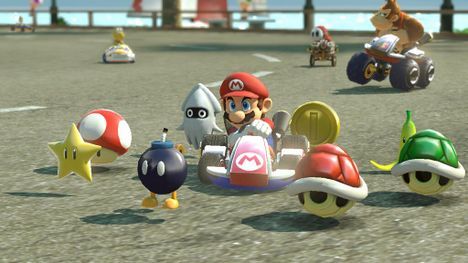 The items are fun to use as well, each one has a unique power that shines in certain situations.
It's incredibly fun to get the Crazy 8 item and have an absurd amount of weapons floating around you. The inclusion of the Super Horn is much needed repellant for the ever dreadful Blue Shell.

Racing recaps are a very smart and intuitive inclusion for the game as well. They give the player the option to review their most current race, save it and even upload it to YouTube if you so desire.
Mario Kart 8's graphics are simply incredible, and they really shine during the recap videos. At any given time you can hold down the "B" button and drop the footage into slow motion so you can see every little detail in the world. Water droplets fly off your character's back, smoke spills out from their kart's exhaust, and shells shatter into thousands of tiny pieces, all in glorious, painstakingly rendered detail.
Seeing how Nintendo has fully embraced this feature makes me so excited to see what they're going to do with the new Super Smash Bros. when it releases later this year.
It would be a sin to mention this game and not talk about the multiplayer though.
Couch co-op is at its finest when playing this game with three other people, racing through a grand prix or entering into a battle mode is easily the best multiplayer experience on the Wii U. The feeling of being able to yell at your friends as they impede your progress or revel in the glory of a mutual take down can't be matched anywhere else.
Even if you don't have friends that can come over, but still want to test your mettle against other players, the game features a robust amount of online modes that allow you to do everything from 2-player online races to competing solo against a ghost.
The one part of the game that seems lacking is the battle mode; it's really frustrating to only have the regular race tracks to choose from. Their decision to not include the arenas of old is baffling and it's also just not fun to have to pass your opponents on race tracks and then have to turn around to go after them.

Overall, Mario Kart 8 is a superb example of what a racing game should be. It offers a mind-boggling amount of content, it is equally enjoyable playing solo or with friends and it provides a great amount of ways to play while giving players a reason to keep coming back with unlockables. The one reason this game was not rewarded a 10/10 was due to their stumbling in the battle mode.
Our Rating
Mario Kart 8 is the newest, amazing entry in a long running franchise.
Published Jun. 2nd 2014