Ubisoft Tugs the Heartstrings with Valiant Hearts: The Great War
This 2D puzzle adventure game is bound to be a side-scrolling heart breaker.
Ubisoft announced earlier today one of their many new releases set for the next few months: Valiant Hearts: The Great War.
The Story
The story takes place during WW1 but is definitely not a war game. Once you watch the trailer you see that the game is inspired by letters from the War putting emphasis on the individuals instead of the war itself. You take on the roles of Emile who peels potatoes as a French prisoner of war, Lucky Freddy who is an American soldier, Anna who is a medic on the front lines and George who is a British aviator. All of these characters are aided by a loyal dog companion to help a German soldier named Karl.

Valiant Hearts seems to be a very story-driven and emotional game that tells of the human experience of someone at war particularly the stories of the five main characters.
Designed like a comic book
The game is drawn in a comic or graphic novel style. The characters will be tackling themes such as war, loss, love, and desire. The gorgeous artwork of the game conveys such a nostalgic message, the message that war is about individuals as well as the stories behind them.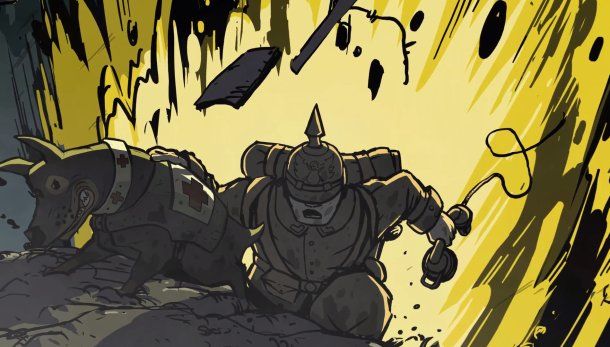 Valiant Hearts: The Great War is expected to release sometime in 2014 for Xbox and Playstation, both current and next–gen, as well as PC. A word to the wise: be prepared to pick your heart back up after this one.
Published Sep. 10th 2013