All Elite Wrestling (AEW) is touted as the WWE's only major competition. In some ways, it's the only alternative. With AEW: Fight Forever, the promotion's first foray into major video game titles outside of 2021's General Manager for mobile, we'll see yet another head-to-head title bout, with the game going up against this year's WWE 2K23.
Overall, AEW: Fight Forever has a more arcadey feel than WWE 2K23. Long-time fans might remember No Mercy for the Nintendo 64 or Day of Reckoning for the GameCube, and that's the style that enters the ring here.
AEW: Fight Forever's roster includes big stars like MJF, Kenny Omega, CM Punk, Britt Baker, Jade Cargill, Chris Jericho, the Young Bucks, "Hangman" Adam Page, and many more. Over 40 pro wrestlers are available right from the get-go, with more to be included as DLC down the line. A few wrestlers can also be unlocked via the shop menu once you've obtained in-game credits, and thankfully, these don't cost real money.
Despite that large and varied roster, there are some notable omissions, including The Acclaimed, The Gunns/Gunn Club, Claudio Castagnoli, Jake Hager, Saraya, Julia Hart, and others. Without these, the roster feels instantly dated, leaving some of the AEW's best potential matchups backstage — at least at launch.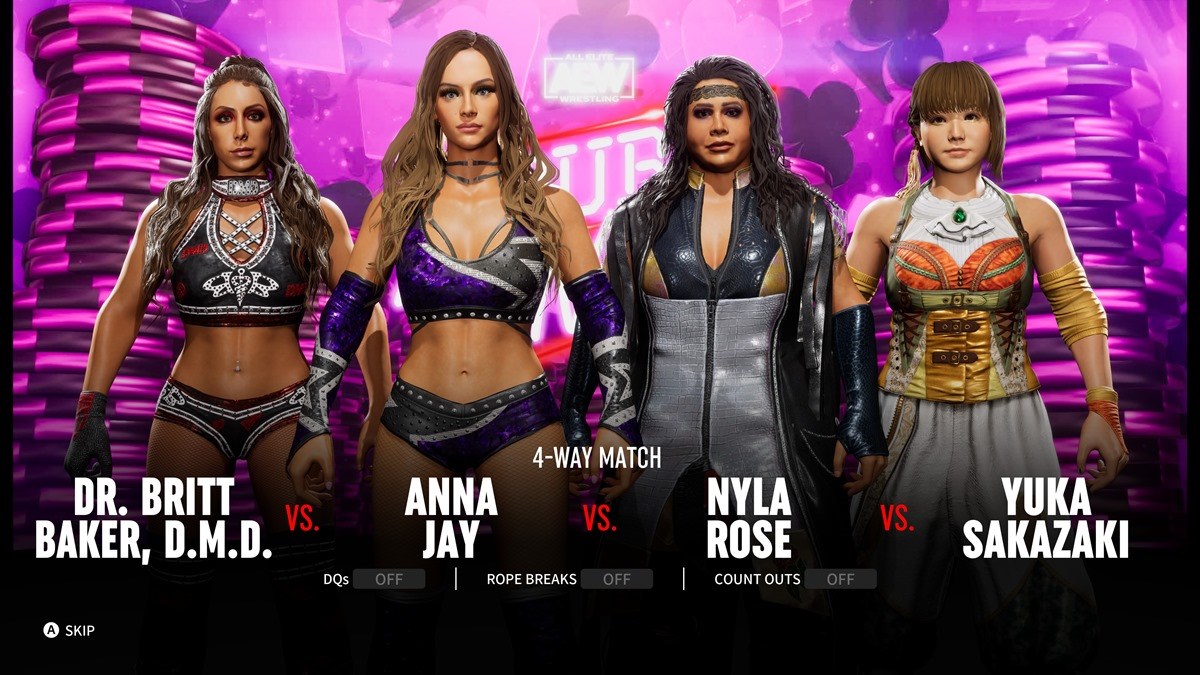 There are quite a few match types to spice things up in AEW: Fight Forever, including the usual assortment of offerings: singles/1-on-1, tag team, 3-way, 4-way, and ladder bouts. You can also try AEW's specialty matches, like the Casino Battle Royale and Exploding Barbed Wire Deathmatch.
Casino Battle Royale requires you to toss opponents off the top rope, but players pick card suites as numbers or for grouping purposes, adding a wrinkle to an otherwise normal Battle Royale matchup. Meanwhile, Exploding Barbed Wire Deathmatches put you and an opponent inside a ring wrapped in barbed wire, with an explosion happening after two minutes, damaging those too close to the ropes. Truth be told, there's a lot of fun to be had in AEW Fight Forever, especially these matches. Unfortunately, elimination matches are conspicuously missing.
AEW: Fight Forever also includes minigames that range from matching a wrestler's dance patterns, guessing the correct answers to questions, running around to collect chips, and pushing foes off a platform, all while using bombs and balloons. These features don't add much to solo play, but they could be nice additions for those playing in multiplayer or with friends.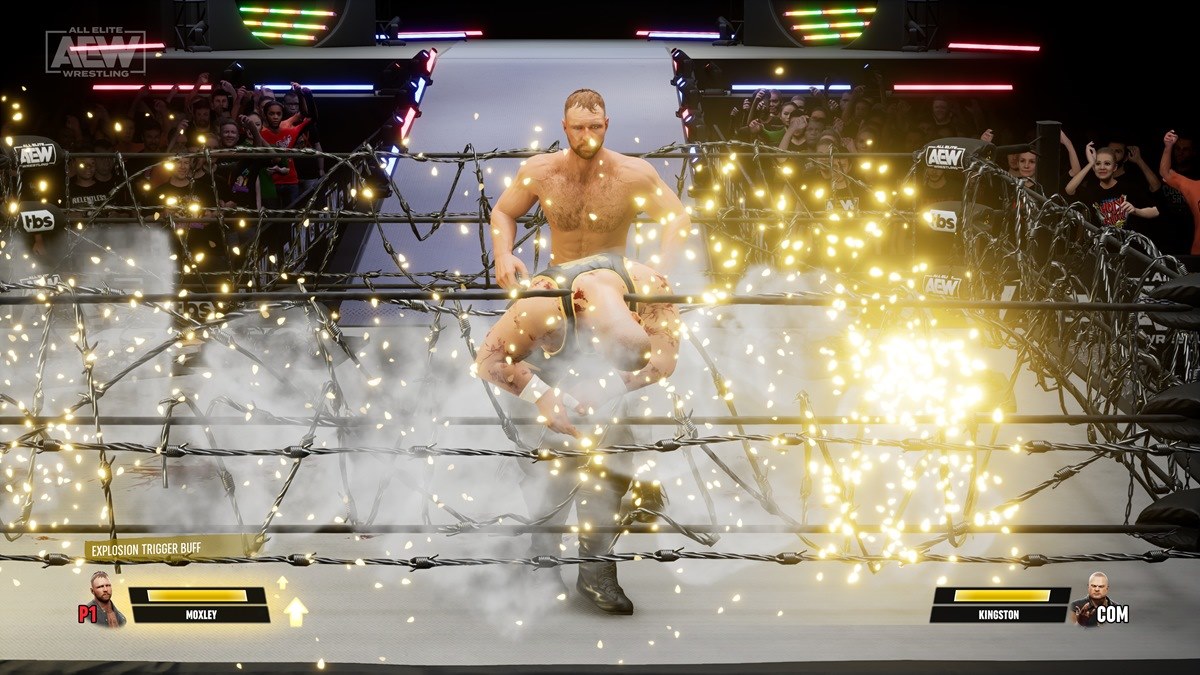 Attacks consist of punches, kicks, and grapples, with two reversal buttons that can block strikes and grappling maneuvers. Naturally, there are a plethora of core moves, such as running attacks, rebounds, top rope splashes, grounded actions, submissions, and more.
There's also the Momentum Meter, which shifts based on how a fight progresses. If you continuously punish your opponent, you'll trigger the signature flash, letting you pull off your signature move repeatedly, as long as you don't get hit. But, once you take damage, your Momentum decreases, and your rival has a chance to recuperate.
If your signature is active and you taunt, you'll be able to do a finisher. Since you can't store finishers — at all — you'll have to use it as soon as possible. If your foe manages to get the upper hand, then you'll need to earn Momentum once more. I found it far too easy to constantly spam my signature moves, push my opponent into the "danger" stage, and pin them for the win. More often than not, instead of just making things easier, it made using signature moves boring and repetitive unless I actively played to not spam the system.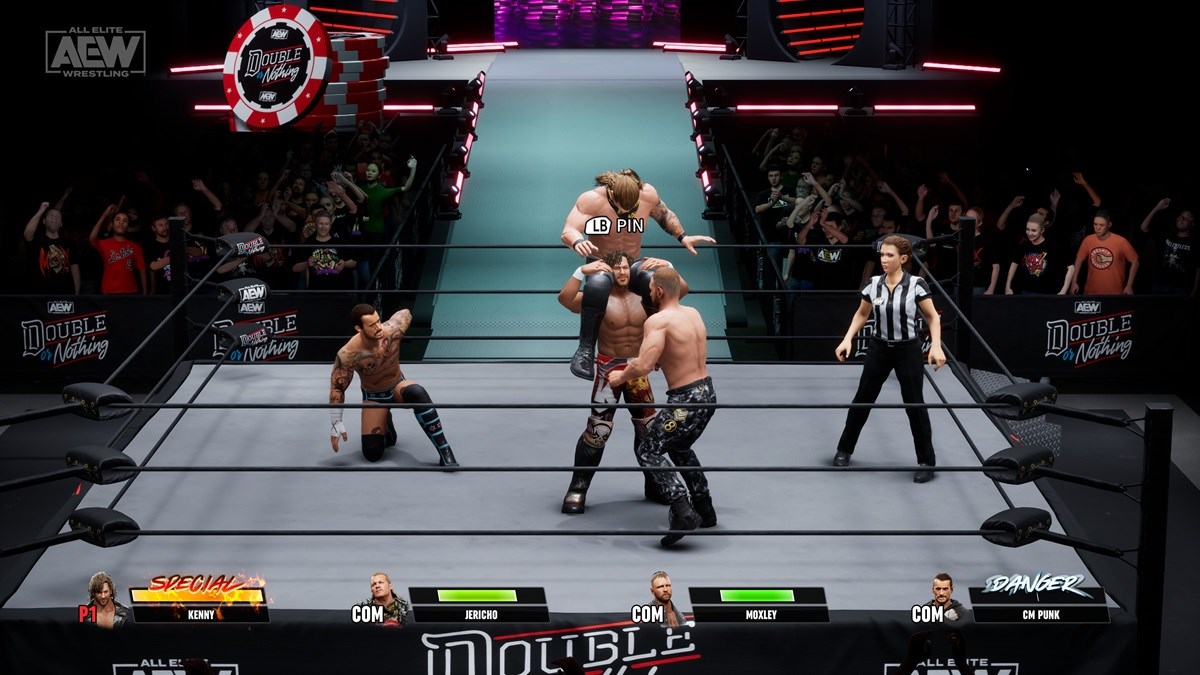 One of the weakest features of AEW: Fight Forever is the game's create-a-wrestler (CaW) mode. If you've played the WWE 2K games, you'll know there's a very robust Creation Suite in each iteration, one that has numerous selections to customize your superstar. You can come up with some unique creations or recreate superstars or personalities not in the game. I've dabbled with the feature a few times in games like WWE 2K19 and WWE 2K22 and enjoyed them. But in AEW: Fight Forever, it feels as though I've gone back to a pre-SmackDown vs. Raw era when this feature wasn't as fleshed out.
The face, hairstyle, and body options are limited, with no face or body morphing available. You can't use face photos or logos, and there are relatively few attire and accessory options. What's more, there's no Community Creation style system (so you can't upload or download CAWs), and the moveset selection is uninspiring, with no way to select additional sorting modes. It doesn't help that character models are inconsistent, with some looking good and others looking downright bad.
Another system that's not fleshed out very well is Road to Elite, the game's pseudo-career mode. It consists of four-week segments for each major PPV: All Out, Full Gear, Revolution, and Double or Nothing.
The goal is to earn enough points and cash to unlock stat boosts and skills. You can recharge energy, play minigames, participate in Dark or Rampage matches, and buy extra effects from a shop, culminating in a PPV bout. There are also a few branching paths and decisions based on select decisions or if you win a particular match. Likewise, you can pick a CAW or bring a default AEW wrestler. Sadly, this mode also has problems.
First, AEW wrestlers can't earn skills, so there's hardly a point to using them. Second, although your CAW can learn skills, it seems they aren't saved if you restart a Road to Elite campaign before it's finished.
It's worth noting that some outcomes don't even matter at all. For example, I won the Casino Battle Royale intro, which meant that my wrestler had a shot at the AEW World Heavyweight Championship at All Out. Once I got the title, nothing came of it. It wasn't referenced in the next segment (i.e., Road to Full Gear), and it's as though the short storyline therein existed within its own bubble. In fact, by the time I reached the Double or Nothing arc, it was as if my character was still struggling to claim the championship, even though he already had it.
AEW: Fight Forever Review — The Bottom Line
Pros
Play as your favorite AEW pro wrestlers.
Momentum system allows for quick bouts by spamming signature moves.
Arcadey silliness in various matches, such as the Exploding Barbed Wire Deathmatch, or just using a skateboard to get around the ring = fun.
Cons
Very limited CAW system/Creation Suite; there are no downloads or uploads.
Road to Elite is sorely lacking in continuity and purpose, despite being the game's career mode.
Outdated roster with many stars still not announced as DLC.
Limited match options and modes; there aren't any elimination matches, backstage/arena brawls, or anything remotely akin to Universe/GM modes.
No ringside commentary during matches.
Wrestler models look okay during matches, but some pose/menu photos look terrible.
Taken on its own and within a bubble, AEW: Fight Forever certainly provides a unique flair for those who like pro-wrestling games. Sadly, when considering other wrestling games, such as WWE 2K23 and Fire Pro Wrestling World, it falls short of the mark. This isn't Le Champion; it's Le Chump-ion.
[Note: THQ Nordic provided the PC copy of AEW: Fight Forever used for this review.]
About the author