Easily among the most anticipated horror games of 2018, Agony is a game that subverts typical horror tropes with a radical change in setting. Rather than escaping painful death at the hands of zombies, serial killers, or wendigo, the Agony's main character is already dead and has suffered unimaginable torment for an unknown amount of time in the bowels of Hell.
Much like Scorn, the game's primary idea revolves heavily around creating a disturbing atmosphere that you won't see in any other game. Sadly, the actual Agony gameplay experience beyond that atmosphere is quite hit or miss.
Agony's take on stealth horror truly redefines what NSFW really means, and as a bonus, there's more gameplay elements than what's found in "walking simulator"-style horror games (which seem to have dominated in recent years). For all that promise, though, the game does fall flat in several areas.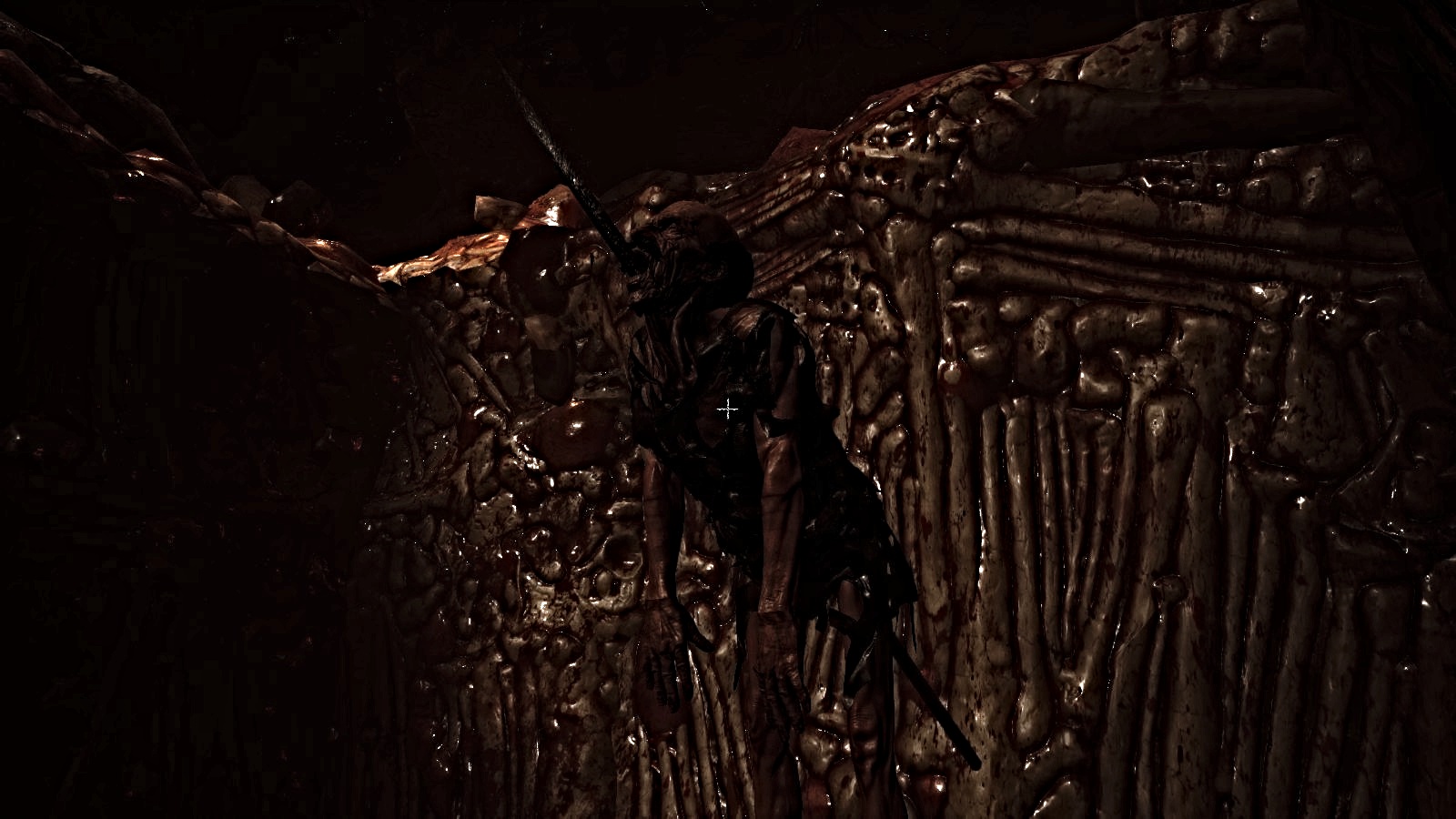 Not a pleasant way to spend eternity
(and just wait until you notice he twitches and moans!)
A Trip Into Hell… And Beyond
Agony combines different elements from across the horror genre for something slightly familiar but still different enough to be worth playing if you can overlook the performance issues.
The hiding and running mechanics from games like Outlast collides with a survival horror aesthetic peppered with Dante's Inferno. An H.R. Giger take on Hell melds with some of the trippier elements from last year's Observer, and it's all rounded out with a dash of Clive Barker.
In all that mashing of styles, there's a whole lot that Agony does right. With headphones on and the lights off in the dead of night, you are in for a blood-curdling vision of hell.
Gameplay sets itself apart by balancing terror with curiosity: you want to see your surroundings in great detail but illuminating them draws horrific terrors bent on torturing you in horrific ways. Hell is disorienting on purpose (there's no mini-map in the abyss) and you can't beat the atmosphere on display while hiding under gore piles, wading through lakes of blood, and so much more we won't spoil here.
The procedurally generated Agony Mode will also significantly increase the game's replay value after you finish the story.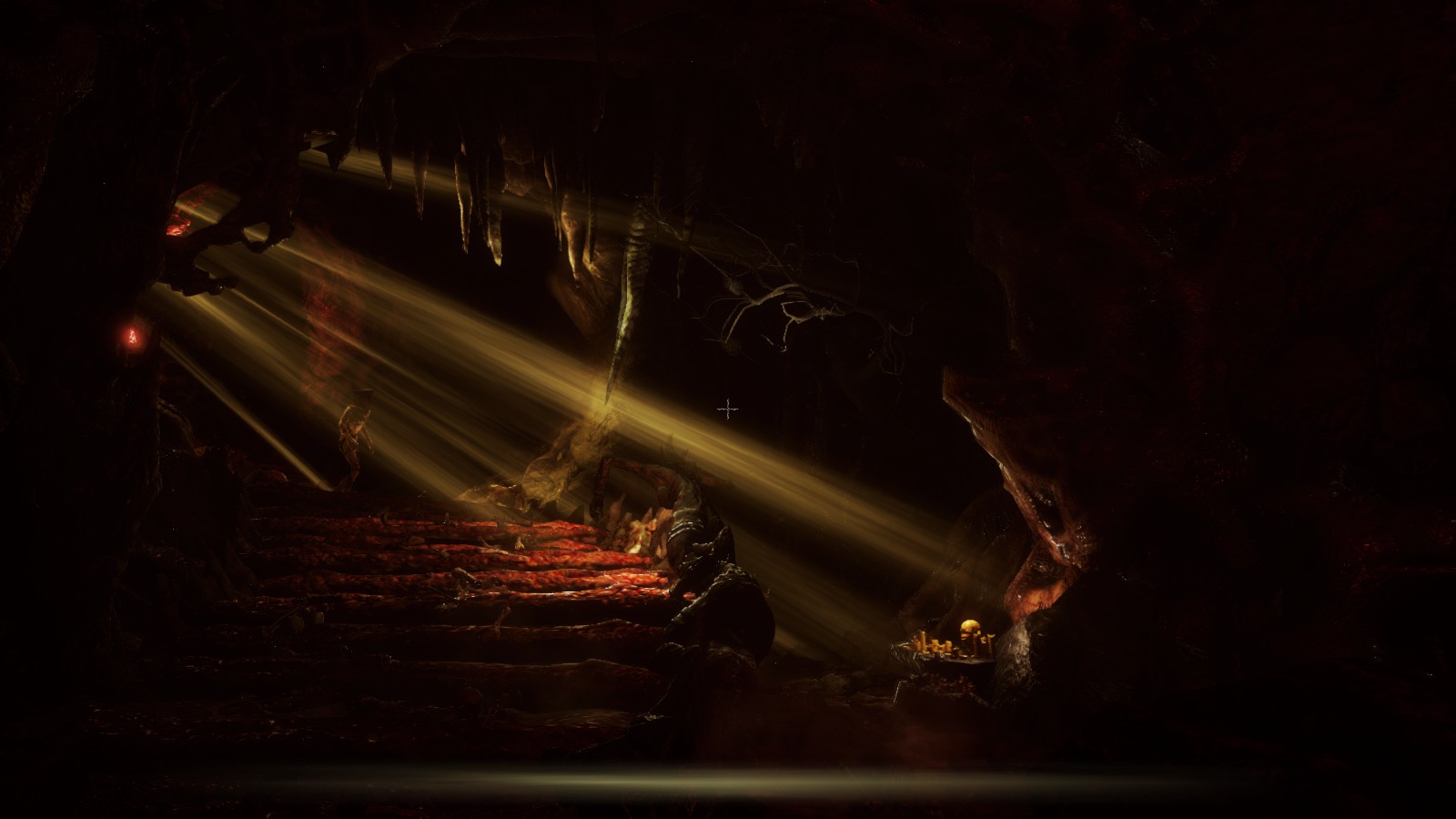 There's a really effective use of light and shadow in the level design
Horror Battles Annoyance
Genre fans can rejoice: jump scares are few and far between here. Multiple levels of horror are present beyond the obvious gore as the player starts to realize what's really going on and gets an inkling of where the game's raw body material came (comes) from.
Hell is composed of surprisingly varied environments beyond just the blood and bones from the trailers, and the developers have come up with plenty of unique and interesting ways to open up new areas or create easier paths through Agony's maze-like environments.
There's an impressive amount of area to explore in Hell. It might just be creative usage of the landscape to trick the player, but these areas feel larger and more twisty than in games like Outlast. The levels are also fairly freeform, and two different players might take two radically different approaches to reaching th eend.
Notably, there's also far more gameplay elements than many other titles of this style, from hidden collectibles to grab, a mix of combat and stealth, memorizing sigils and tracing them to access new areas, and more.
Using the environment and objects to your advantage to avoid killer succubi makes for memorable gameplay
Flying around as a disembodied astral spirit and then possessing other martyrs (or even other demons!) is a major part of the experience. Unfortunately, that's where some of the problems start to become apparent. In one playthrough, my astral body was trapped in the ground and couldn't fly anywhere, so I had to hard restart.
The limited timer on possession and staying in a demonic form also kills a good deal of the fun. That's just the beginning of the technical issues, though. While exploring the corridors and tunnels and orifices of Hell, a major source of unintended agony will be the constant stutters and frame rate drops.
Agony is most definitely an indie experience, and there are some areas where this shows more strongly than others. The level of writing in the various notes and journals found across the underworld leaves something to be desired, and the voice acting is truly hellish (and not in a good way).
On the other hand, the ambient noises are truly chilling. Whoever they got to voice those screams, howls of agony, and moans of pain are all in desperate need of a hug and maybe a visit from the FBI, because I feel like they'e gone through some serious terror.
Hell Is A Lot Sexier Than I Remembered
If you couldn't tell from the game's logo, the vaginal motifs are cranked up to 11+ and are an ever-present theme in Agony. Honestly, I can't even show you the image of the fruit from the tree of knowledge because it is so obviously a moist, pulsating vulva.
There's seriously porn out there that shows fewer scenes of full on frontal female nudity. Agony will soon see some competition there, though, and we'll have to wait and see if this or the upcoming Lust For Darkness outdoes the other on the sexual horror front.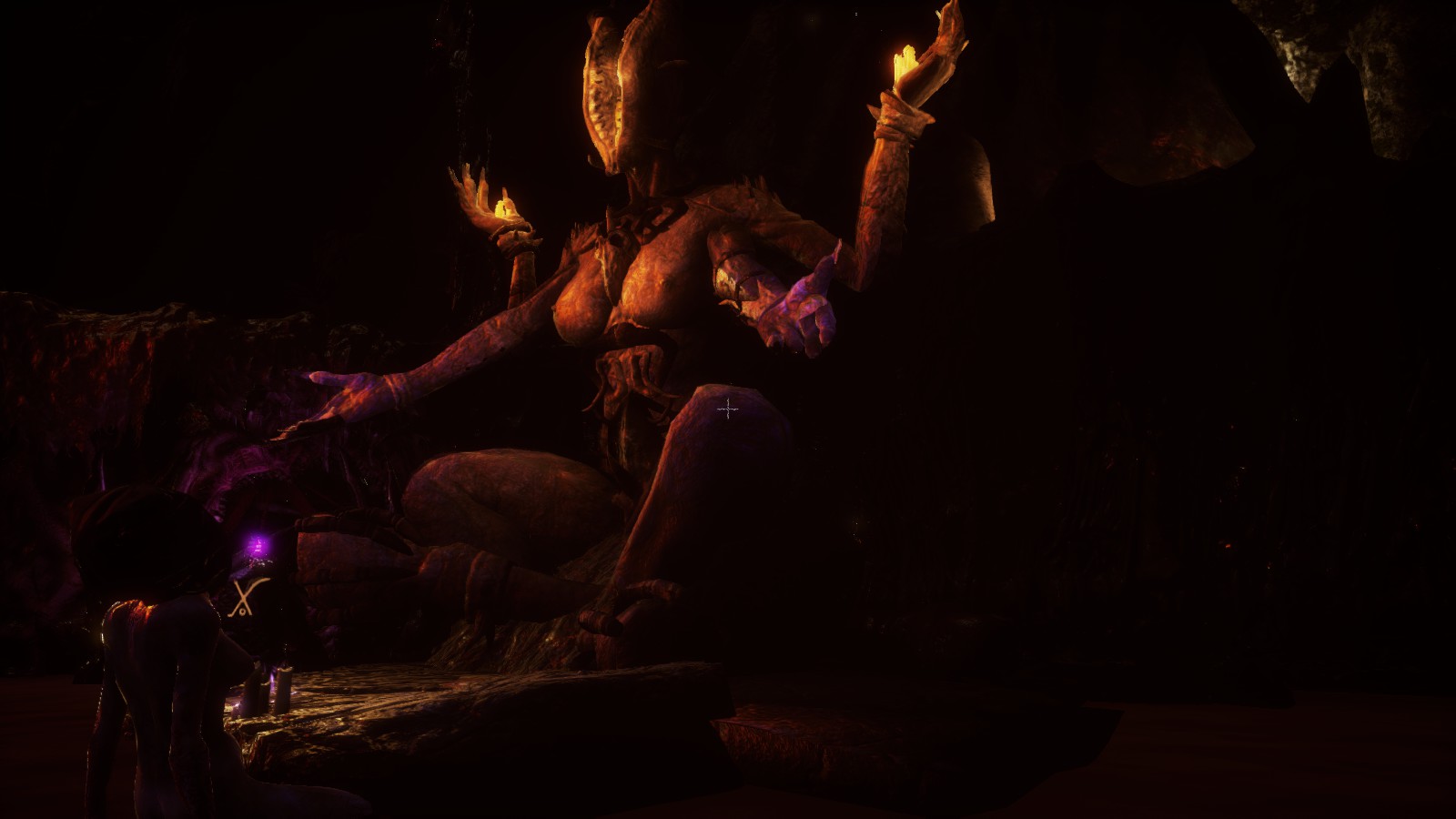 This is among the most tame images you will see in Agony
Amazingly, some of the content has somehow still been censored slightly on the Steam edition, and I'm having trouble understanding just how much further the game could go beyond what's currently available.
A manual installation patch was planned to get the full monty (which in this case is most assuredly not a metaphor), but axed at the last minute. If you really want to see what was culled though, the developers plan to release a video with all the missing content.
While the aesthetics and hellish sexual motifs are absolutely spot on, the overall graphical display isn't much to write home about. The presentation does tend to be better than other crowd-funded indie excursions, but there are noticeable areas that could use improvement.
Backdrops like the giant fingers holding open flesh walls look amazing, but others are quite lackluster, such as the body parts flying out of the soul mirrors — which are entirely unconvincing.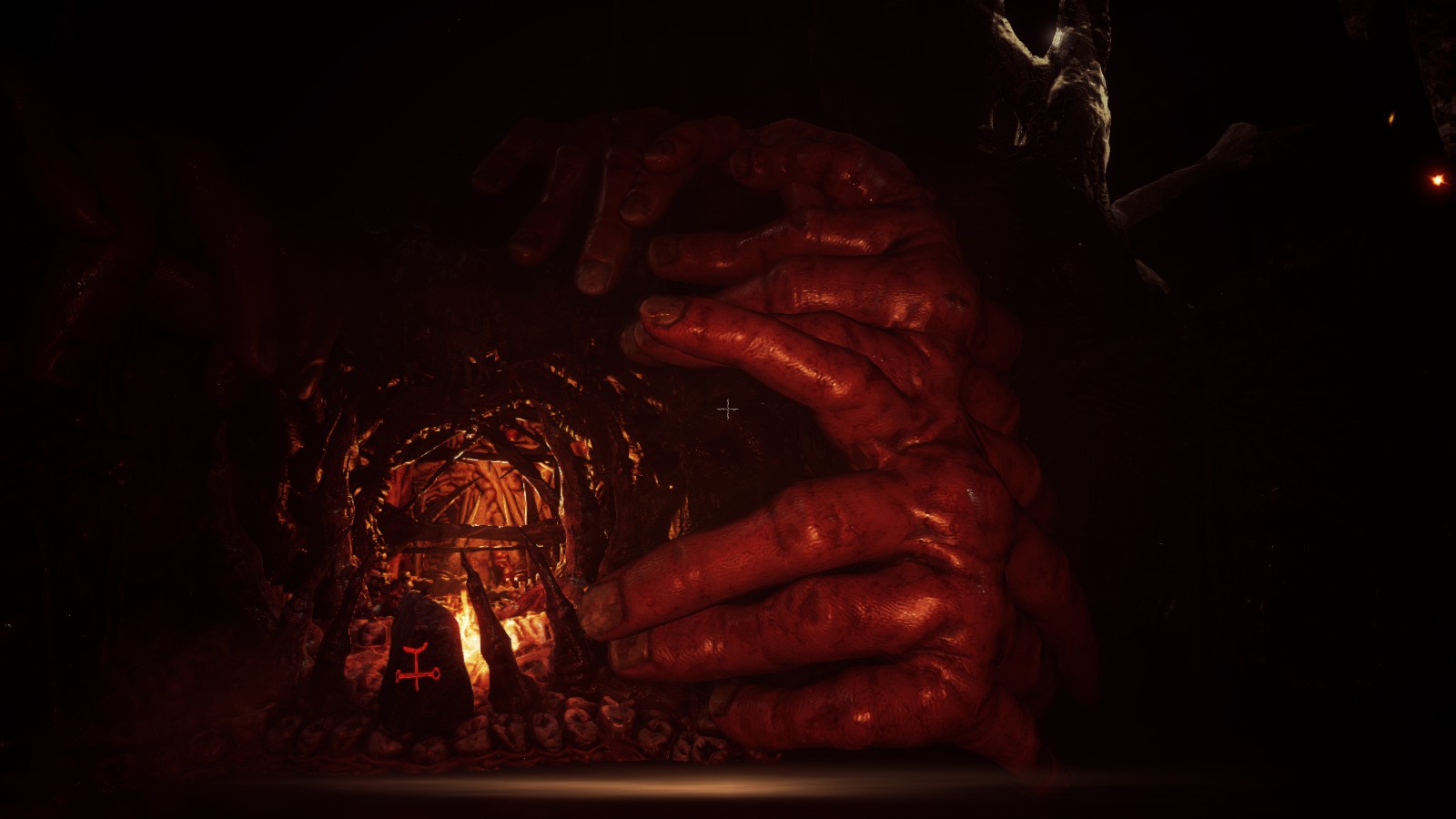 So many grasping fingers… and none of them
want to do anything benevolent, that's for sure
The Bottom Line
Agony is pushing boundaries — there's no doubt about that — and I've got to give the developers props on that front. They aren't pulling many punches here. There's the gross-out factor and disturbing elements akin to Clive Barker's Jericho but taken to the next level with very little thought twoards toning things down for the easily-offended crowd.
With walls made out of crushed babies, regularly getting consumed by toothy vaginas, and a whole lot of blasphemy towards any given major world religion, it's clear that a large number of people should just go ahead and stay away from the game.
I'm not one of those people, though, and in general, I find the aesthetic, locations, and general ideas all top-notch. This is the sort of game that I desperately want to love, although the execution makes it seem like the game needed a few more months (or longer) in the oven.
The atmosphere is top notch, but I'll still have to present a major warning about the bugs and dodgy gameplay elements that may ruin the enjoyment of your trip into the madness of Hell.
6
Agony Review: Hell Awaits… With Bugs & Frame Rate Drops
There's a disturbing and horrifying atmosphere that can't be beat with Agony, although game suffers from enough problems that the real Hell is just surviving the bugs.
What Our Ratings Mean
About the author