For gamers old seasoned enough to remember Another World during it's first outing in the early 90's, this re-release will offer another opportunity to relive a true video game classic.
A title that is often compared to the likes of Flashback and the original Prince of Persia, younger gamers are now given a chance to see how great adventure games looked before sprawling three dimensional environments were the norm.
The utter lack of in-game navigation coupled with a need for ridiculously precise jumping, makes Another World one of the hardest games you're ever likely to play.
What's it about?
Enter Lester Chaykin, a young scientist who is transported to an alien world when a lightning storm interferes with an experiment. Unfortunately, he isn't given much time to admire the view, as the planet's inhabitants are quick to make an appearance. Lester must now brave the relentless peril posed by his new surroundings if he wants to escape with his life.
How does it look?
Another World has been given a fresh look, with a sleek new aesthetic while retaining all of it's original charm. The ominous, alien world in which Lester finds himself imprisoned is still as menacing as it is eerily beautiful.
During the 15th Anniversary release of Another World, much was said in the online forums regarding the rotoscoping animation used to create the game's realistic movements. The technique adds a very important level of depth to Another World, making it one of the most sophisticated games of it's time.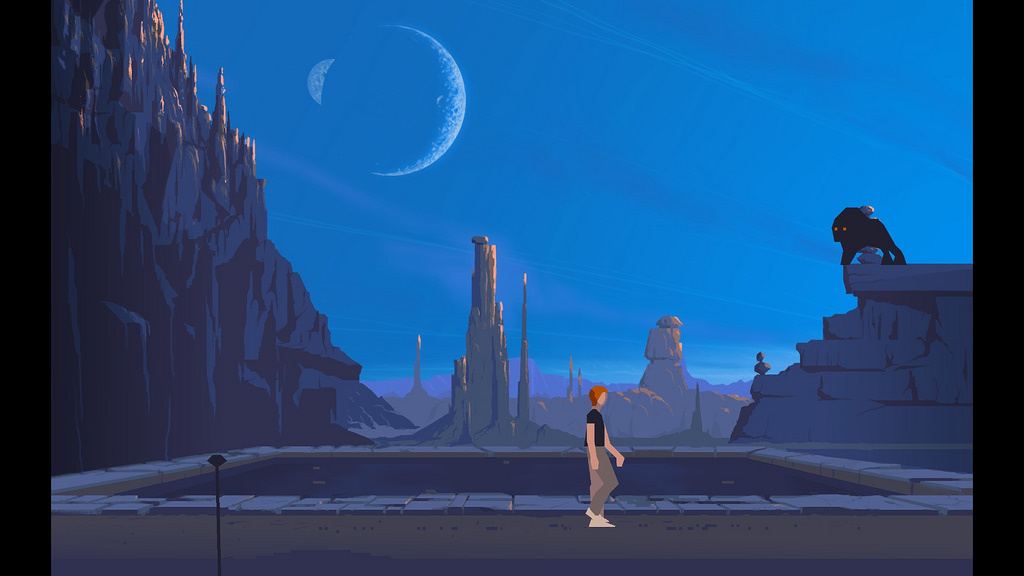 How does it play?
Gameplay revolves around Lester navigating his way through the dangers of the alien world armed with a phaser and not much else. The weapon possesses both offensive and defensive capabilities, enabling shots to be fired and barriers to be created. As useful as the barriers are during a gunfight, they are not 100% reliable, they do degrade over time. So if you're distracted while taking potshots at alien soldiers and you fail to notice your force field is about to drop, it's gonna be game over real quick. Assistance comes in the guise of a peaceful alien, seemingly sympathetic to your plight. Make sure you guys look after each other, as the game progresses your team work will prove vital.
The utter lack of in-game navigation, coupled with a need for ridiculously precise jumping makes Another World one of the hardest games you're ever likely to play. Wether this is a pro or con will depend entirely on your own preference, although the sometimes ungainly controls can be somewhat frustrating.
Gamers seem to be divided over the idea of bringing retro games onto a current generation console. Delphine Software however, seem to be confident that Another World's legacy is still enough to appeal to gamers after all this time.
And so am I.
8
Another World Review – 20th Anniversary Edition
June saw the 20th anniversary and re-release of Delphine Software classic Another World, proving the axiom of retro gamers the world over. A great video game remains a great video game.
What Our Ratings Mean
About the author