A while back, I reviewed Sennheiser's GSP 500 open-back headset. Its sound was phenomenal. In fact, it emitted some of the clearest, most immersive sound I'd ever heard. I gave it a 9/10, and I still stand by that score.
But now I've tried Audeze's Mobius 3D headphones, and my life has irrevocably changed for the better.
At $399, Mobius comes in at the price of a console. Indeed, it's a headset for audiophiles or those with deep pockets willing to shell out for top-tier sound. The good thing is that for those people, the Mobius is worth the price of admission.
Compatible with PC, Mac, PS4, Xbox One, Nintendo Switch, and mobile in various setups, Mobius is the classy, tuxedoed martini of headphones. With a focus on projecting impeccable sound across a meticulously designed soundstage, Mobius 3D creates an immersive experience that's authentically mind-blowing.
If you've never heard 3D audio before, it's possible your jaw might hit the floor.
Design
The Mobius screams premium. Everything about the headset feels solid and lovingly made. Whereas some other headsets might have flimsy frames, the Mobius doesn't rattle or creak even though it's made almost entirely of plastic.
As pointed out by a PR representative for the company, and proven true in my testing, you can "twist it to an extreme level" without fear of breaking it or deforming the headband.
Although the headset is sold on the Audeze website in variants sporting copper and blue accents, the model I tested had a black matte body with grey accents at the bottom, middle, and top of the adjustable headband, as well as on both sides of each earcup.
"Audeze" is emblazoned across the top of the headband in the chosen color, and "Mobius" is emblazoned on the outside of the left earcup in smaller font. Finally, each earcup has a hexagonal honeycomb design on the outside, also in the chosen accent color. In my case, grey.
Both the headband and the earcups feature extremely comfortable memory foam underneath faux leather. The padding feels great and isn't too thick; there's no discomfort along the jaw or across the top of the head even at 350g. I especially appreciate how the closed earpads encompass the ears and keep the diaphragms from resting directly on them.
As with many modern headsets, gaming or otherwise, all of Mobius' controls are on the left earcup. Here you'll find the volume for the headset as well as the volume for the detachable boom mic. You'll find the input jack for the mic and the USB-C charging port there as well. Lastly, you'll find the AUX jack and the 3D audio toggle button.
On the outside of the earcup, you'll find the mic mute toggle at the top, the power button at the bottom, and an LED just above that for denoting if the headset is on or charging.
While there are quite a few buttons and inputs on this set of cans, they're all fairly easy to find once you feel your way around, and the mic mute isn't as awkwardly placed as I originally suspected. Having said that, I do wish the headset volume and the mic volume dials were a bit more prominent for better grip.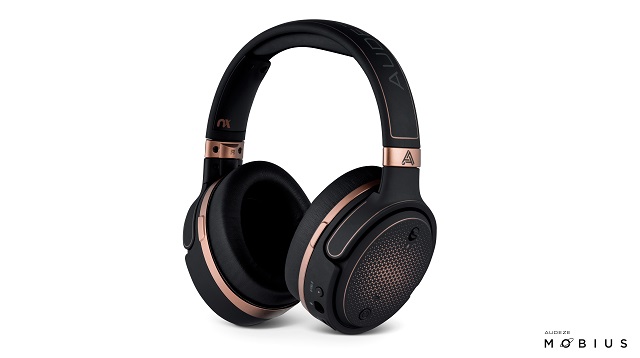 Features
There's quite a bit going on under the hood of the Mobius 3D. It features planar magnetic drivers, head tracking technology, 3D sound emulation compatible with surround sound modes such as 7.1 and 5.1, full-room emulation, and Waves NX technology for incredible sound processing.
Due to its plug and play ethos, there are also eight pre-programmed sound profiles on the headset:
Flat
Default
Foot Steps
Ballistics
Music
Racing
RPG
Warm
Oddly enough, though the headset has free downloadable software in the Audeze HQ app, there's currently no way to adjust the pre-programmed EQ profiles. It's a bit of a bummer, even if the profiles sound great. There will certainly be those who wish for more control than the headset currently provides.
However, there are a few things you can tweak in the software, namely HRTF Personalization (head-related transfer function personalization) and head gestures.
The first allows you to customize the soundstage based on the measurements of your head. The headset already does a good job of producing tones out of the box, but if getting into the minutia of optimal emulated driver placement is your thing, you can set up an audio experience that's unique to your biologically-perfect cranium. Just whip out the tape measure and input the values.
Specifically, this mostly has to do with positional audio. I'm grossly oversimplifying the process, but it boils down to how sensitive your ears naturally are, and how the software, based on your measurements, accounts for boosting frequencies for your specific head shape and ear anatomy.
The second feature allows you to set keybindings to head gestures. The Audeze HQ app shows your head position in real-time, including pitch, yaw, and roll. With head gestures activated, it's possible to assign such functions as looking up and looking down, turning right or turning left, to certain head movements.
It's even possible to tweak the degrees at which the in-game action will be performed, with larger values requiring more head movement to activate and smaller numbers less head movement to activate. A Twitch mode binds an action to two head movements, either up or down or side to side for example.
Outside of those two things, the Audeze HQ app is pretty threadbare; most of it acts as more of a manual than a piece of software. As you can probably guess at this point, there's no RGB to be found here, either.
Audeze eschews modern gaming tendencies with the Mobius, something that may or may not put certain gamers off, but something that very much seems to align with the company's hard sci-fi panache.
Performance
In almost every way, the Mobius 3D shines when it comes to audio production. With games, music, movies, and podcasts, both 3D audio and stereo audio sound absolutely fantastic.
But let's face it: while it might sound great, you're not here for stereo. Instead, you're doling out $399 for full audio immersion. So what's it like?
3D audio is like touching sound or being inside whatever you're listening to. Some have even called it VR for sound, and I think that's probably the most effective way to describe it. In no small way does Mobius' 3D audio authentically emulate real-world sounds and sound wave directionality.
I often listen to relaxation sounds and playlists while working, such as rain in a forest or tides crashing on a beach. With the Mobius, I can pinpoint almost every raindrop and know exactly where every seagull is flying as they caw against the crashing waves.
In games like Battlefield 1, I'm able to eerily pinpoint exact enemy placement, down to what section of wall they're standing behind, for example. With Logitech's G533 headset, a set of cans which I completely adore, I'm able to get a fairly close approximation of where enemies are hiding based on its directional audio. With 3D audio, I can pick them out with extreme certainty.
Combine that with the headset's Ballistics or Footsteps presets, and you'll hear bullets whizzing by your head in incredible details or boots plodding on concrete with precision. In the campaign mode, you'll feel as if you're inside Chapter 1's tank or in the cockpit of Chapter 2's biplane. Dialog cuts through booming sound effects and sweeping scores like a bullet through silence.
Music sounds fantastic as well — especially live music. I've been to and played in my share of rock and metal concerts. Mobius is the only headset I've ever used that comes close to accurately recreating how sound works in a live concert environment.
The magic of Mobius is that it emulates your head position. That means if you're facing the screen (or the position you've designated as the center of your viewing area), it feels as if the speakers are directly in front of you.
Turn to the right, the sound shifts mostly into the right diaphragm, with the volume in the left decreasing accordingly. Turn left, the same thing happens. Turn around, and it feels as if the sound is behind you.
It's eerie. It's awesome. And it's something everyone should hear for themselves at least once.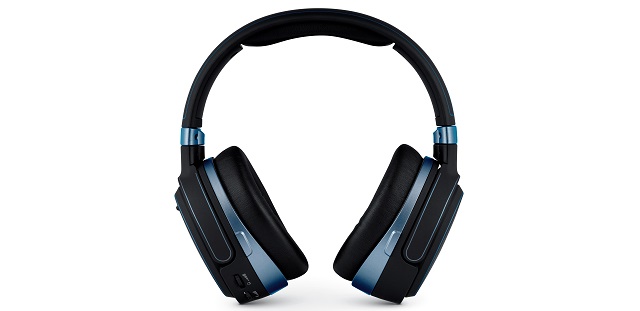 Pros:
3D audio changes the way you hear you experience your favorite games
Sturdy, yet flexible design makes the Mobius a joy to wear
Crystal clear detachable mic with dedicated volume
Can charge and use at the same time via USB-C
In-depth (and surprisingly cheeky) user manual makes set up easy
Cons:
3D audio doesn't work on mobile devices
No Bluetooth for PS4, Xbox One, or Switch
No Bluetooth dongle or receiver provided
Short USB-C charging cable makes it hard to use when attached
Can't adjust EQ settings or make new profiles in HQ App
Battery doesn't last as long as other wireless/Bluetooth cans
Audeze's Mobius 3D headset is certainly a premium product. It's not the highest high-end headset out there, but at $399, it's probably out of reach for many gamers. That being said, this is a headset that will last for years and years to come, all while providing some of the best audio you can possibly get without going to absolute crazy town on price.
Not everything on the headset is a bag of chips, either. Head Gestures is currently in beta, and while it's a neat feature, it's strange in practice. With some tweaking, and perhaps some more practice by users, I could really see this being used to awesome effect in VR. As it stands, the number of use cases for the technology is pretty slim.
For certain setups, the included USB-C charging cable might be too short, specifically if you're wanting to use the headset and charge it at the same time. As of this writing, there's also no way to change the on-board EQ profiles, truly a bummer for the price.
However, if you want one of the best audio experiences around, and a pair of cans able to produce lush, vibrant tones across a bevy of media, the Mobius 3D is well worth checking out. Unless you actually hear 3D audio, it's almost impossible to accurately convey how precise and immersive it truly is.
Here are the headset's full specs:
Drivers
Planar Magnetic
Emulation
3D w/ support for surround
(7.1, 5.1, 5.0, 2.1, 2.0)
Connections
USB-C to USB-C, USB-A to USB-C,
Analog 3.5mm, Bluetooth
Frequency Response
10Hz – 50kHz
THD
< 0.1% (1kHz, 1mW)
Earpads
Contoured memory foam
artificial leather
Headband
Memory foam
Microphone
Detachable w/ volume control
Battery Type
Lithium-polymer
Battery Life
10+ hours with 3D enabled,
charges via USB-C while in use

[Note: A Mobius 3D review unit was provided by Audeze for the purpose of this review.]
9
Audeze Mobius 3D Headphones Review: Moving Through Sound
Pricey, elegant, and seductive, Mobius is the classy, tuxedoed martini of headphones.
What Our Ratings Mean
About the author