The roguelike genre has experienced an explosion of content over the last several years, especially in the indie gaming scene. With titles like Rogue Islands, Spelunky, The Consuming Shadow, and Crypt of the NecroDancer, there is no shortage of roguelikes to be found (just) on Steam.
But the latest roguelike making its way out of Steam Early Access is Caveblazers. Developed by Rupeck Games and published by The Yogcast, Caveblazers released on Early Access in 2016 and is set for a full release May 24th.
Caveblazers is an excellent roguelike platformer that has plenty of content, fun and addictive gameplay, and definitely, stands alongside the other great titles in its genre. If there was any criticism to be had of the game, it was this: the bosses are a bit too difficult — but we'll get to that a little later
A Cave that Holds Unimaginable Power
The story of Caveblazers is simple: you are an adventurer on a journey to find a cave that's said to hold unimaginable power. Upon finding the entrance to this cave of legend, you are greeted by an old man who states that you will fail, just like all the others have before you.
Ignoring the old man's words, you enter the cave to find it a place of danger, treasures, weapons and magic. The cave is ever changing and the threats ever constant. Dare you enter the cave? Can you make it through the cave and find the "unimaginable power" that it is said to hold? Only time will tell.
Like a lot of titles in the roguelike genre, the primary focus of Caveblazers is the gameplay, while the plot is secondary. But whether it's at the fore or in the background, the plot does exactly as it is designed to do: it fleshes out the world of Caveblazers and gives players a good reason to be in it — even if the plot never gets more than skin deep.
A Case of "Just One More Run"
The objective of the game is to find the "unimaginative power" that lies at the center of the game. To do this, you will need to venture through its many procedurally generated maps, facing off against dozens of enemies and finding other adventurers (NPCs) both hostile and friendly along the way.
To help you on your quest, you will have an old, rusty blade, a bow, and a quiver of arrows, all of which you'll (definitely) need to defend yourself. As you progress through Caveblazers' ever changing levels, you will find much-needed new and better equipment, as well as items with magical powers. You'll also find blessings that improve your stats and shrines that can present you with both favorable and unfavorable rewards.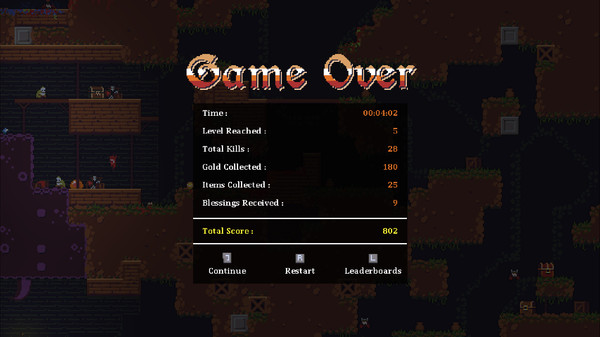 At the end of each area, you will face off against a boss monster that you must defeat to progress further in the game. When you die, you receive points that then unlock new clothes, perks, and other various unlockables that can be used in the next playthrough.
Caveblazers' procedural generation makes each playthrough different from the last. From level layouts and enemy placement to items, shrines, and blessings, everything is different on each and every playthrough. In the end, this really increases the game's replay value.
Enemies are Unique and Fun to Fight
Each of the enemy types is unique. Each type possesses its own attacks, advantages, disadvantages, and behaviors that you must learn to counteract to survive. If there were to be any criticism found in Caveblazers' gameplay, it would be that one or two of the boss monsters are a bit more difficult than they need to be.
One that sticks out is the jellyfish boss, Medusa, whose attacks are fast and compact, resulting in the player needing stupid fast reaction times and precise timing to avoid its varying attacks and survive. It's not necessarily that the battle is hard — it's that it feels slightly unbalanced.
On top of that, Caveblazers is a difficult game but not to the point that it is unfair or sets out to purposely anger or frustrate you. When you die in this game, it is because you made a mistake. Whether that's not being quick enough or simply not paying attention to enemies' attack patterns, Caveblazers punishes players with their own inadequacies. If you enjoy a challenge, then Caveblazers is certainly going to give you one.
But aside from that, the gameplay is excellent. It by no means revolutionizes the 2D platforming roguelike, but it does execute the mechanics of the genre very well. It is one of those games where you will keep saying to yourself, "just one more run." And that one more run quickly turns into an all night bender.
Lots of Content that Increases Replayability
If there is one thing that can be said for Caveblazers, it is that the game has a ton of content. From its huge amount of weapons, items, and blessings to its unlockable apparel stylized customization options, there is plenty on offer.
The one factor that increases the replayability over any other is the game's perk mechanic. At the start of each playthrough, the player has the opportunity to choose a perk. This is essentially a character's class, and each one affects the player's starting stats, and at times, weapons and items.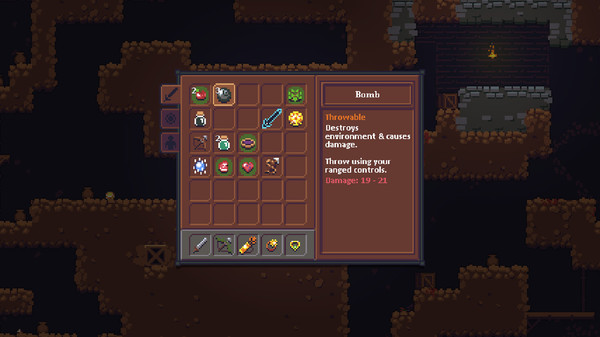 Each perk changes the gameplay quite a bit, adding new advantages and disadvantages to the player. It also adds a whole new level of replayability to the game that a lot of other titles in the genre don't.
To further increase the replayability of the game, there are also various in-game challenges to complete. Upon completing challenges, the player is rewarded with new unlockables, including previously unavailable perks like Vortex, as well as new weapons and items.
For an asking price of $9.99, there really is a whole lot of content on offer here. If you love Spelunky or Risk of Rain, then prepare to say goodbye to your social life for a while. If permadeath and games where you die a lot isn't something that takes your fancy, then this is certainly not going to be to your liking. There are games that cost much more than that and don't provide half of what Caveblazers does.
A copy of Caveblazers was provided for review.
9
Caveblazers Review – Spelunky on Steroids
Caveblazers is a fun and addictive platforming roguelike with plenty of content to keep you saying, "just one more run".
What Our Ratings Mean
About the author