I've had a good track record with Corsair products, so I was interested in seeing what the company could do with a new wireless gaming mouse. I generally don't care to go wireless with mice, particularly not when I'm playing extremely twitchy games like shooters, but after a few levels of Doom Eternal, I realized I'd forgotten the Dark Core was running in wireless mode at all.
I suppose that's as ringing an endorsement as you could hope for: it's so responsive that you'll forget it's not wired. It feels like a backhanded compliment even to me, but I assure you, I mean it in all sincerity.
Corsair Dark Core RGB Pro Wireless Gaming Mouse Review – Not That Dark After All
The Corsair Dark Core RGB is designed for FPS or MOBA gameplay, with a magnetic interchangeable side grip (see above), on-board profile storage for macros and DPI settings, and nine different programmable buttons. It's built wide, with a lot of real estate, and no real risk of accidental misclicks, with a high-speed connection that, try as I might, never lagged or missed any inputs.
The Dark Core features three connectivity options, allowing you to hook it up to a system via an included six-foot braided USB-C cable, a Bluetooth connection, or by connecting to its included USB wireless transceiver. Setting it up is trivial and amounts to flipping a small selector switch on the bottom of the mouse that determines how you're planning to connect it to your system. I was up and running within a couple of minutes of opening the box.
I would throw in a casual warning here that the Dark Core's USB transceiver is tiny. I've lost track of it twice over the course of writing this review. You need to be very careful about putting it away when it's not in use, inside the small compartment located underneath the removable grip on the right side of the Core.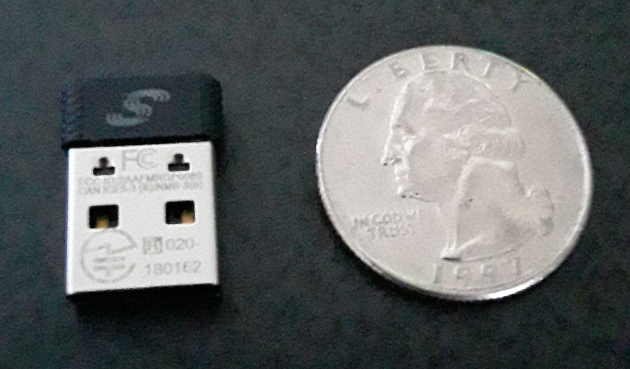 Like a lot of recent hardware, you do need to install the manufacturer's custom dashboard to get the most out of the Dark Core. This used to be a buzzkill with earlier Corsair products, as its iCUE software is one of the less intuitive dashboards out there.
However, after a recent update, a lot of the problems I used to have with iCUE have been minimized or removed, like how it used to be pretty bad at tracking battery life in connected devices. It's still got a handful of issues – it seems to be more focused on looking slick than being useful, which is an ongoing issue with a lot of hardware companies' dashboard software – but it's much better than it used to be.
It helps that the Dark Core is still reasonably useful without iCUE, but with it, you can tweak the DPI, change the lighting scheme, and most importantly, engage power-saver mode.
By default, you can comfortably expect 12 hours of battery life out of the mouse, although a lot of its power goes into supporting the typical Corsair rainbow-colored LEDs that line the unit while it's in operation. Corsair really loves to make its products flash like a candy rave, and the lights on the Dark Core – come to think of it, why is the "Dark Core" this shiny? – are ridiculously bright for a feature that's surplus to requirements.
In fact, if you turn off the lighting altogether by turning on power-saver mode or just turning the brightness down, the Dark Core's battery life shoots up dramatically. With it in full disco-ball mode, I was lucky to get a day's use out of it before it had to charge; with it running dark (core), one full charge lasted for well over a week of intensive use.
If you're really on the cutting edge, the Dark Core also supports Qi wireless charging, so you can drop it on the same pad you'd use for an enabled smartphone. It's a handy feature – you can just stick it on the pad at the end of the day the same way you'd drop off your phone – but the internal hardware does make the mouse a little longer and heavier than you might be used to. It's not a deal-breaker, but it's definitely built for people who prefer a palm grip.
What really impresses me about the Dark Core, however, is the price. At $79.99, it's surprisingly inexpensive, particularly considering its battery life, wireless charging, and multiple connection options. A lot of comparable gaming mice, like the Logitech G903, cost considerably more for the same or similar features.
Pros:
Weirdly cheap, all things considered.
Battery life for days if you turn down the lighting.
The option to switch between Bluetooth, wired, and wireless modes makes it portable and adaptable.
Easy to set up and customize.
Cons:
The USB transmitter is small and easy to lose.
iCUE still isn't amazing; lots of options, badly sorted.
Not made for small hands.
Most of the issues I have with the Dark Core are really just nitpicks. The USB transceiver is comically small and easy to lose, it's a little on the large side, and its default lighting pattern feels like a unicorn's vomiting into my eyes (but there are other options).
You'll note that none of those actually impact performance, however. Corsair's made a durable, sensitive wireless mouse with a lot of useful options, and brought it in at a surprisingly affordable price. It's a useful investment for both the home and office, whether you're playing games or working.
[Note: A retail unit of the Dark Core RGB Pro was provided by Corsair for the purposes of this review.]
10
Corsair Dark Core RGB Pro Gaming Mouse Review – Not That Dark After All
The Dark Core RGB Pro has Qi recharging technology, high DPI, and a default lighting pattern that invites you to taste the rainbow.
What Our Ratings Mean
About the author