I've reviewed enough Corsair products at this point that I can confidently say the company is nearing the pinnacle of peripherals development. However, that doesn't mean that the Corsair K68 mechanical keyboard doesn't bring some new innovations to the table.
But it does mean that outside of several new advancements, the K68 ticks many of the same boxes as other keyboards in the company's line, specifically those of the Corsair K63.
So what's the biggest difference between the two keyboards, besides about $20? Let's take a look.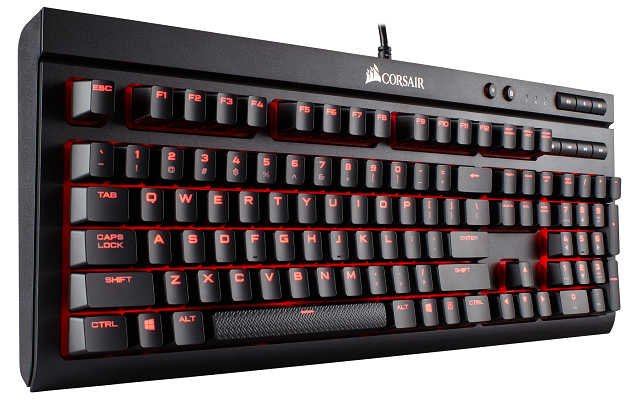 The Corsair K68 is (Mostly) Water and Dust Resistant
Unlike the K63 model, the Corsair K68 adds several new features that make it dust and water resistant up to IP32 standards. And for those that don't know what the heck IP32 stands for, here's a quick rundown.
The International Protection Rating, also known as the Ingress Protection Rating, was developed to measure how electronic products (such as keyboards) are protected against intrusion from dust, water, and other foreign bodies. It's an important system because it informs consumers on product protections via a demonstrable number, instead of relying on traditional "waterproof" marketing mumbo jumbo.
So while the Corsair K68 isn't waterproof or dust proof, an IP32 rating means that it is protected against dust particles and debris larger than 2.5mm, as well as vertical water spillage and dripping water.
How Does It Do It?
Corsair's engineers specifically designed the K68's defenses from the inside out. First, a translucent rubber covering keeps water from seeping into the plate-mounted Cherry MX switches. It also keeps dust and other debris from entering the keyboard chassis itself. Secondly, the K68 contains built-in channels within the chassis to funnel any residual water past components and out of drainage ports on the keyboard's backside.
I inadvertently tested this functionality when I spilled what we'll just call an ice-cold beverage on the K68 during a frenetic, late-night Paladins match. Tilting the keyboard to dump the beverage was easy, and the little bit that did make it into the keyboard dripped out of the back for easy cleanup. About six hours of use later, and the keys still function as good as new.
It's pretty difficult to find a water resistant mechanical switch keyboard in general, not to mention one so easy to take care of — so Corsair is setting the K68 apart from the competition in this regard.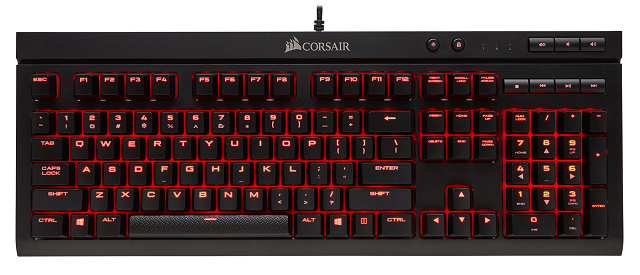 Other Important Features of the Corsair K68
Fully Customizable Macros
Just like Corsair's other keyboards, such as the K95 RGB Platinum, the K68 features fully customizable macros, remapping, and disabling. From text-pasting to fully remapped keys to toggling profiles and modes, the K68 allows for complete user-friendly customization.
It doesn't have the versatile "G" keys of the K95, though. So if you're an MMO player that needs as many keys as possible to pull off a successful raid, you're going to want to look at the company's other offerings. But for the average MOBA, RTS, or FPS player, the K68's offerings are plentiful.
N-Key Rollover and Compact Keys
I absolutely love that the K68 offers NKRO, giving me the ability to easily strafe left and forward while throwing a grenade in Battlefield 1 — all before instantly going prone to crawl toward enemy lines. But the proximity of the K68's keys to one another, coupled with N-Key Rollover, means that I'll sometimes throw an ill-advised ult in Paladins or jump into V.A.T.S. over and over again in Fallout 4.
In the scheme of things, I'm really being nitpicky when it comes to this. But because the K68 is a compact 10-key keyboard, it would have been nice to have a bit more room between keys for my fat cigar fingers. But if you enjoyed the K63 — or if you're willing to put a little practice into the way you type — you'll be right at home with the K68 in no time. (It could also be that I'm just a sloppy player, but let's not talk about that …)
RGB Backlighting
If you've ever used a Corsair product, then you've seen this before. Like the K63, the Corsair K68 provides Red backlighting and pattern customizability through Corsair's CUE software. From Rain to Pulse to Tap-Lighting and Static coloring, you can hone in just the right pattern for looks and functionality. You can even turn the RGB lighting off as a preset if you'd rather have no light at all.
The only real downside here is that the K68 doesn't provide full-spectrum RGB presets or capabilities. If you don't like red, you'll have to opt for the K68's blue brethren, which have Cherry MX Blue Switches and are only sold in APAC as of this writing.
Rubber Cable
This is another nitpicky spot for me. The K68 doesn't provide a braided USB cable, but it instead opts for a standard rubber cable. And while the inside functionality of a braided cable isn't decidedly different from that of a typical rubber cable, braided cables do a better job of protecting wires from tangling. They also safeguard against bending stress when wrapping around sharp corners, which does depend on your PC set up.
I also found that the K68's rubber cable slipped across my desk considerably more than my K95's braided cable. This meant I had less slack on top of my desk to freely move the keyboard when I needed a quick reposition between Overwatch and XCOM 2.
Again, it's not a huge deal and is really up to personal preference, but it does feel like a bit of an oversight for a keyboard that offers other incredible functionality.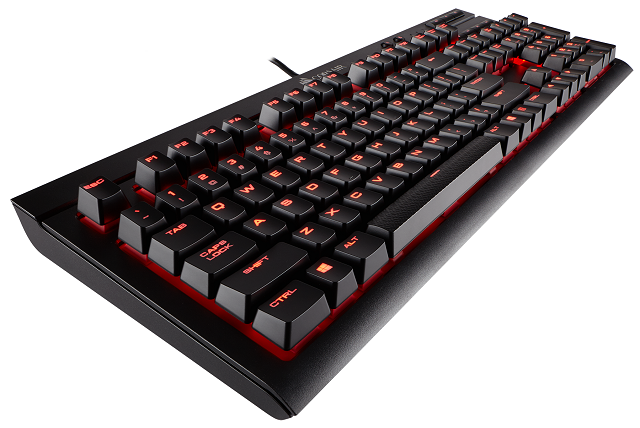 The Verdict
Corsair's K68 mechanical gaming keyboard is a nice addition to the company's line of premiere keyboard products. And coming in at $100, it fits snugly between the K63 and K95 Pro RGB in both price and functionality. Its dust and water-resistant design differentiates it from both other Corsair keyboards and many keyboards currently on the market. But outside of that, the K68 is essentially the K63 with a numpad.
At the end of the day, the Corsair K68 is reliable and competent — a masterful example of how to implement IPR protections into a sleek keyboard design. And while it doesn't reinvent the wheel for gaming keyboards, especially others found in the Corsair catalog, it's a worthwhile investment if you can't afford the K95 Pro and want a compact, 10-key option.
You can buy the K68 on Amazon.
[Note: A K68 review unit was provided by Corsair for the purpose of this review.]
8
Corsair K68 Keyboard Melds Dust, Water Resistance With Proven Reliability
The Corsair K68 mechanical gaming keyboard doesn't reinvent the proven Corsair method but adds new functionality to a diverse peripheral line.
What Our Ratings Mean
About the author