There really are not a lot of mobile games I really sink my teeth into, though I will say the ones I've really enjoyed have been great experiences. To hardcore gaming enthusiasts the mobile market seems like a wasteland of terrible games, ads, and predatory monetization schemes. The majority of the mobile market fits into one or all of those negative conceptions, but some certainly do not. Dandy Dungeon is one of the latter.
This is a difficult game to describe. Not because the gameplay is entirely complicated, but because it's a bizarre trip down Japanese Gaming Lane. Development studio Onion Games packs a huge punch with names like Yoshiro Kimura, Kazuyuki Kurashima, and Tom Ikeda — some real talent that have individually worked on projects like Little King's Story, Romancing SaGa 2 and 3, Rule of Rose, No More Heroes, Chulip, Lollipop Chainsaw, and Super Mario RPG.
If you read the above game titles and got excited even a bit, you should probably just skip reading this article and move onto downloading Dandy Dungeon. Just ignore me and get right to playing.
If you're still not sold, read on. This is a heck of a game.
Yamada the Wanderer
Main character Yamada-kun may look like Mario, but this guy is doing a lot more than just being a character in a game. Yamada-kun is programming a game in his free time, outside of the dutiful eye of his big publisher employer.
In a funk, Yamada-kun gets a new beautiful neighbor half his age — which he naturally models into his project to save in hopes of getting her to fall in love with him. Soon after his publisher finds out he's working on a game on his own and fires him…and tries to take over his game from the inside out.
This description can't do the actual premise of the game justice. This is all played out with some bizarrely-detailed 2D sprites, gibberish synthetic voices, and some absolutely amazing chiptune-acapella hybrid tunes.
Yamada-kun is working hard to create his game, and you have to work hard to debug it. Each day he programs and you debug, trying the new dungeons and features he's implemented based off what's going on in his life. New features to his game (and what you can do outside of it) get added as Yamada-kun deals with his old boss and weird neighbors and meddlers.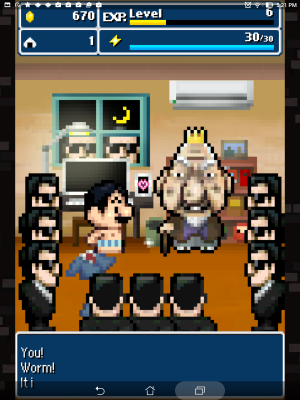 The story aspect of the game is absolutely charming, and it's a huge part of the flavor of Dandy Dungeon. The gameplay, which we'll touch on soon enough, is a solid puzzler but what keeps you really coming back is whatever the heck is going on with Yamada-kun's life. It's just as entrancing as those snazzy tunes the game plays any chance it gets. When you think things can't get any more strange, they do. And then they do again. And again. It's a constant ramp-up as Yamada-kun tries to finish his game.
Dungeoneering
So Yamada-kun is programming this game which is squarely a turn-based puzzle RPG, requiring you to draw a line through a floor of a dungeon to clear all the tiles and reach the exit. Along the way you'll go head to head with monsters, deal with traps, and collect treasure you can use in later dungeons or collect to upgrade your equipment once you're out.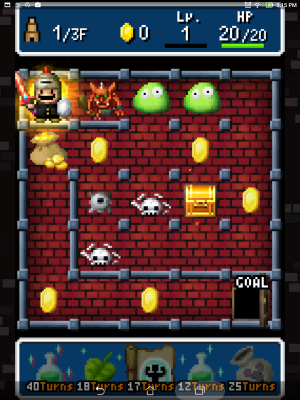 The actual gameplay itself is simple and only asks you to figure out the best path on a floor and occasionally cast spells or use items, should you so choose. It looks far more intimidating than it actually is, which is a good thing — the game clearly puts fun above all else, and it shows.
You have this unique dungeon crawling experience, and with it comes some repetition. You have to run dungeons more than once to be able to claim all the goods within, and Dandy Dungeon also has a typical equipment upgrade system, which has you upgrade equipment using materials you find in dungeons or obtain otherwise. If you just can't get a gold trophy on a dungeon, chances are you need to start grinding up those equipment levels.
Whether progressing the story, grinding, or running "dungeon spells" (special one-time dungeons with some great items within) the whole gameplay experience itself is just as compelling as the story. It's hard to stop playing and it's all too easy to get stuck in the "just one more" cycle whether you normally enjoy quirky Japanese games or not. It doesn't matter, because this one is a big pile of fun.
Exactly how "free to play"?
Last but not least, it would be a disservice to not touch on the game's microtransactions. It is a free to play game, after all. Onion Games has to pay the bills somehow.
Dandy Dungeon has an energy system anyone who has played mobile RPGs or puzzle games before would be familiar with. Run a dungeon and it uses energy, and once you're out you have to wait for it to recharge some so you can continue to play.
You can circumvent the energy system completely via a one-time purchase of $8.49 which gets you your own pet ducks. These ducks replenish your energy when it gets low, ensuring you can run as many dungeons as you want without feeling the constraints of the energy system. That's a pretty good buy if you're enjoying the game.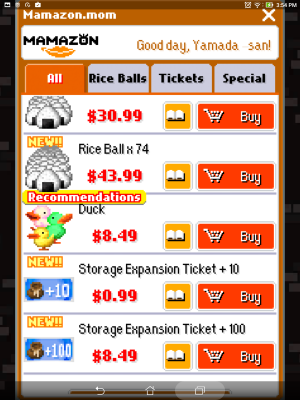 Past the ducks are rice balls, which are an alternative currency you can use to revive inside dungeons, expand your inventory, or feed to the Hungry Questers to get rare loot without any effort on your part. You can either buy rice balls with real money or obtain them slowly in-game, it's really up to you. I don't see much reason to purchase them, though if I'm still playing in a couple months I'll probably throw more money at the game and buy some to support Onion Games.
There are no ads in Dandy Dungeon, thank goodness. No one likes ads, and they would break up the overall feel of the game. All things considered, it's hard to imagine the developers steering toward an ad revenue model. It just wouldn't fit and in this case would be a serious disrespect toward the carefully-crafted setting featured here.
I can try as I might but I can't think of a single complaint about Dandy Dungeon, except maybe that it wasn't thought up and developed 20 years ago so I could have an experience like this on console without the free to play trappings. Though one could argue that, with the amount of energy it costs to run dungeons later, Dandy Dungeon is simply meant to be played with the use of those $8.49 ducks. I believe I would be one to make that argument. I'm actually pretty sure I already have to a friend.
Whether you dip your feet into the mobile gaming pool often or tend to avoid it, Dandy Dungeon is one game I would recommend to almost anyone. Following the increasingly absurd programming adventures of Yamada-kun is a joy to watch, and his game is pretty well put together for it to have been made by one guy who sits around in his underwear and daydreams about his neighbor all day.
10
Dandy Dungeon is One of Mobile's Real "Must Play" RPGs
If you can only install one RPG to your mobile device this year, it should be Dandy Dungeon.
What Our Ratings Mean
About the author