Whenever I review a game, I don't just look at the obvious points of interest, such as mechanics and graphics. I tend to also look for deeper meaning, even if the game isn't narratively rich in a traditional sense.
Since I started reviewing games, I've found that indies typically have more freedom to answer more philosophical and esoteric questions.
Desert Child, developed by Oscar Brittain and published by Akupara Games is a game that does that, even if it doesn't look like it on the surface.
A racing RPG about a young man, his trusty hoverbike, and the goal of winning a Grand Prix so he can move from a dying Earth to a vibrant Mars, Desert Child xyz
Vroom Vroom
Although it might be philosophical in nature, Desert Child is a racing game at heart. Races last about two minutes; you can gain speed by destroying targets along the way or damage opposing racers to slow them down. Of course, your NPC opponents can do the same to you, so you'll need to race with care and employ strategy to get through them in one piece.
Of course, you can't win races unless your hoverbike is in shape. Upkeep and customization will determine how difficult the road to victory will be.
When you sustain damage, you'll start to notice performance issues, such as your bike getting slower. Needless to say, keeping your bike in shape is a priority, which you can do at various shops… for a cost.
Customization and Powering Up
You can customize your bike with various parts that yield special effects. Some parts give you more firepower, while others can help you obtain more cash. Some parts can even help you determine when the finish line is coming, helping you cut off your opponents at the right times.
You can also increase these effects with battery packs, which you can earn for every race you win. So the more you race, the more you'll have available.
For example, you can significantly increase your firepower via battery packs, which will let you really wallop your opponents. However, the tradeoff is that it now takes longer to reload your weapon.
The beauty here is that this system increases the depth of a game that on the surface, seems relatively simple. The opportunities are broad, and testing out combinations is half the fun.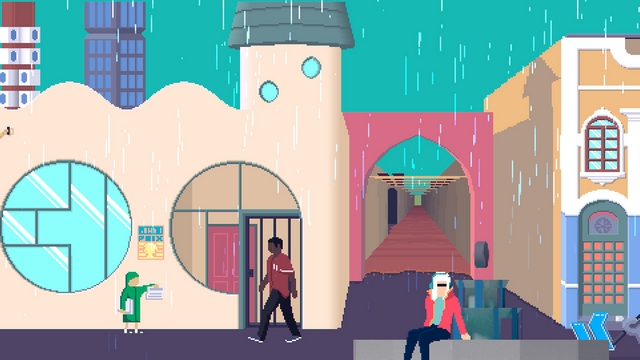 Life In The Big City
With nothing but a bike to your name, there's a certain feeling that you're on the fringe of society. The game drives this point home further by letting you know you're flat broke — repeatedly.
You can't fix your bike, you can't eat, and you most definitely can't enter the Grand Prix if you're penniless. This is where your city life comes into play. It's a big city, after all, and there's a number of ways you can get paid.
Sure, you have your share of odd jobs like pizza delivery or race tutoring, but you can find more exciting gigs like bounty hunting or herd-farming as well. You'll also find the occasional dollar testing weapons and doing odd jobs, as well as investment opportunities. You can, of course, also score payouts from winning races.
However, not everything is above board. Head to the red-light district and you'll find some not-so-legal options. You can throw races, damage other vehicles, and even hack bank accounts. Of course, these all net more funds than legitimate jobs, and, of course, these shady jobs do come with consequences: completing any job will raise your wanted level. If it gets high enough cops will come after you.
Being Cool For Yourself
Desert Child, much like it's influences and aesthetics, prides itself on being unconventionally cool. Visually, you can see that this pixelated adventure isn't very detailed. But the entire game maintains that distinct look.
Desert Child's music also fits into that "cool loner" vibe; with tunes ranging from hip-hop, chill-hop (laidback jazz fusion), lofi-hip-hop, and even vaporwave, the album's worth of songs don't skip a beat.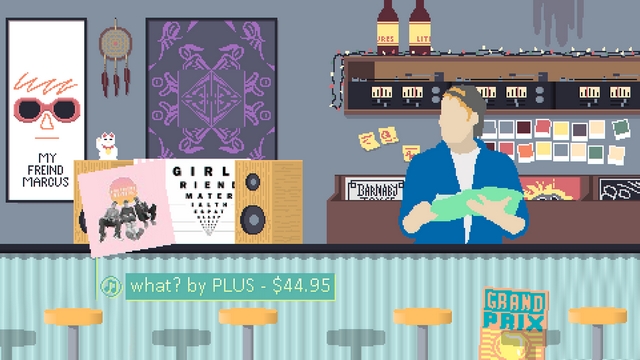 Pros:
Races are fast
Relaxing music
Customizing your bike is fun
Cons:
Visuals aren't the best
Difficulty spikes up randomly
Controls could be better
Desert Child is a fun game to decompress with. The entire journey will take you a few hours to play through, all at your own leisure and pace.
Every time you get ready to race you can race or chill. If you select chill, you'll see our hero taking a smoke break while the game's soundtrack plays. This is a nice little quality of life option for players; what better way to enjoy your favorite tracks?
That sense of operating at your own speed is what makes this game unique to play. Even though you have this looming goal and serious work to do, why stress it? No saving the planet, stopping evil, and all that jazz. It's just you and that cool hoverbike taking things one race at a time.
Fans of indie games, RPGs, and racing games can find Desert Child available on Nintendo Switch eShop, PlayStation Network, Xbox Live, and Steam today.
[Note: The publisher provided the copy of Desert Child used in this review.]
9
Desert Child Review: Sweet Ride
Desert Child strikes is a fun indie title that balances being a racer, a RPG, and being unconventionally cool.
What Our Ratings Mean
About the author