Horizon: Zero Dawn, Prey, Destiny 2, Nier: Automata, Resident Evil 7, Persona 5, Breath Of The Wild — the year has been chock full of AAA successes already, and now Arkane Studios is pulling out its second major win of the year with its ending to the Dishonored storyline in Dishonored: Death of the Outsider.
For this standalone entry that's more than an expansion but less than a full game, we're playing as dishonored assassin Billie, voiced by Rosario Dawson, who absolutely nails the tired-but-still-feisty vibe of the character. As the series comes to its conclusion, Billie is searching for her larcenous mentor and looking for redemption from her role in the previous Empress' assassination — which of course, was pinned on Corvo in the first game.
From your barely-floating ship hideout, stashed in a quarantined area no one bothers to patrol anymore, there are five epic missions to stealth, slash, or magic your way through depending on your preferred play style.
This is why Death of the Outsider is a perfect bookend to the series.
Home sweet… derelict hidden ship?
Exploring Karnaca
While seeking out her former tutor, Billie will square off against (or rob blind) new (and weird) groups of varying supernatural, religious, or larcenous tendencies, like the Eyeless or the Sisters of the Oracular Order.
After finding Daud, the duo decide on a new mark, and while its given away by the title, it may be a surprising choice for long-time fans of the series. Going one step past the unforgettable magical menace Granny Rags, this time, we're going to kill The Outsider himself, source of all arcane might, so he can't meddle in the world's empires and cause random chaos any longer.
This involves multiple heists and murders across the city, where, of course, rats play a significant role (yet again), although they aren't the plague bearers from Dunwall but rather providers of whispers that tell you about the surrounding areas. If you want to get creeped out by a little girl whispering awful things rats might think about, there's hours of voiceovers to listen through that will more than accomplish that goal.
Your rat friends are indispensable sources of information about the level
Choose Your Own Adventure
As usual, there's the option to go through any area as a whirlwind of flying bullets and slashing blades or a clandestine and thoughtful rogue that doesn't kill a single soul (which is frequently harder).
Billie could bribe a guard to open a door and look the other way if she has enough coin on hand, listen to her rat friends to find out about a secret entrance up high on the roofs, sneak through the main route without being detected, or just kill anyone who might be a witness and rush straight ahead. All of this choice really helps Death of the Outsider feel like a choose your own adventure epic.
The levels themselves are varied and satisfied, ranging from a steampunk bank heist to a rescue mission in an underground black magic fight club. During those missions Bilie can undertake Contracts, which are a slight tweak on the discoverable side missions from the previous games, offering extra coins for completing tasks. This system makes more sense for the down-on-her-luck main character, since she's a thief/assassin for hire willing to commit low-end deeds to make ends meet.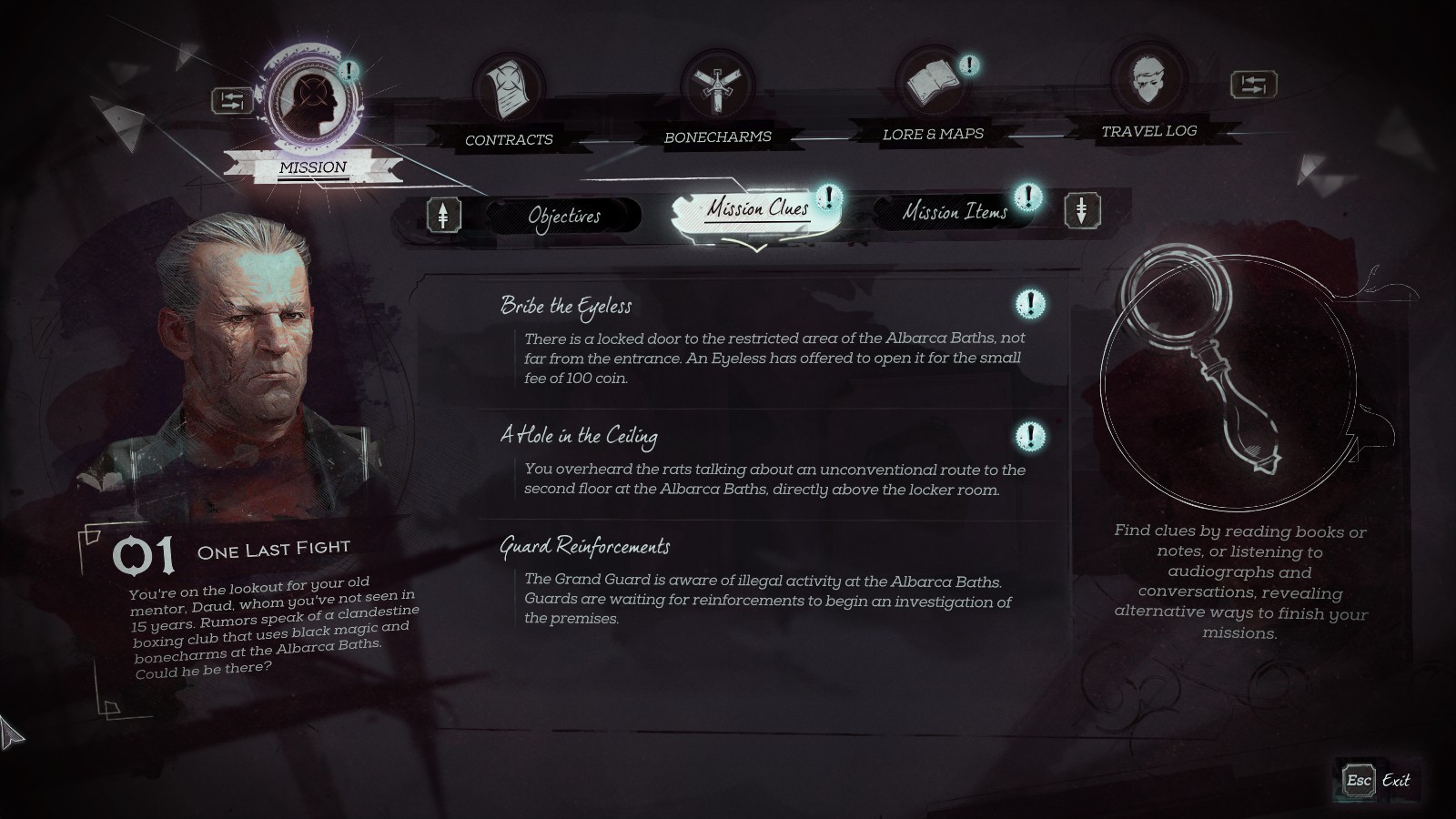 Finding multiple routes to complete the mission
Refining The Dishonored Formula
Billie is less focused on the series' arcane powers, but she does have some Void abilities to employ that are heavily tweaked from the previous two games. You might end up teleporting inside someone and causing them to messily explode messily, or instead steal someone's face and pretend to be them in various situations, such as attending an auction.
If you prefer the supernatural powers from the first two main entries, then there's the Original Game+ mode, which sort of turns the New Game+ idea on its head and gives you abilities from earlier Dishonored titles to play with during the campaign.
Either way you play, there's blessedly no more mana potions, and instead supernatural powers recover naturally over time, putting some more strategy into how and when you employ powers.
Finally, there are no more runes to find and upgrade, and instead there are bone charms to equip. While all give bonuses, some are corrupted and include serious penalties as an offset.
Equipping a nifty new bonecharm
The Bottom Line
On the technical specs front, I've got a semi-beefy rig (it's not bleeding edge, but it can run most anything on High to Ultra) and I didn't have any stutters, framerate drops, or crashes when running the game with all settings up to max. Exploring the game world with the highest visual settings is a pleasure.
Every last back alley, bedroom, or bar you sneak across in Karnaca is packed full of lore or little atmospheric details that make it clear the developers always have the specifics of the game world in mind. It all comes together to make for a very cohesive, compelling game.
Unfortunately, the experience is significantly shorter than the other games, and it has lots of overall similarities if you devoured the previous two titles. That shorter time does result in a more focused, tighter experience, though. Whether you're returning after not having played since the first game or are an uber fan who has devoured all things Dishonored over the years, Death Of The Outsider is well worth playing.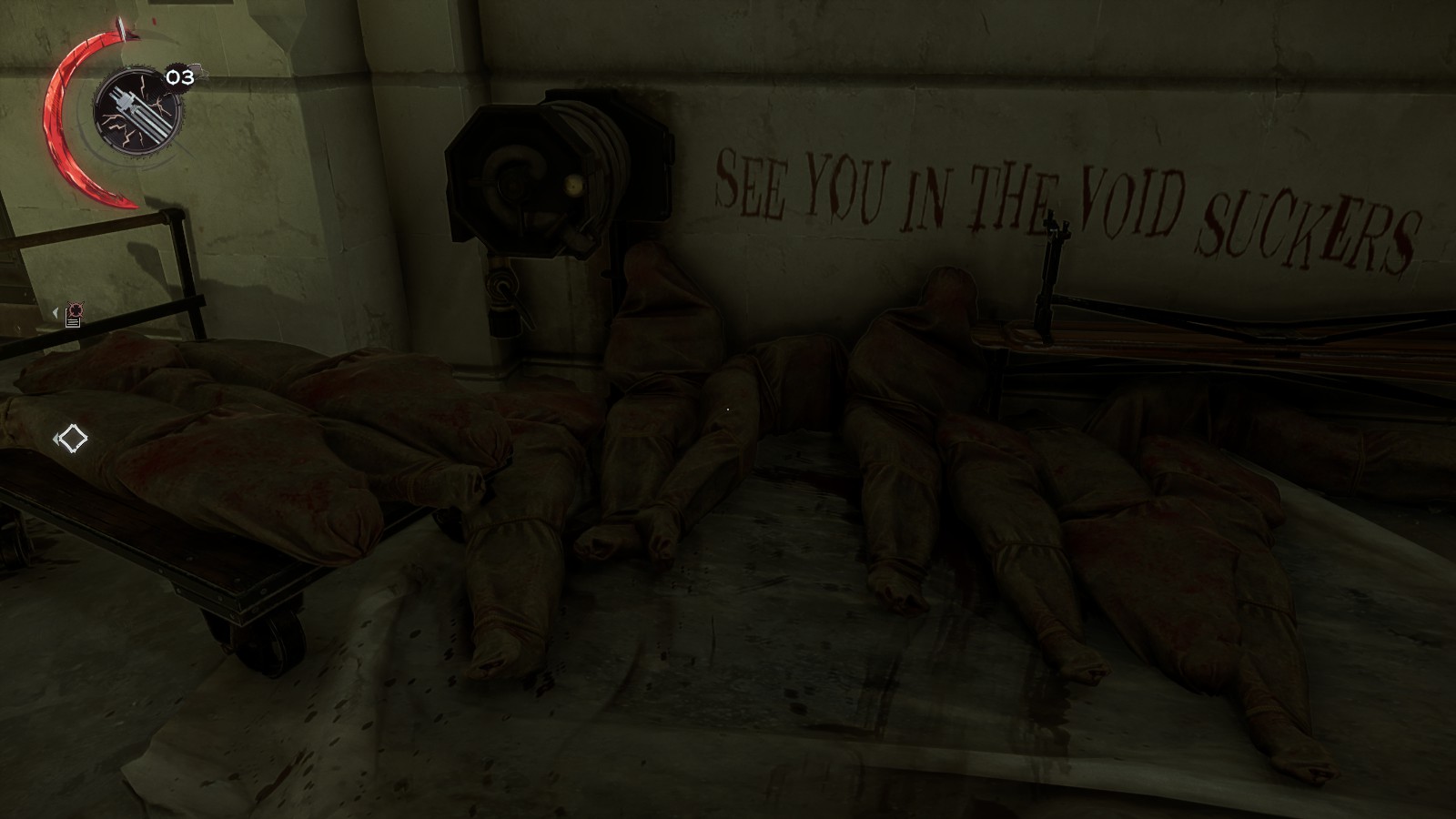 The black humor and dark tone are on full display
Between this and Prey, its clear that Arkane is really refining the multiple-route, stealth or combat style to its best form.
Supposedly, this is the "final" Dishonored entry, which seems unlikely, and hopefully, isn't true because the developers have definitely nailed the gameplay.
Whether the style lives on in some other series or we get a sequel or prequel some years from now, the world needs more of this polished stealth assassin wonder and its unforgettable tech-meets-magic setting.
9
Dishonored: Death Of The Outsider Wraps the Series in Spectacular Fashion
Can't get enough stealth assassin gameplay or the awesome steampunk-meets-magic style? Death Of The Outsider caps the series with its best iteration yet!
What Our Ratings Mean
About the author