Formula 1 is going through something of a revolution at the moment. Anyone who watches the sport is aware of last year's controversial ending and its apparent shift from pure sport to entertainment product. A lot of that has been driven by Netflix's Drive to Survive series, bringing a legion of younger fans to F1 but also leading to a sense of manufactured drama and conflict to create a more compelling watch.
Combine that with a huge change in rules, with cars moving to a ground effect concept, and you'd think this is a great chance for Codemasters to really take a step forward and make some meaningful changes to what has become a tired formula for their simulation games. That doesn't mean the latest F1 games have been bad because they certainly aren't. Yet, the series has never really progressed or kicked on to really justify itself to those looking for upgrades.
While there are some important changes to F1 2022, most of the additions feel superfluous. Despite everything that's happened on-track in the real-life sport, this new installment is very much a continuation of what fans of the series have come to expect. It's a terrific racer and a superb jumping-off point for those new to F1 racing but might not be the kind of advancement that longtime players want.
F1 2022 Review: Evolution Rather Than Revolution
Perhaps the most meaningful changes to F1 2022 have been forced upon the developers. The very way that F1 cars now generate downforce has been modified in the hope of creating closer racing and more exciting on-track battles. The cars are heavier and slower but also have more grip so that they are able to follow the cars in front more easily.
That has necessitated gameplay updates, and Codemasters has done a brilliant job. You can genuinely feel how the cars behave differently this year and it might take time to adjust to some of the nuances. Thankfully, the racing is just as responsive as ever, giving you a large amount of control over how vehicles perform as you sling them around the ever-expanding number of tracks on the calendar.
There's also been an adjustment to challenges. Previously, you were able to take part in special events for extra resources to spend in Career mode. These have been swapped for Pirelli Hot Laps, where you drive a wide variety of supercars instead of an F1 car. That makes for a greater variety of challenges, including drifting competitions. It's an interesting change of pace, and you can even take part in these challenges from the main menu.
The most significant addition to F1 2022, though, is something that no one wanted. F1 Life is billed as a way of putting you in the shoes of a real Formula driver. The only problem is that F1 Life doesn't add much to the overall experience. It basically modifies the main menu so it's your own personal apartment and provides a way for you to spend virtual Pit Coins. This in-game currency, which can be purchased with real money, lets you buy cosmetic items to customize your avatar or alter the appearance of your home.
This may well hint at the future of the F1 series now that it is owned by EA. Many fans speculated that microtransactions would be given more influence in future games to make extra money for the publisher. That doesn't seem like the plan here, at least not yet anyway. F1 Life is such an inconsequential part of the overall F1 2022 package. Yet, it might be a test to see how receptive players are to this type of thing for the next entry.
Quality of Life Improvements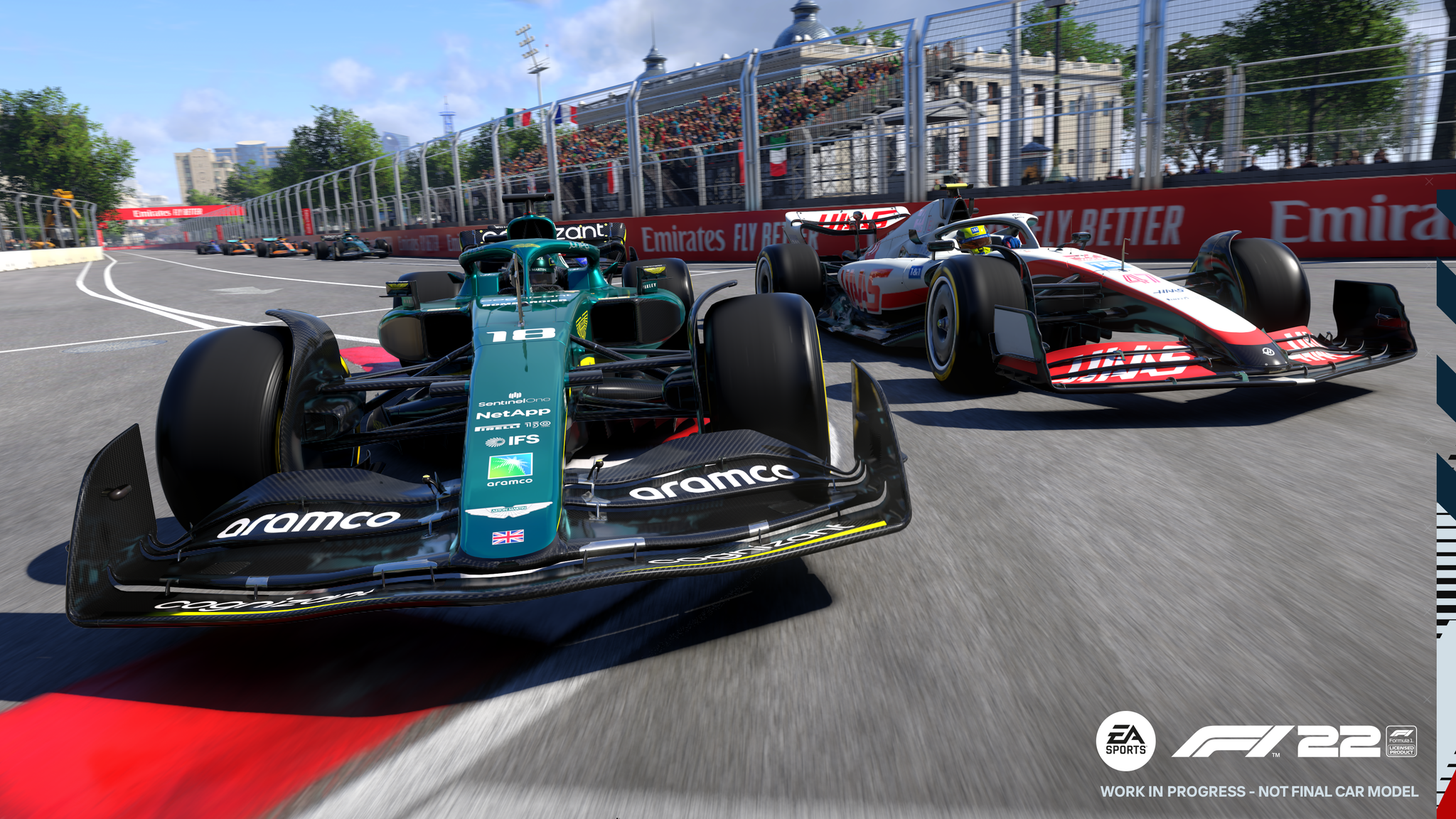 Where F1 2022 stands out is in the minor but important quality of life improvements. There are now more assist and difficulty options, making the game more accessible than ever before and ensuring players of all abilities and ages can find a level both challenging and enjoyable. A new preference setting lets the game adjust the difficulty depending on how well you race.
The drivers themselves have also seen a big upgrade. Although still far from perfect, AI racers are more complex, feeling closer to genuine human players and forcing you to switch between offense and defense quickly. They can be aggressive and attempt moves you would never have to worry about in previous F1 games. But they also make mistakes while in front, like locking a wheel after an extended period of pressure to give you a nice and easy overtake.
The Career mode is much the same at its basic level, yet the way you interview with the press and interact with your staff has changed, bringing some much-needed freshness. Practice routines, where you can earn extra R&D points for car upgrades, have also seen a makeover. There are a few more routines as well, so you aren't stuck doing the same tasks over and over again each race.
A few players might lament the missing Story mode but it wasn't all that great to begin with; it got in the way more than anything. What will please fans, though, is the addition of three extra tracks, including Miami, and the changes to the circuit layouts in places like Australia. Speaking of the tracks, they look absolutely gorgeous and are recreated perfectly. It really is getting to a point where the in-game visuals could be mistaken for the real thing.
F1 2022 Review: The Bottom Line
Pros
The cars genuinely feel different to drive, mirroring their real-life counterparts.
A raft of improvements to the gameplay and mechanics make it a more satisfying experience.
New tracks and supercars add more ways to play.
Cons
F1 Life is completely pointless and adds nothing.
There's no revolutionary addition to force players to buy it.
It feels like a minor progression rather than a big evolution.
F1 2022 is a fantastic racing game and the best Formula 1 game to date. There are some very nice improvements to the gameplay, a smattering of new tracks, and a realistic representation of the changes the sport has seen in the latest season. If you really want to get your hands on the new era of cars and feel how they drive, F1 2022 is a must-buy.
Those who want to jump in for the first time will also be best served by going with this installment, as it's the ultimate F1 experience. However, those who still enjoy F1 2021 and are not all that fussed about the adjustments won't be missing out on too much.
[Note: EA provided the copy of F1 2022 used for this review.]
8
F1 2022 Review: Evolution Rather Than Revolution
A great racing game that any F1 fan will love, although it fails to really set itself apart from its predecessors.
What Our Ratings Mean
About the author