I enjoy a good indie game every now and again. It's probably because I always seem to have a personal connection with the characters. They tend to feel more emotionally involved with their environment, which really resonates with me. Firewatch and Life Is Strange are but two examples of indie games that drag players through an emotional experience like the one I'm about to talk about. Ayo: A Rain Tale is a very interesting adventure-platformer developed by indie studio, Inkline Ltd.
Tragically True-To-Life
Ayo is about a young girl named, you guessed it — Ayo. She has to fetch water for her family each and every day for them to survive. In order to achieve this, she has to endure dangerous creatures and the harsh sands of Sub-Saharan Africa. The story, although a tragic one, is very uplifting and makes the player understand the hardships that girls and women of Sub-Saharan Africa have to go through for water — a precious resource that we often take for granted.
The inspirational words that keep Ayo going throughout her journey are one of my favorite aspects of this game. The faith she has in those words keep her going and kept me rooting for her. Using these messages to push Ayo forward really brings the story together in a strong way and goes perfectly with the struggles she has to endure through her long journey.
Visuals That Grab Your Attention
The art-style is bright and radiant, reflecting the warm climate of the African desert. The graphics also look great for a game developed by a small independent studio like Inkline.
The color pallet has been beautifully chosen, expanding upon the surreal feeling of being alone in the harsh desert that Ayo herself feels. The graphics also work well with this game's atmosphere and gameplay. The game's music is also very impressive. There's an amazing melody that flows with you navigate the landscapes and the beautifully drawn desert. It sets a really nice tone for the story.
The hand-drawn art-style reminds me of Never Alone, which was also inspired by the struggles of a community of people. Never Alone followed the young girl, Nuna, who had to travel a great distance through the never-ending blizzard that threatened the lives of everyone in her village. This is a very similar theme to that of Ayo.
That's where the comparisons end however, as Never Alone taught me a lot about the Alaskan Native people. This is in stark contrast to Ayo, which never sheds any light on the history of Africa or the eternal struggles of her people. Because of this, I never really got the same emotional connection with Ayo that I had with Never Alone, which is a real shame.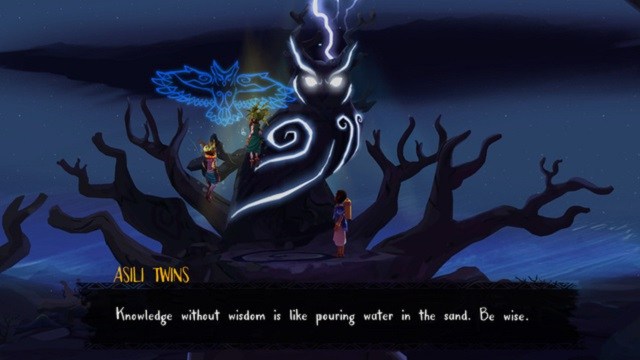 I didn't encounter any bugs during my time with Ayo, which was a smooth experience from beginning to end. The gameplay was intuitive and straight-forward, with very few keys to remember.
—
Ayo: A Rain Tale has a strong story and even though it's a short one, I got a lot out of the hard journey that the titular character undertakes. A history of her people would have greatly benefited Ayo and would have lent weight to the struggles of the people depicted in the game. It's not the greatest game of all time, but it's a revealing look into the real lives of many women and children, who take that long, perilous journey for water every day of their lives.
You can find more information about the country's struggle with this basic human necessity on the UNICEF website.
7
Game Review: Ayo: A Rain Tale
Let's take a dive into this Sub-Saharan African adventure.
What Our Ratings Mean
About the author