Before writing this review for the GameSir GK300 gaming keyboard, I didn't know much about the peripherals company headquartered in Guangzhou, China. However, after testing the GK300 for a few weeks, I can say it's a company I won't forget.
While this board might not have all of the bells and whistles found in other mechanicals, it's well-built, reliable, and effective. The GK300 is well-worth your attention and your money.
At $69.99, it's as solid as my every-day Logitech G513 Carbon, even if it doesn't have features like USB passthrough and RGB lighting. As far as gaming keyboards go, it's rather understated and minimalistic. Having both wireless and Bluetooth functionality is as crazy as it gets.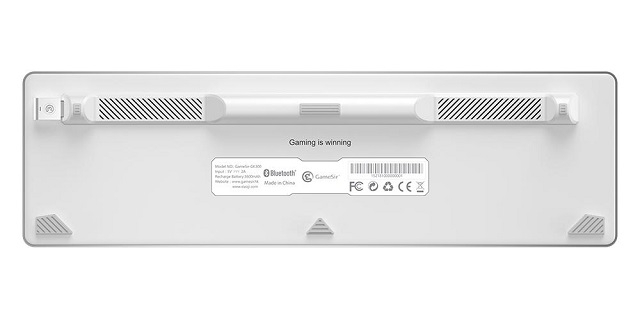 Design
The GK300 comes in two color variants: all-white and space grey, the latter of which is simply grey with a smattering of black.
I tested the all-white version, and while I enjoy it as a change of pace from the all-black boards I usually review, I can't help but notice that it has already started to get a tad dirty around the edges. Additionally, the white exacerbates the natural shadows on the right edge of many of the board's 104 keys. This can make the board look a bit dirtier from certain angles or in certain light.
Minor aesthetic gripes aside, the chassis is made of anodized aluminum featuring an alloy cover. The aluminum's silver is an elegant backdrop for the white keycaps, and it provides a sturdy base capable of withstanding bangs against desk edges and door jams.
On the front, right-hand side of the chassis, you'll find the GameSir logo and the switch for turning the GK300 on and off; this switch also activates its wireless and Bluetooth functionalities. A Micro-USB charging port is on the left side of the chassis, which can make charging cumbersome if your tower is on the right side of your desk.
Flip the board over, and you'll find a holder for the USB dongle tucked into the top-right foot. Interestingly, the feet aren't adjustable; the board naturally sits at an unchangeable 7.5 degrees. In an era of customizability, it's an odd choice but not one that bothered me in my time with it.
Finally, the included white (or black) plastic wrist rest is functional, but hard. It doesn't attach to the board; instead, the board's feet fit inside small grooves cut into the wrist rest itself.
Functionality and Performance
As stated earlier, the GK300 doesn't have many bells or whistles. You won't find any software here, there aren't any dedicated "G" keys, you can't reassign keys or make new macros, and it doesn't have RGB.
However, it does have a few nifty things that make it interesting.
While there's no RGB, that doesn't mean there isn't light. The GK300 features a beautiful white light underneath all of the keys. It comes with three different presets, too: wave and ripple, steady, and breathing. You can cycle through them or turn the lights completely off using the board's arrow keys.
However, what's more useful is the board's use of Bluetooth. Switching between wireless and Bluetooth modes is literally as easy as flipping the switch in the top-right corner of the GK300. It's a functionality I didn't know I wanted until I had it, and very few boards have it.
It's nice being able to seamlessly switch between writing an article and answering a text message without having to pick up the phone or take my hands off of the keyboard.
Moving to the keys themselves, The GK300 features TTC mechanical Red or Blue switches. These are a bit stiffer than Cherry switches of the same color, although they're listed as having the same actuation force, 45g and 50g respectively. Both TTC Reds and TTC Blues are rated for 50 million keystrokes as well.
I tested the TTC Reds on this board, which have a higher-pitched clack than the keys found on something like the Logitech G513. That board has a similar body design but uses Romer-G switches. The TTCs also provide a bit more bump than Cherry Reds, which are found in boards like the Corsair K68.
Lastly, the board features 10-key rollover and 100% anti-ghosting. While it isn't N-key rollover, I imagine most gamers will get by with 10-key just fine.
Pros:
Solid anodized aluminum frame
Plug-and-play Bluetooth functionality
Wireless dongle holder
Responsive, low-latency keys
30-hour battery life with backlighting

(GameSir claims 300 hours w/o backlighting, but that remains untested)
Cons:
No software
No dedicated gaming keys
Can't reassign keys
Can't assign macros
Can't adjust lean angle
Charging port on left side
Short charging cable
While in-game actions are surprisingly fast and typing is a breeze, I didn't notice a considerable difference between the GK300 and the boards offered by the market's biggest brands. Latency is minimal here, even if it's hard to fully test GameSir's "1ms ultra-low latency" claims.
What I will say is this: despite what it lacks, the GK300 is a great gaming keyboard. It's even better as a multipurpose typing tool. However, it's not for everyone.
For those that need multiple "G" keys and the ability to remap keys and assign macros, it's best to look elsewhere. There are other keyboards that can mimic the speeds and actuation forces here that also provide those functionalities.
If you're on a mid-range budget, it's hard to say no to the $69.99 GK300. My wife wants one for work simply because of its Bluetooth capabilities. I think I'll buy her one.
Here are the board's specs:
Connection Type(s)
Wireless/Bluetooth
Platforms
PC/macOS/Android/iOS
Keys Layout
104 mechanical keys
Switch Type(s)
TTC Reds/TTC Blues
Polling Rate 2.4GHz wireless
1,000Hz (1ms)
Polling Rate Bluetooth
125Hz (8ms)
Key Lifespan
50 million clicks
Actuation Force
Red: 45g±15gf
Blue: 50g±20gf
Actuation Distance
Red: 2.0±0.6mm
Blue: 2.2±0.6mm
Backlight Color
White, 5-level adjustable
Battery Capacity
3600mAh rechargeable Lithium
Charging Voltage
3.7V~5V
Charging Time
2.5~3 hours
Working Time
30 hours
Charging Connectivity
Micro-USB
Charging Cable Length
3.28ft
Wrist Rest Size
17.32in x 3.07in
Keyboard Size
17.24in x 5.08in x 1.65in
Weight
3.09lbs
[Note: A GK300 review unit was provided by GameSir for the purpose of this review.]
7
GameSir GK300 Keyboard Review: Solid Choice That's Missing a Few Parts
While it might not have everything we'd expect in a modern gaming-first keyboard, GameSir's GK300 is a surprisingly worthwhile choice, especially at the price.
What Our Ratings Mean
About the author