There's nothing like owning a solid gaming headset. Sure, there are plenty of good cans out there, most of which provide a decent means of communication while offering various levels of comfort. Not many of them, however, can match the overall quality of the affordable HyperX Cloud series of headsets.
This is especially true when one considers the HyperX Cloud Alpha S gaming headset. As the latest member of the Cloud family, it features some nice improvements over its predecessor. This includes its bass adjustment sliders and USB audio control mixer.
It even has custom-tuned HyperX virtual 7.1 surround sound — something fans have been asking for in a set priced slightly higher than the original Cloud Alpha.
Design
The HyperX Cloud Alpha S is almost identical to the Cloud Alpha. Signature memory foam ear cushions and headband, strong aluminum frame, detachable mic — aside from the splash of blue (replacing the red highlights), it looks just like the Alpha. At least, at first glance.
A closer inspection of the Alpha S reveals slightly different cans. Each one sports a bass adjustment slider on the bottom, towards the back. They're there to provide three different bass levels.
There's also the detachable 3.5mm braided cable. Instead of ending with a headphone splitter, though, it connects via USB. That way, gamers can take advantage of the advanced audio control mixer — which replaces the normal volume/mic mute buttons — and surround sound feature.
Things are a bit more familiar under the hood. The Alpha S has many of the same sound quality features as the Alpha. That includes the dual chamber technology that separates bass frequencies from the mids and highs, essentially providing a more accurate soundscape.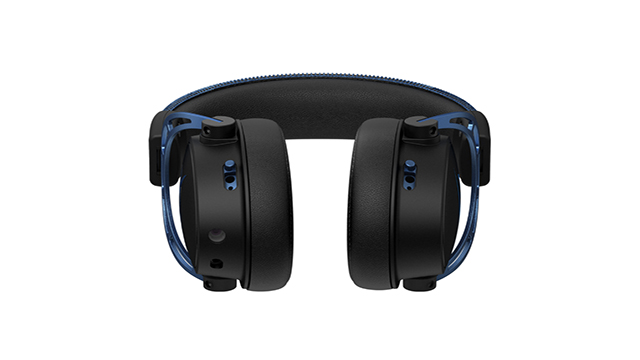 Sound
Like the Alpha before it, the Alpha S offers a rich audio-based experience. The sounds of explosions and gunfire ranged in my ears (in a good way), while the near-constant chatter of my friends alerted me of an enemy's position. Things were just as clear when playing single-player games: I could hear a soldier's boots kick up gravel in Remedy's Quantum Break, for instance.
Most of this can be attributed to the Alpha S' solid tech; I was able to hear things I had previously missed with my old headsets. Games like Hunt: Showdown proved to be more immersive, with its ambient sounds being raised to terror-inducing levels. That said, none of the sound effects or in-game music kept me from communicating with others.
The advanced audio control mixer helped in this regard. This is because it splits a game's overall sound level from the chat audio; though it's capable of raising and lowering both volumes equally, the Alpha S is capable of placing a bigger emphasis on one or the other. Meaning, you can raise the chat audio so that it sits on top of the game-related sounds and vice versa. If there was a particular scene or moment that made it hard to hear my teammates, a few clicks of the mixer sorted things out.
Everyone could always hear me just fine of course. Thanks to the bi-directional, noise-canceling mic, my voice was received loud, clear, and absent of any background noises. It didn't matter if we were using in-game chat, Discord, or some other application. It always worked as intended.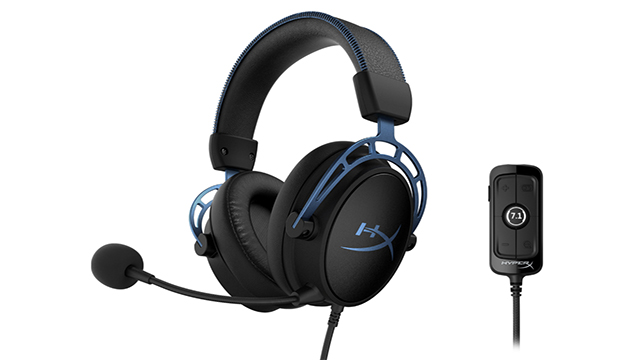 7.1 Surround Sound
The feather in this headset's proverbial cap has to be the surround sound feature. It's the one thing that largely separates the Alpha and Alpha S models, aforementioned upgrades notwithstanding. Unfortunately, I wasn't as impressed as I hoped I'd be.
I played a few different games to get a feel for the feature, making sure to activate and deactivate it — by pressing the large 7.1 labeled button on the mixer — at the same segments per game. What I found was that the headset already had a base level of surround sound implemented before activation. I could tell what direction shots were coming from, where speaking characters were in relation to myself, and so on.
Upon toggling the "real" surround sound, I got the same thing but at an elevated level. All of the ambient sounds came rushing in; I could seemingly hear a pin drop in an adjacent room. At the same time, all of the sounds turned hollow. Shots from my gun lacked their original oomph. Walking across gravel was akin to trudging on glass.
It was worse during cutscenes. Characters in a crowded area sounded like they were talking on mics in an abandoned warehouse; their vocals lived apart from everything else.
This was because of how the surround sound seemed to work. Instead of making things more immersive, it made them louder and less tangible. Airier even. I remember playing Hunt and being scared out of my seat with the sudden appearance of a monster. Only it wasn't the danger of their presence that scared me. It was how loudly they came crashing through the cabin I was in. It literally hurt my ears.
That's not to say that you can't adjust things. Lowering a game's overall volume helps, though when you eventually switch back/toggle off the surround sound, you'll have to raise it back to its normal settings. The surround sound also proved great when listening to certain music. While playing a few Jazz songs, I was able to hear each instrument in greater detail. It sounded fuller, grander than what I was used to.
A Nice Fit
This should go without saying but the Alpha S is super comfortable to wear. This is coming from someone who struggles to keep his headsets on; my ears are very sensitive to pressure. That said, even after hours of gaming, I barely noticed they were on my head.
The memory foam ear cushions feel great, and they don't get hot, a possible result of the upgraded, breathable leatherette and an adjustable frame that doesn't place undue pressure on the ears.
Of course, one's mileage may vary. Some will sweat more during intense sessions than others.
Pros:
Amazing sound quality (most of the time)
One of the most comfortable headsets on the market
Plug and play USB connection
Mixer that allows separate game and chat volume control
7.1 Surround Sound works well in certain instances
Cons:
7.1 Surround Sound isn't great for gaming as it makes everything louder/shallower, losing the richness that was afforded from the start.
All and all, the HyperX Cloud Alpha S is a great headset. It's slightly better than the Alpha, even with the surround sound issues, considering they work well when listening to certain types of music.
The mixer proves the most useful. It's nice being able to lower or raise the chat volume without messing with a game's overall sound levels. The bass adjustment sliders are also a nice touch, though they seem to be more geared towards music — and that's not a bad thing.
For $129.99 ($30 more than the Alpha), you'll get an improved headset, extra goodies (replaceable cloth ear cushions, travel bad, etc.) and the nifty mixer. It's not a bad deal at all, especially if you are already looking at the Alpha or another quality set with a median price tag.
Here are the headset's specs:
| | |
| --- | --- |
| Drivers | Custom dynamic, 50mm with neodymium magnets |
| Type | Circumaural, Closed back |
| Frequency Response | 13Hz – 27kHz |
| Impedance | 65 Ω |
| Sound Pressure | 99dBSPL/mWatt 1kHzT.H.D.: ≤ 1% |
| Weight | 310g |
| Weight w/ Mic | 321g |
| Cable Length | 1m |
| Connection Type | 3.5mm plug (4-pole) |
| Mic Element | Electret condenser microphone |
| Mic Polar Pattern | Bi-directional, Noise-cancelling |
| Mic Frequency Response | 50Hz –18kHz |
| Mic Sensitivity | -38dBV (0dB=1V/Pa at 1kHz) |
| Audio Mixer Weight | 57g |
| Audio Mixer Cable Length | 2m |
[Note: A HyperX Cloud Alpha S review unit was provided by HyperX for the purpose of this review.]
9
HyperX Cloud Alpha S Review: A Slight Improvement Over the Alpha
With an improved design that offers more control during play, The HyperX Cloud Alpha S is slightly better than its predecessor.
What Our Ratings Mean
About the author