Thanks to the recent re-release of King of Fighters XIV (on PlayStation 4, anyway), it might not seem like it's been that long since the last entry in this long-running SNK series. Fans have eagerly awaited the evolution of the series since it was King of Fighters XV was announced during EVO 2019. KoF XV has finally arrived and the results are likely to please fighting game lovers everywhere.
KoF XV feels more like an upgrade of the last game. It's more polished and shinier, offering mostly mild enhancements and changes to the familiar fighting mechanics. The updates to the combat "systems" will probably only be noticeable to long-time fans, but the important thing for anyone else is there are more special moves than ever.
King of Fighters XV Review: Teamwork is What's Gonna' Work
The new Shatter Strike lets players counterattack with the classic quarter-circle forward. KoF XIV's Max Mode returns with upgrades. Max strengthens a fighter's attack and Guard Crush strength by using a leveled-up power gauge, which builds during combat. A new Quick Max Mode has been added, which chains to Max mode activation by landing a hit immediately. This, in turn, opens up the chance to start a combo immediately.
There are a lot of decidedly technical aspects to KoF XV like this, including a veritable avalanche of special move types: EX and Super Special moves, MAX Super Special Moves, Climax Super Special Moves… you get the idea. There's also the Rush Mode, where mashing light punch causes a flurry combo attack.
None of these additions make KoF XV feel particularly fresh. The core gameplay and bulk of the impressive 39 character roster (across 13 teams) are all very familiar for anyone who's played the earlier games. That's not a particular criticism. No one expects a sequel like this to completely revamp itself, especially not in arcade fighting. Suffice to say, KoF XV plays well. The action is intense, the controls are precise, and the range of characters, special moves, and fighting styles ensure there's plenty of depth.
KoF XV takes excellent advantage of the Unreal engine. It uses an almost cell-shaded anime art style for its characters. The fighters are still fully 3D, but the sharp, vividly colorful visuals and smooth animation lend a distinctive feel on the whole. Character designs are largely the same as ever, with a variety of bombastic designs for the various hard fighting men and women.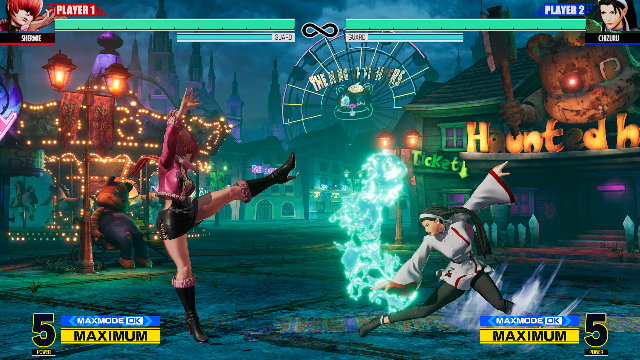 There's a bit of improvement in the outrageousness of some of the women fighters in particular. A few iffy designs really stand out; Angel seems to be a cowgirl-themed stripper and Shermie, well… I don't know, except someone at SNK has certain distinctive tastes. We could bring up Mai, the top-heavy ninja, but at this point, we feel only pity for the sheer amount of back pain she must be in at this point.
The backdrops are still basically 2D to match the gameplay, but some of the new arenas are simply gorgeous. Long-time SNK fans will also appreciate the addition of a Metal Slug-themed area. The soundtrack is excellent, and the score is impressively varied, though the voice work is largely still all in Japanese.
The story mode continues the tale of a strange otherworldly invader from KoF XIV and ends in a surprisingly interesting (if potentially frustrating) end boss sequence. There are training and practice modes and a versus mode for coach players or just against the AI, but the real meat is in the online play.
Playing in either ranked or casual matches is simple enough, but KoF XV requires you to select your team ahead of time, and it's an oddly complicated affair. The team management and selection options are a little too buried in the profile options, making it bizarrely inconvenient to perform the basic function of picking your characters.
Likely still gun shy over problems with the online performance of KoF XIV at initial launch, SNK is adamant the net code has been improved further. We were frustratingly unable to test this, but given how smoothly XIV's Ultimate Edition played online, hopefully, such problems are in the past.
King of Fighters XV Review — The Bottom Line
Pros
Great looking and playing 3-on-3 fighting action.
Very cool end boss.
Surprising depth of play mechanics with a huge character roster and list of specials.
Wide range of gameplay modes both on and offline.
Cons
Feels like more of an upgrade than a full sequel, with little new to offer.
Online lobby setup is oddly confusing and reliant on the preset fighter teams.
If you're above the age of 14, some of the character designs are real damn iffy.
King of Fighters XV completes the storyline from the previous game but doesn't mark any significant changes otherwise. It's an excellent overall fighter and likely to find some pull on the tournament circuit. Yet, at this point, we can't help but feel like this is all something we've played many times before.
[Note: SNK and Koch Media provided the copy of King of Fighters XV used for this review.]
7
King of Fighters XV Review: Teamwork is What's Gonna' Work
The King of Fighters returns for its 15th bout in a polished, if certainly not revolutionary sequel.
What Our Ratings Mean
About the author