My gaming desk is decked out with Logitech peripherals — my favorite of which is my G900 Chaos Spectrum mouse. So when I had the opportunity to get my hands on their newest entry in their gaming line, the G Pro tenkeyless mechanical keyboard, I jumped on the chance.
This keyboard was designed from the ground up for eSports players. And it's no surprise since the tech giant is a sponsor for Team SoloMid; the development team behind the G Pro worked alongside professional gamers to create a peripheral that balances comfort and performance with a diminutive size that will equally suit a pro-LAN setup and a small desk at home.
Specs for the Logitech G Pro
The Logitech G Pro uses its namesake's proprietary Romer-G mechanical switches. These custom switches are designed to have both short actuation distance and low actuation force, which means this keyboard packs some of the fastest response you'll find on any mechanical switch in the market. These switches have tested for a lifetime of 70 million key presses, so they'll withstand just about any amount of stress you put them under.
While it has all the standard keys you'd expect from a keyboard — including extra keys to toggle game mode and lighting — this keyboard doesn't have the 10 keys that normally take up the right side of the board. That means it's significantly smaller than your standard gaming keyboard. The unit itself measures 153mm by 360.5mm, or 6 inches by 14.2 inches. That makes it small enough for pretty much any space — even my cramped little corner desk.
Even though the keyboard itself isn't wireless, its braided USB cable is detachable so that it's easier to travel with — a clear nod toward those eSports players who are going to spend all their time on the road to hit LANs.
Last but not least, the Logitech G Pro also features fully customizable RGB lighting. And when I say fully customizable, I mean it. The newest iteration of the Logitech G software that powers this keyboard allows you to not only control the color of each key, but also allows you to create and edit your own dynamic effects. So if you want to make rainbows dance across each key anytime you pop your ultimate key in game, you can do just that.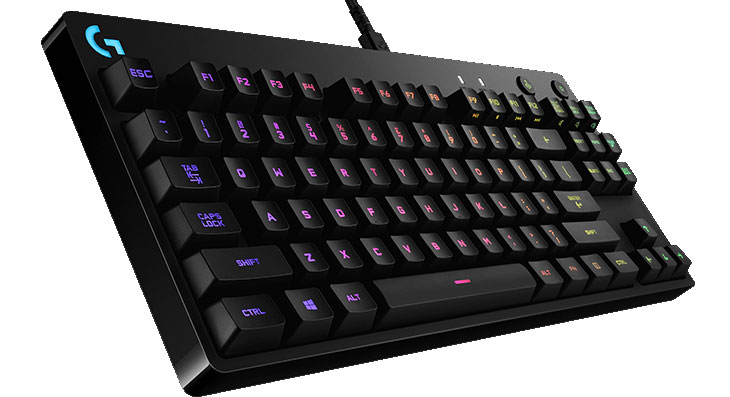 Beutiful Performance from a Well-Made Keyboard
I tested this keyboard in a number of SMITE games, ESO dungeons, and in my everyday writing and editing for the GameSkinny site. And it handled everything beautifully.
This keyboard feels as sleek as it looks. The key caps offer good grip inside its brushed metal chassis, and the response from each key press was as immediate as it was satisfying. Each key sits high enough that it's nearly impossible to accidentally press two at once, which makes a serious difference when you're in the heat of battle.
For day-to-day typing, the G Pro works well enough. Like any mechanical keyboard, it's not going to let you fly across keys at breakneck speeds without missing a few letters here and there. But even so, this is the only gaming keyboard I've typed on that has actuation speeds and distances which can actually keep up with how quickly I tend to type when I get on a roll.
Aside from its stellar response in and out of game, my favorite thing about the G Pro is its size. As I mentioned earlier, I work out of a very cramped desk in a small office nook. Between my two monitors, my keyboard, and all the geeky knick-knacks that populate my workspace, there's rarely enough room for my mouse to get the full range of movement it needs to get those killer snipe shots in Paladins.
But that's not the case with this keyboard. Without those ten keys — which I rarely use anyway and didn't miss much when they were gone — the size of the G Pro is perfect. The extra space it gave me to move my mouse around really helped me out in-game. Not once in my SMITE games did I miss a skillshot or run into an enemy ultimate because my mouse was colliding with my keyboard. And it felt so, so good.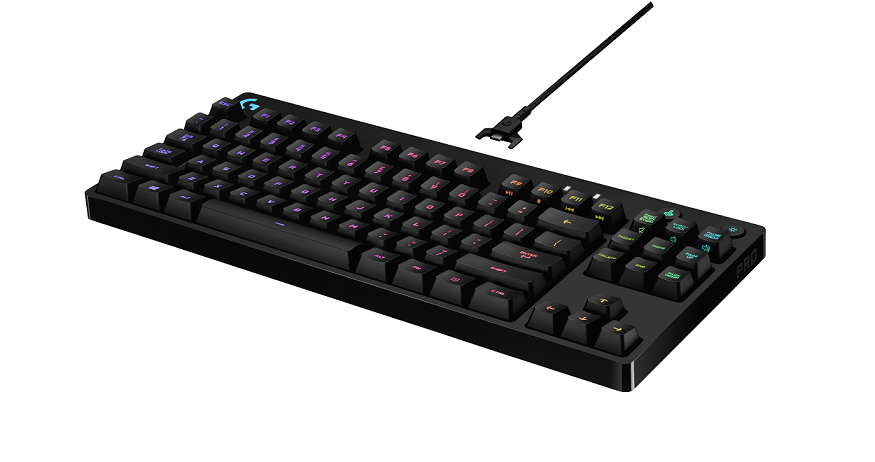 The G Pro's Software is Excellent, Too.
I've always loved Logitech's customization software. I use it often for my Chaos Spectrum, and I was excited to get to do a little bit more with it than I have with other Logitech peripherals.
I sank more time than I'm willing to admit messing around with the custom effects and lighting patterns. It can be a little time-consuming until you get the hang of how everything works, but it's tons of fun to play around with. And it was nice to have basically endless options at my fingertips any time I wanted to bring a fresh look to my keyboard.
The customization options that are available with the hundreds of game profiles attached to Logitech's PC game database are pretty cool, too. You can get this keyboard to do all kinds of cool stuff in-game — like light up different colors to let you know your League of Legends match has started, or flash bright red when an enemy is hitting you with an ultimate.
The ability to turn off certain keys when you activate game mode is also a huge boon that often goes overlooked. Personally, my pint-sized pinky finger has trouble hitting the Tab key instead of Caps Lock when trying to pop my ultimate. Being able to turn the Caps key off entirely doesn't solve my own shortcomings as a gamer, but it does keep me from wasting a valuable ultimate on a single bad key press.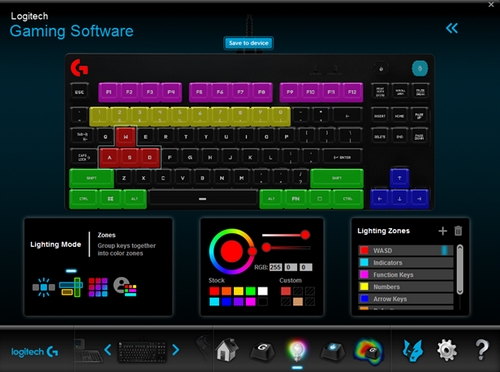 Verdict
The Logitech G Pro is an all-around great keyboard. It feels nice to use and comes with a ton of customization features that can help you tailor your experience to whatever you want it to be. And it packs a lot of high performance and typing prowess into a small, sleek body that doesn't take up any more room than it needs to. Whether you're an aspiring eSports pro or just a gamer with a limited amount of desk space and an eye for good peripherals, the G Pro should be right up your alley.
9
Logitech G Pro Gaming Keyboard Review: A Great Thing in a Small Package
Logitech's new tenkeyless gaming keyboard is designed with eSports pros in mind... but it'll be great for you, too.
What Our Ratings Mean
About the author