I'll start by saying that I'm a big fan of Logitech. Their G302 Daedalus Prime is my go-to mouse. So I was excited to try the G900 Chaos Spectrum, their newest wireless gaming mouse.
I have to admit — when I first unboxed the G900, I was a little disappointed. Everything felt different and not in a good way. The L/R button feedback didn't feel as good, the free-spinning scroll wheel was nearly impossible for me to use, and there was some weirdly placed button in the middle that my finger kept half-clicking.
But this mouse grew on me. Really, really grew on me. Once I got used to the new click feedback and figured out what that weird little button was actually for, the G900 became an incredibly versatile mouse that might give my Daedalus Prime a run for its money.
Under the Hood of the G900
Before I did much play-testing with the mouse, I sat down with Logitech G's Technical Marketing Manager, Andrew Coonrad, to get the rundown of the G900's inner workings and what performance tests it underwent.
I won't bore you with the details, but it was kind of fascinating. Logitech made this mouse entirely from parts that they designed and produced in-house and created brand new switches for a new click feel.
The G900 is the first mouse to use a pivot design, where all the buttons are hinged on a mechanical pivot near the back of the mouse. (I don't fully understand how that works, but it's pretty neat.) A new mounting system and some changes to the exoskeleton also made the G900 more lightweight than other mice in its class. Comparing it to my G302, there's almost no noticeable weight difference, which was really surprising given how feather-light that mouse is.
They also made a lot of changes to the wireless technology in the mouse, with the admirable goal of out-performing wired competitors in terms of latency. Sounds like a pipe dream, right? Everyone knows that wireless mice will never be as good as wired. Logitech doesn't seem to think so, and it turns out they're right. I'll talk more about that soon. Unboxing
The G900 features standard L/R buttons, two shoulder buttons on the right side, and a middle column with the scroll wheel, DPI cycling, and another button to customize the scroll wheel. It comes with a wireless USB dongle, a wire for charging or wired play, and an extra set of shoulder buttons.
Why were there extra shoulder buttons? Because the mouse is fully ambidextrous. Yes, lefties, you're reading that right. Turning the G900 into a left-handed mouse is as easy as popping off the cover on the other side, and popping those extra shoulder buttons into place. I was able to make the change in under 30 seconds.
Once I got everything set up and drivers installed, it was time to do some playtesting. I tested the G900 mostly in Blade & Soul, but I also played around in some SMITE and set up a special button profile just for my high-intensity job as an editor.
Function & Feedback
Buttons
Once I had been using the G900 long enough to forget about the G302 feedback that I'd come to know and love, I enjoyed it a lot more. The L/R buttons are heavier, and I can't click them quite as rapidly as the Daedalus, but the difference is only noticeable if I'm literally trying to click as fast as I can. Given their little extra weight, the L/R button feedback feels sturdier, and I found myself making far fewer accidental clicks than I would on the touchy G302.
The shoulder buttons felt a little flimsier when clicked than I would have liked them to. The small shoulder buttons on the G302 have a satisfying response, but the larger buttons on the G900 have that weird response that happens when a button is much larger than the switch. You know the feeling I'm talking about — where there's a noticeable airiness to the click. The slick plastic on those buttons also made slippage an issue sometimes (during those high-intensity team fights). I eventually got used to the buttons, but I really found myself missing the tight feedback of the G302 on that front.
Last but not least, remember that free-wheeling scroll wheel and strange middle button that confounded me? Turns out that button will turn the free-wheeling scroll wheel into a not-so-free-wheeling scroll wheel which has that sweet, sweet catch feedback I was pining for. With that button pushed in all the way, the scroll wheel feels really nice to use. And it's nice to be able to switch back to free-wheeling when I need to move quickly through long docs or web pages.
The DPI cycling buttons, which allow three different DPI settings, are nicely placed as well. They were easily reached and clicked without having to totally leave the L/R buttons, and clicking them lit up LED stripes embedded in the middle column to let you know which setting you had switched to.
Sensor
During my meeting with Coonrad, he called the Logitech sensor "the best sensor for gaming on the market". That's a pretty big claim, but he had the test results to back it up. The real question, though, is whether all those awesome test results translate to everyday play.
The short answer: they do. The G900's sensor is wonderfully consistent, even in sub-par conditions. I didn't notice any drops or skips as I played, and I was playing on less-than-optimal surfaces. Because I game on a laptop rather than a desktop, I tend to play in different places. Sometimes I'm using a proper mouse mat. Other times…I'm using my kitchen counter or a notebook instead. But the G900 didn't seem to mind either way — I got constant and immediate response no matter what.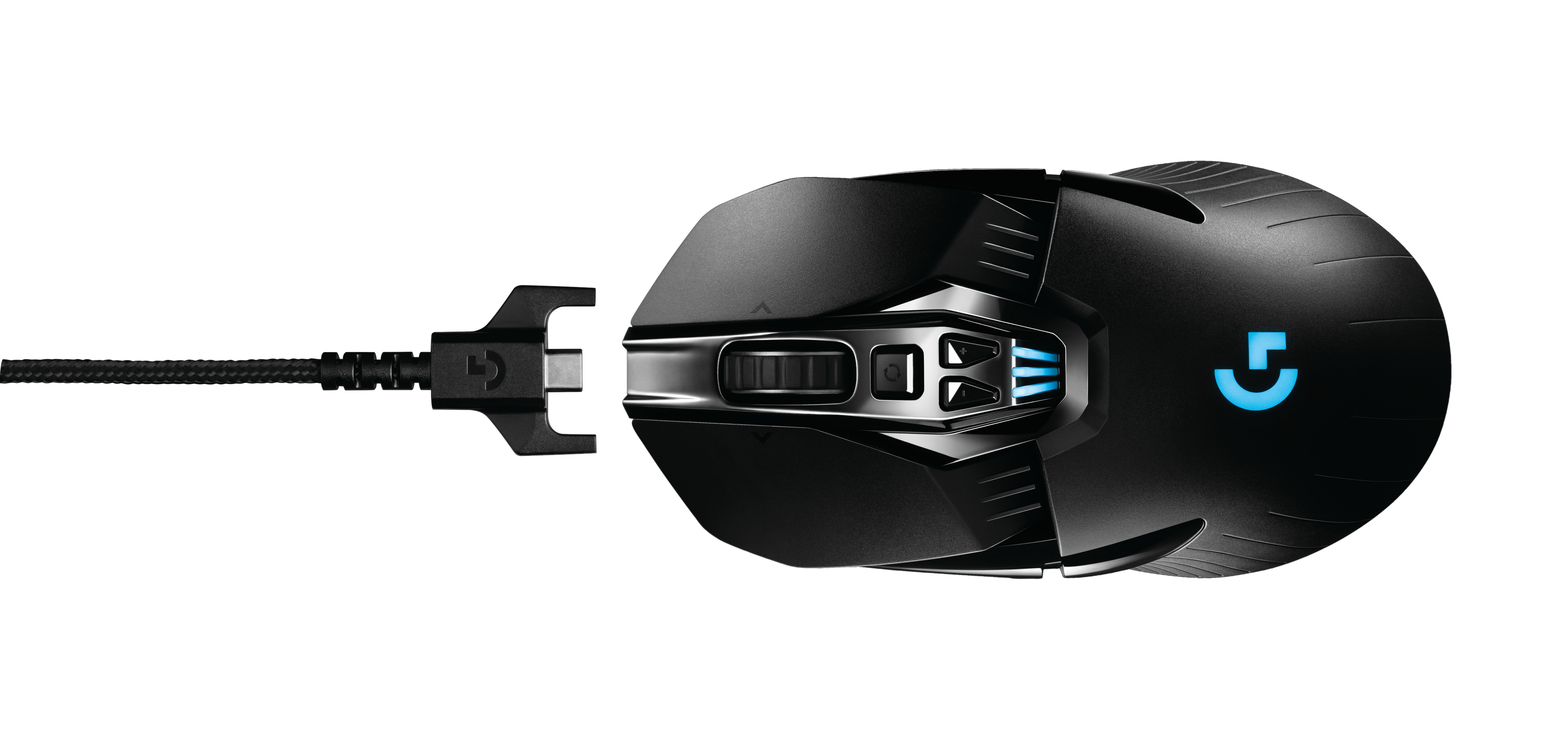 Battery Life & Charging
Other than latency issues, the other major drawback to wireless mice is the battery life. The G900 advertises a 32-hour battery life, which is a lot longer than most mice on the market right now. And for me, it seemed to live up to that claim. I was able to use one charge over a whole weekend if I remembered to turn it off when I wasn't using it. That's a lot more than I can say for most other wireless mice I've tried. Only time will tell how much battery life depreciates the more I use the mouse, though.
Once the battery does actually die, charging is a breeze. The LED G on the back of the mouse will turn red when it needs a charge. But instead of having to mount the mouse on a charging port or changing the batteries, you just plug the USB wire into the front of the mouse and keep on playing. It was quick and easy, which translated to minimal interruptions in-game. Charging completely took about 2 hours with the mouse not being used, which is a small price to pay for a full weekend of play time.
Wireless Capability
This is what you're really wondering about, right? None of those other good features really matter if the wireless capability can't keep up. Luckily, Logitech poured lots of resources into making sure that the G900 could not only stand up to its wireless competitors, but could outperform even some of the wired mice on the market.
While showing me a bunch of result charts from the wireless testing, Coonrad told me that the G900 has a click-to-USB rate of 3.08, which is faster than a number of wired mice, including the Deathadder Chroma. Pretty impressive.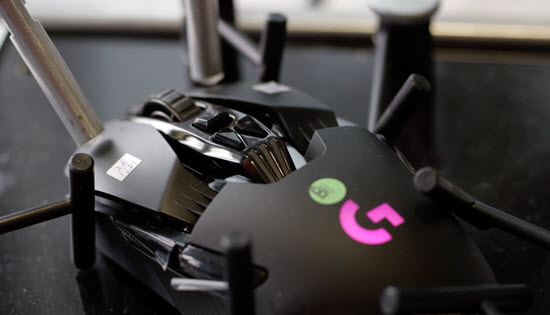 However, laboratory testing is one thing and practice is another. Coonrad claimed that not only does the mouse boast an incredible lack of latency, but it also works really well in noisy environments. So I decided to really test it on that front. At my own desk, I ran as many wireless devices as I could while using the mouse to see if I could trip it up.
I couldn't.
Maybe it's just because I don't use a lot of wireless mice, or maybe it's because I don't play the kinds of games that really require me to notice, but I didn't notice any real difference in latency between wireless and wired play on the G900. Even with a bunch of other devices going, it powered through and did everything it needed to do. Needless to say, I was pleasantly surprised.
Comfort
Last but not least, let's talk about how the mouse actually feels in your hand. Because of its design, the G900 is good for either palm or claw-grippers. But after trying both, I have to say that it's definitely going to be a lot more comfortable for palm-grippers.
The G900 is slightly bigger than my G302, which makes it just a little large for my child-sized hands. At first, I had a little trouble reaching the L/R buttons because my hands were so used to the grip position on the G302, but as I got used to the new mouse it wasn't much of an issue.
No matter how long I played, the G900 felt good. As a bonus, the matte plastic surface and the grooves in the side of the mouse made it easy to grip, even during those high-stakes, sweaty-palm encounters.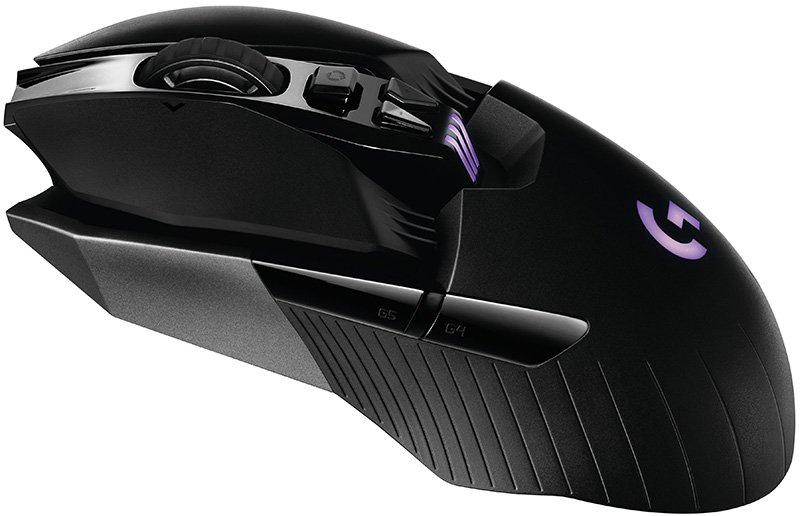 Verdict
The G900 promises a lot. And it pretty much delivers on all of it. It's an incredibly versatile mouse that allows for a wide variety of grip styles, and it doesn't leave out our lefty friends either. The feedback is good (aside from the unsubstantial shoulder buttons), the sensor is powerful and consistent, and even the scroll wheel can be customized.
It's easy to charge, the battery lasts a long time, and the wireless performance is the best I've seen on any mouse I've played with. Latency and noise were hardly an issue. It felt like the kind of performance you'd expect from a top-end pro mouse with double the price tag.
All in all, despite my love for my Daedalus Prime G302, the G900 may have taken its spot as the best gaming mouse I've ever owned. Its versatility alone is pretty awesome, and it performed far better than I expected to. If you're looking for a mouse that really can do it all (and do it well), this is it.
You can pick up the Logitech G900 Chaos Spectrum directly from the Logitech site or on Amazon for $150. It's definitely worth every penny.
Note: The writer was supplied with a review unit for this article.
10
Logitech G900 Chaos Spectrum Review: Probably the Best Gaming Mouse I've Owned
Logitech's newest gaming mouse is amazingly versatile and performs like a dream.
What Our Ratings Mean
About the author