When it comes to innovation in the world of gaming peripherals, Logitech is often on the forefront. Whether it's high-accuracy sensors or typing-friendly mechanical switches, this tech giant has tons of proprietary hardware that's constantly pushing the market forward. And with its new PowerPlay system, Logitech is conquering an aspect of gaming peripherals that has been impeding developers since the market began — hassle-free wireless performance.
The PowerPlay system consists of two parts: Logitech's proprietary charging mat and a compatible wireless mouse (in this case, the newly released G903). It's intended to provide constant power to your wireless mouse and charge it as you use it so that you never have to plug it in.
It sounds like a PC gamer's pipe dream come true — but does it actually work?After spending weeks using the G903 as part of the PowerPlay system, I can confidently say that it goes far beyond just being "functional". This totally wireless system really works, and it's easily the most significant innovation that gaming mice have seen in the last several years.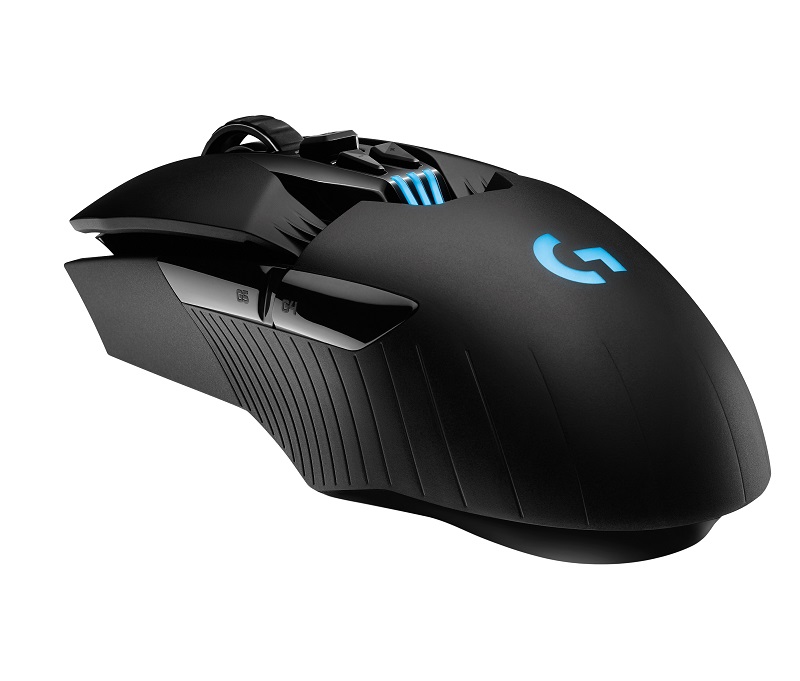 Design & Specs
G903 Mouse
When it comes to design, the G903 wireless mouse is nearly identical to its predecessor, the G900 Chaos Spectrum (which up until now, was my favorite gaming mouse on the market). The main body is made from a black, matte plastic body with grooved side grips, while the middle inset and mounted shoulder buttons are constructed from smooth, glossy plastic for some slight differentiation.
The G903's ambidextrous design allows you to use the shoulder buttons on either the left or right side of the mouse, and you can switch between the two by simply removing the magnetic panel on either side and popping in the corresponding buttons.
In addition to these interchangeable shoulder buttons, the mouse also features dedicated L/R buttons, DPI cycling buttons with an LED indicator, and a scroll wheel with a button to toggle between notched scrolling and free scrolling.
For charging or wired play, the G903 has a long, braided USB cable that plugs into the front of the mouse. I would speak to the durability and function of this cable if I could — but thanks to the wireless charging that I'll talk about below, I never even had to take the cable out of the box.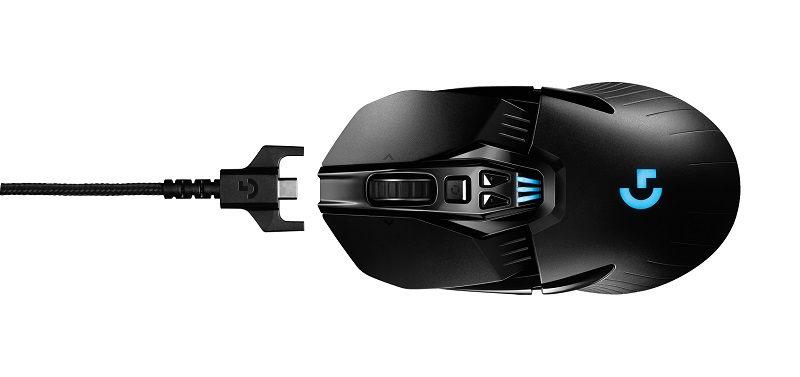 PowerPlay Charging Mat
At around11″x13.5″, the PowerPlay mat is slightly larger than a standard mousepad and offers plenty of space for you to play. The top surface of the mat is interchangeable, so you can choose whether you want to use soft cloth or hard plastic. I opted to use the cloth version, which has stayed smooth after constant use and shown almost no signs of wear. But the hard plastic top also seems very durable and feels rather similar to the SteelSeries QCK Prism mat.
Attached to the top left corner of the mat is a hub cased in black plastic that serves as the power source and wireless receiver for the G903 (or any other compatible mouse). Though this hub is illuminated with an RGB Logitech G logo, its minimalist design is unobtrusive and fits in nicely with the overall aesthetic of the mat.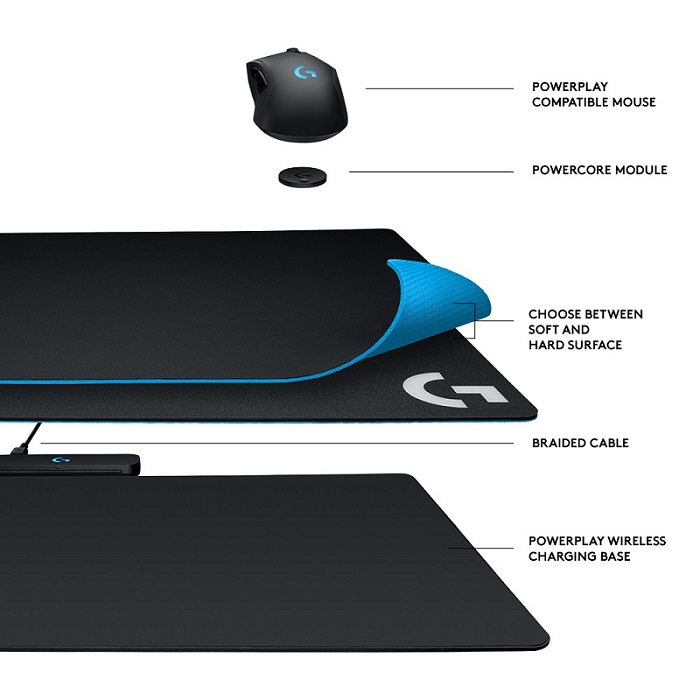 The G903 Performs Like a Dream
When I first unboxed the G903 and added it to my work desk, it felt like I had just brought my G900 mouse from home — and that's a great thing. I love the feel and performance of the G900, and it's nice to see all my favorite features from that mouse make a return in this new iteration. If you're a G900 user who's looking for a major upgrade in the G903, you're not going to find it. Instead, the G903 seems to be a near-clone of its predecessor, but with a few minor design tweaks and and added PowerPlay functionality.
According to Logitech's press materials, this mouse utilizes proprietary Lightspeed wireless technology for optimal connectivity, boasting a 1 ms report rate and top-tier responsiveness so that you don't miss a single twitch-targeted shot in Overwatch. That's a tall order, and the G903 has definitely met those expectations in the time I've spent with it. Whether I was ganking mid-laners in SMITE or trying to mow down enemies in Paladins, this mouse kept up with my frantic movements and fired off commands as quickly as I could input them.
On occasion, though, I did notice a little bit of stuttering or lag — especially in the first few minutes after waking the mouse. However, I suspect this had more to do with the PowerPlay mat than the mouse itself, so I'll elaborate further on the issue later in this review.
That aside, I did run into a minor hiccup with DPI settings. On occasion, the mouse would seemingly change the DPI without any input from me. Upon waking up or in the middle of using it, the DPI would suddenly increase or decrease, then stay that way until I cycled back to the proper setting. This was a rare occurrence that never really affected my performance in-game, but it did happen just consistently enough that it's worth mentioning.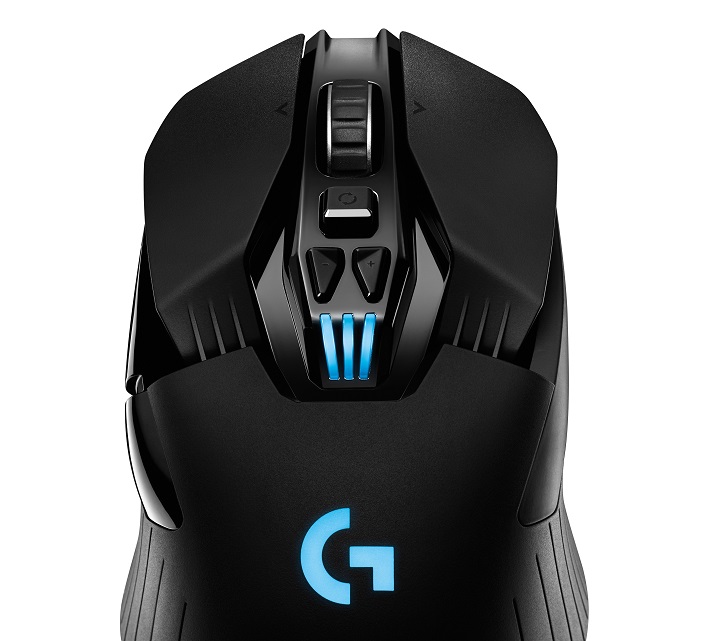 Feelsgoodman.jpg
Just like the G900 before it, the G903 feels great to use. It's got nice click feedback on both the main L/R buttons and the shoulder buttons, and the dedicated DPI cycling buttons take the guesswork out of what DPI you've cycled to. The scroll wheel offers satisfying feedback in notched mode as well, and the ability to switch over to free-scrolling on the fly makes navigating long docs or web pages significantly easier.
The G903 is also incredibly comfortable. Because it's so lightweight, no amount of sliding or picking up will tire out your hand. And its design is well-suited to a variety of grips. It's proven to be perfect for my particular style of palm-gripping, especially with the ideal placement of its shoulder buttons. Even through long Elder Scrolls Online marathons and the 9-5 editing grind, I never got cramps, sore spots, sweaty palms, or any other malady while using the G903.
PowerPlay: A High-Performing Wireless Ecosystem
Let's get down to brass tacks. I know the big question on your mind is whether or not the PowerPlay wireless charging and connectivity system actually works as advertised. It certainly sounds too good to be true — but luckily for wireless gamers everywhere, Logitech delivers on every promise made by its promotional materials.
I'm nowhere close to being a hardware engineer, so I'm not qualified to give you a full rundown of how this technology works. But here's the TL;DR. Using elecromagnetic resonance, the PowerPlay mat base generates an energy field at its surface that's large enough and powerful enough to allow charging while the mouse is in motion — and it can do so without interfering with the performance of the mouse itself. This energy is turned into a charging current and delivered to the mouse via a special PowerCore module that attaches magnetically to an inset underneath the mouse.
According to the User Manual, the PowerPlay mat has a "usable surface" that takes up a fair portion of the mat, as outlined below:
This area is designated as the sure-fire place where your mouse will function and charge optimally. I know some of you might be thinking that this is a catch with the setup, but it's actually not much of an issue. In practice, the whole mat seems to be a usable surface. Even when using it outside of the outlined area above, my G903 still appeared to play and charge exactly as it would inside those bounds.
That said, there were a few rare occasions where I noticed some stuttering or missed input. While at first I was tempted to chalk this up to issues with the mouse sensor, I'm leaning more toward the conclusion that these minor hiccups had more to do with moving the mouse outside the usable surface. But in the context of the weeks upon weeks that I've used this mouse without any issue, the few times that this did happen were negligible at best.
All in all, this wireless ecosystem works exactly as intended — and nothing proves this quite like the fact that my charging cord for the G903 is still bound up in its original packaging. Some gamers may be disappointed that this wireless charging system won't work with their mouse of choice, but the G903 and G703 mice that it's compatible with are both excellent products.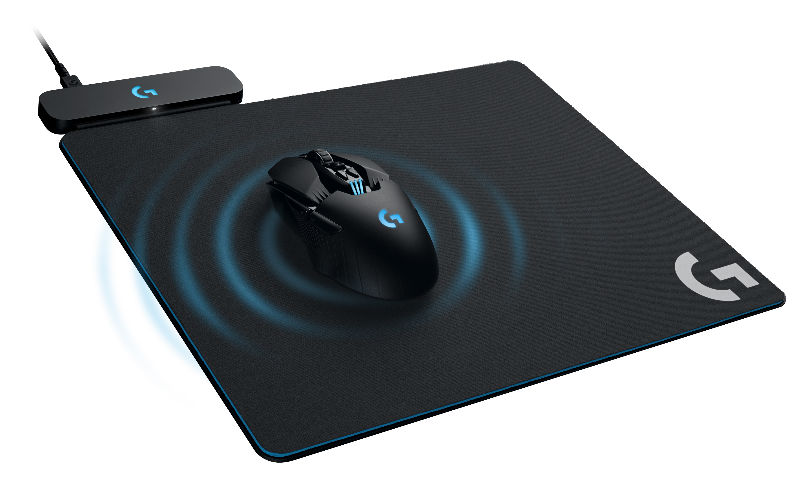 Verdict
I've got to say… I'm incredibly impressed with what Logitech has accomplished here. The G903 is a top-tier mouse that takes all the quality performance of the G900 and adds PowerPlay functionality. And the PowerPlay charging mat provides a totally wireless experience that doesn't interfere with the mouse's performance and completely negates the need for a charging cable of any kind.
I could throw any number of fancy, articulate statements at you about how functional this setup is. But that feels disingenuous. Instead, I'll just say that this is some seriously good sh*t. Being totally wire-free is incredible, and I don't think I'll ever go back to using traditional mice again.
Both these products are available on Amazon. You can pick up the G903 mouse for $149.99, and the PowerPlay charging system for $99.99. The price tag might sound steep, but I can confidently say that it's worth every penny.
9
Logitech G903 Mouse & PowerPlay Charging Mat Review: Wireless Gaming Revolutionized
Thanks to a great mouse and the innovative technology of Logitech's PowerPlay ecosystem, wireless gaming has never been easier.
What Our Ratings Mean
About the author