Logitech's G5 was my go-to gaming mouse for almost a decade, so it makes sense I never used the original MX518 when it released in 2005. Because of that, this review won't examine the direct correlations between the 2005 version of the MX518 and the 2019 version of the same name.
From what Logitech tells me, the 2019 model is essentially the same today as it was then. Except for a few key improvements.
The TL;DR is that the biggest differences between the two models are twofold. First, the new MX518 does sport upgraded materials. Second, it has Logitech's new HERO sensor under the hood.
While there's no RGB, the mouse also works with the Logitech Gaming Software (LGS), allowing for a bit of customization and reprogramming.
From my time with it, the MX518 is a damn good mouse, even by today's standards.
What's New in MX518?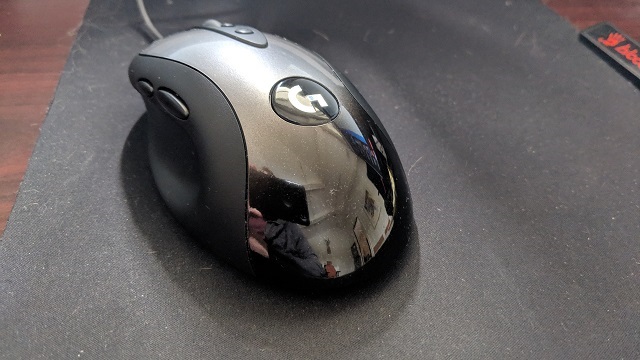 If you've not used a modern Logitech mouse, you might not know about the company's HERO sensor, the MX518's biggest upgrade. Standard in many of Logitech's newer gaming mice, HERO is capable of reaching 16,000 DPI at 400 inches per second. Per Logitech marketing materials, it does so "with zero smoothing, filtering, or acceleration."
While most gamers won't ever need 16,000 DPI, the MX518 allows for customization from 100 DPI to 16,000 DPI. It comes fitted with five presets out of the box:
400
800
1,600
3,200
6,400
The modern MX518 still has the same eight buttons as before, but now they're fully programmable. Using the LGS or Logitech G HUB, you can reprogram any of the buttons to anything you'd like, including macros and shortcuts, media functions and system actions.
Inside the software, you can also change the mouse's native DPI settings. Any changes you make can be saved to the mouse on any of its five profiles, and your default DPI can be recalled at any time by pressing the DPI Shift button on the mouse.
Of course, profiles can be taken from device to device without the use of software. This makes the MX518 essentially plug and play out of the box or directly after you've made your final tweaks through Logitech's software.
The two primary switches in the MX518 have been upgraded as well. Both the Left Mouse Button (LMB) and Right Mouse Button (RMB) have been outfitted with 20-million-click Omrons. Each is as responsive as expected and can be clicked all the way back to the DPI reset switch, which is about halfway up the main body of the mouse.
Lastly, the MX518 is a bit sleeker in 2019. The finish has been upgraded to a nicer "Nightfall" color scheme. While eerily similar to 2005's MX518, this new finish looks less messy (read: less smudgy) than the previous "bullet-hole" model.
And, of course, the Logitech logo has been refined over the years, bringing a more modern and elegant look to the main body of the mouse.
Pros:
Comfortable, ergonomic design
Hero 16K sensor; 16,000 DPI
Fully programmable with five on-board profiles
Cons
DPI-up switch awkwardly placed
Mousewheel a bit skinny
No RGB capability
The MX518 is a no-frills mouse, harkening back to gaming's earlier days. In many ways, it embodies the phrase, "If it ain't broke, don't fix it."
The mouse is still curvy, still built for righties, and still best used with a palm grip, although it will allow for a claw grip. The palm rest is high compared to many other offerings out there right now, but it's comfortable and ergonomic. Since the mouse is relatively lightweight at 101g, it's easy to quickly move across a surface for kill shots or rapid map movements.
Unlike some lower-profile mice, I found that the MX518's tall build and lightweight design compliment each other well. I don't feel like the mouse is going to fly out of my hand even with the swiftest of movements.
My only real complaint with the mouse is that I'm not a huge fan of its DPI buttons. I often find that DPI-up button is just too far away from DPI-down and the DPI reset buttons. If you're like me and don't switch DPIs all that much, it's easy to look over. However, I can't help but feel some will find it a small, if grating, nuisance.
At $60, the MX518 is one of the cheaper mice in Logitech's line. And since many mice in the company's current catalog are slimmer and shorter, it's specifically for those that want a girthier rat in their mitts.
The mouse won't speak to everyone, and those hoping for wireless or RGB should look elsewhere. But as a what amounts to a killer throwback, the MX518 proves that older is just as good as better.
The Logitech MX518 gaming mouse is available on Amazon for $59.99.
[Note: Logitech provided the MX518 unit used for this review.]
8
Logitech MX518 Review: The Greatest Gaming Mouse is Still Pretty Fab
The MX518 might be a throwback, but it has plenty of modern bells and whistles to make its legend relevant today.
What Our Ratings Mean
About the author