The days of true parity in the realm of sports games is long since past for most in the genre, and baseball is no different. MLB The Show 19 is the latest entry of the lone ace left standing on the mound, and on a broad level, it mostly delivers more of the same.
This is not entirely a bad thing. In past years, The Show established itself as the most accurate simulation of the sport available. Part of this can be chalked up to the nature of baseball, which features fewer interacting players at any given point, with most plays needing only a few players behaving correctly. That's compared to something like football, where a single snap features all 22 players making a contribution.
However, credit is also due to the minds behind The Show, who have fine-tuned their game throughout the years in order to deliver such a realistic experience.
The latest edition comes with more small tweaks to gameplay, though players familiar with prior editions will likely find that there's not much to relearn. Although work has been put in to improve the feel of playing in the field, ultimately, this is The Show that you've come to know.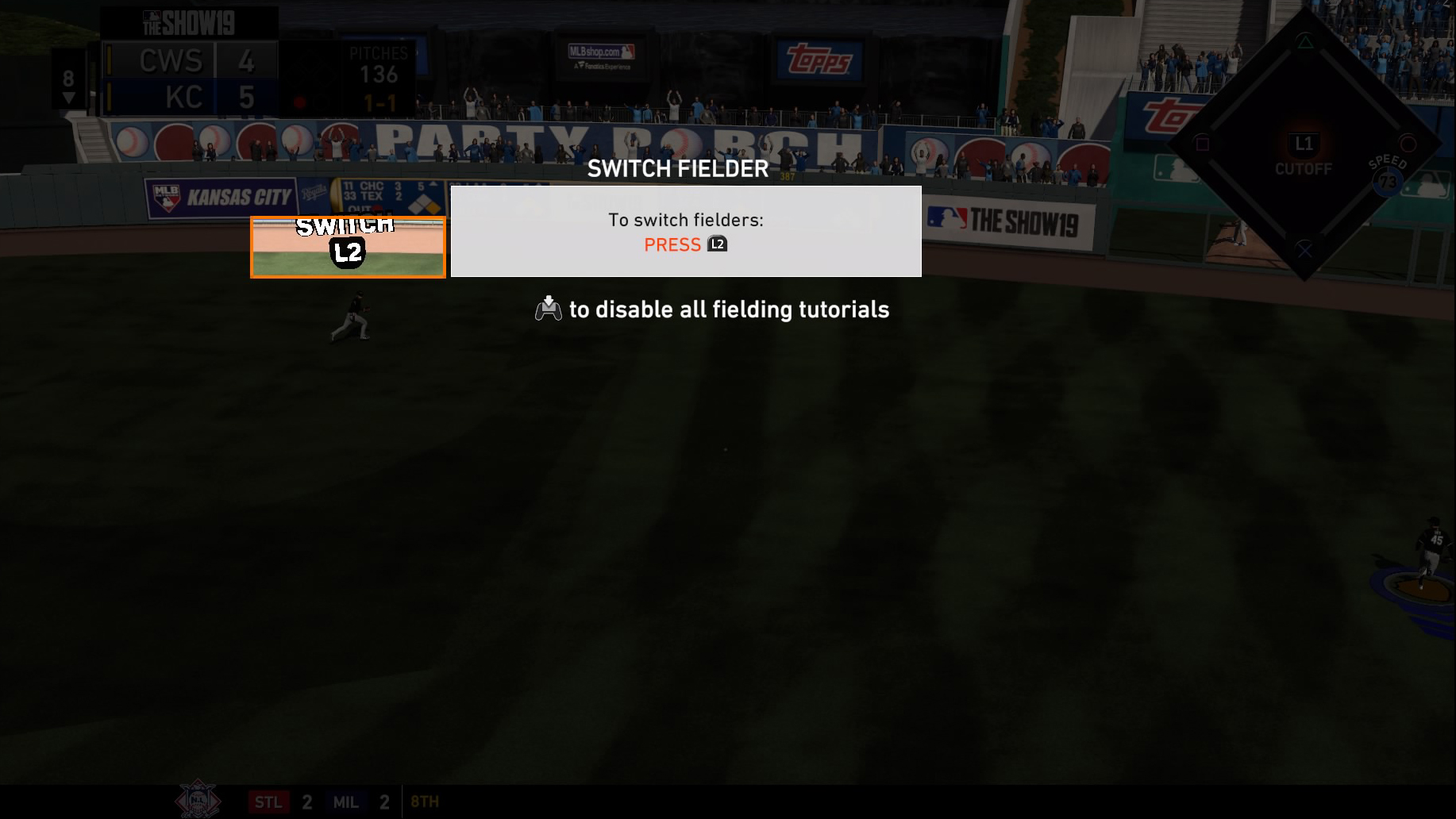 New players, on the other hand, can take advantage of a comprehensive but well-integrated tutorial system. Rather than bombarding you with a series of screens showing the different controls for different phases of the game, MLB The Show 19 instead puts you right in the action and begins to teach as you play.
While this can make your opening innings feel like the kind of stuttering, long-dragging experience the MLB is working to remove from the real game, it's a welcome offering if your last baseball game experience involved a single button to pitch and a single button to swing.
The game even responds dynamically, holding off on tutorials until you naturally encounter a need for them, rather than forcing situations on you, or teaching something you will then have to remember for a while before you use it for the first time.
Pace of Play Improvements
One of the major drawbacks of playing a baseball game is that the nature of the sport can make it a marathon endeavor. At minimum, every full-length game needs to see 51 batters put away, let alone additional bats if the home team needs their ninth inning, and for every runner who gets on base.
Even with video games allowing you to cut out some of the downtime between pitches, as more realistic features have been added through the years that also meant expanding time between pitches. Compared to a game of FIFA or Madden, the average The Show contest simply takes longer.
This becomes even more complicated when it comes to playing out an entire season. Even if you play only a fraction of your team's schedule, that still leads to many more games than your average season in the NFL.
Enter the newest addition to the franchise, March to October.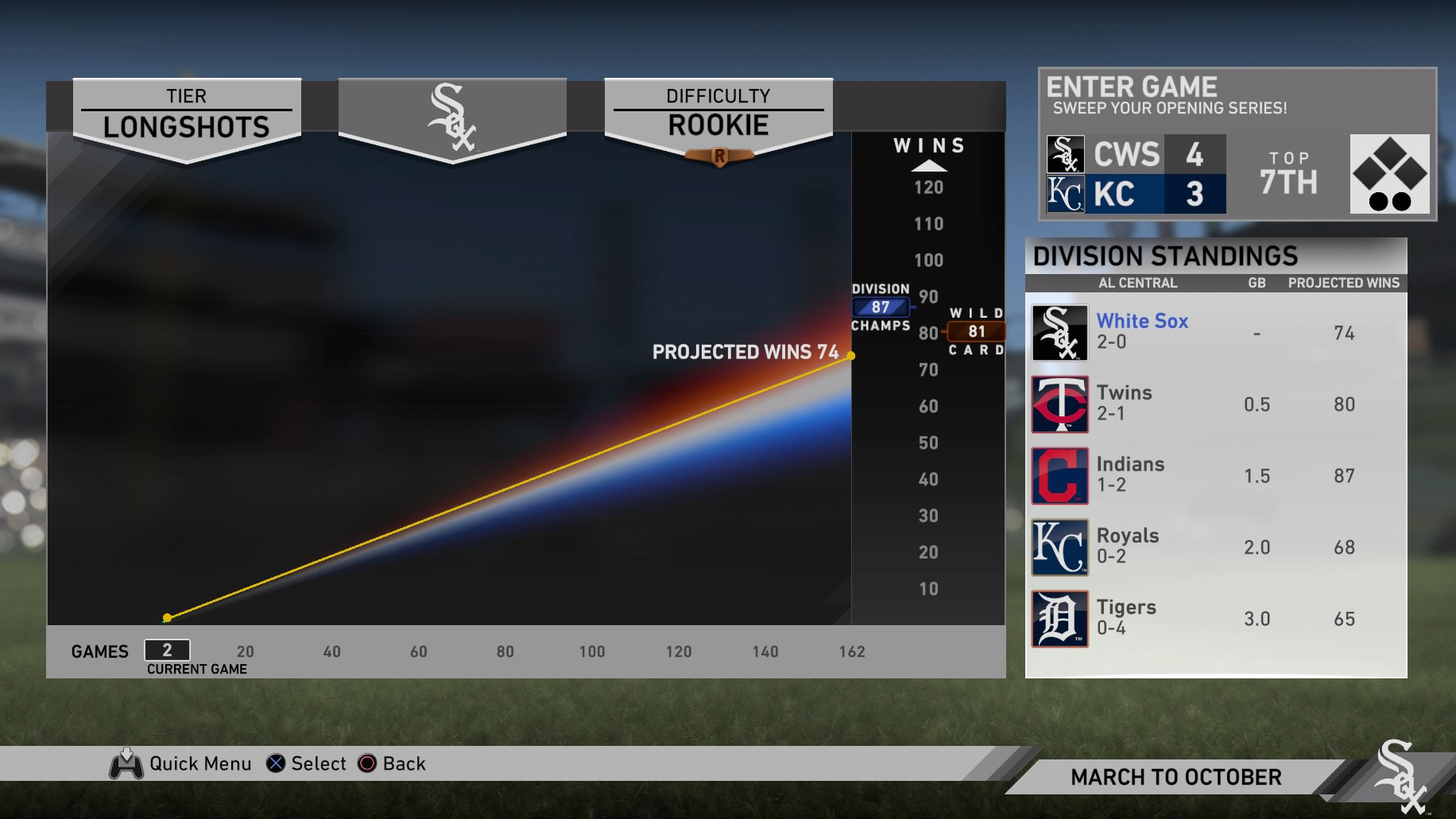 This mode is perfect if you're looking to live the thrill of a full campaign, but lack the time to commit to an unabridged version. In March to October, you play out only the key moments of your chosen squad's season.
This limits your time commitment in two ways. First, you don't take part in every game. Second, you don't play the full nine innings when the time comes to take the field.
Instead, you are dropped into the middle of the game, usually in the late innings, tasked with seeing it out. You may control the entire team, down late, or an individual player, like a pitcher holding onto a no-hitter with all of his might.
The better you do in these games, the better your team will perform in the simulated games between then and your next key moment. String enough successful games together and your team will catch fire, going on a tear through your simulated games.
In between games, your progress is tracked through a stripped down menu. Rather than pouring over league stats and standings, you are instead faced with a simple win projection, as well as the number of wins you need in order to hit certain milestones of postseason positioning. Over the course of the year, your progress is tracked by the changing of those projected numbers.
While more hardcore players may not enjoy the abbreviated games, it's an outstanding mode for any player looking to play out a year without having to play the game all year. And the game makes it easy to move the team over to a full franchise season after you complete it if you want a deeper dive.
The Big Dogs are Back
If you're looking for something more demanding than the abbreviated games in March to October, don't worry. Both Diamond Dynasty and Road to the Show are back for another year.
The online Dynasty mode has its fingers in most of the other modes you may choose to play, with new unlockables earned even when not taking part in the Dynasty mode. It also features the Risk-like conquest mode where you battle over hexagonal-grid maps.
Like Risk, you earn fans, the game's answer to armies, based on the area you currently control, and you can use them to conquer neighboring regions. What you can also do, however, is win territories through baseball. The better your numerical advantage in the tussle, the more options you have for your opponent's difficulty. If you're even, you may be forced to face off with a full-strength opponent, but come in with a significant numbers edge and you can take them on in a Rookie-level challenge.
Road to the Show is also back for more, with minor tweaks which have varying effectiveness for keeping things fresh. The addition of personality types, like Maverick or Captain, offers the opportunity to unlock special abilities for your player. These traits are leveled up by regularly behaving in a certain way regularly. Answer questions like an egotistical star and watch your Lightning Rod rating level up.
While the skill tree is fun in practice, it makes your social interactions feel less real. The responses are a bit overwritten in order to meet the specific archetype, leading to unnatural responses. The game also adds new challenges for your player, which allow you to speed up your development by satisfying specific goals in a game or at bat. The harder the goal set, the more rewards waiting for you if you succeed.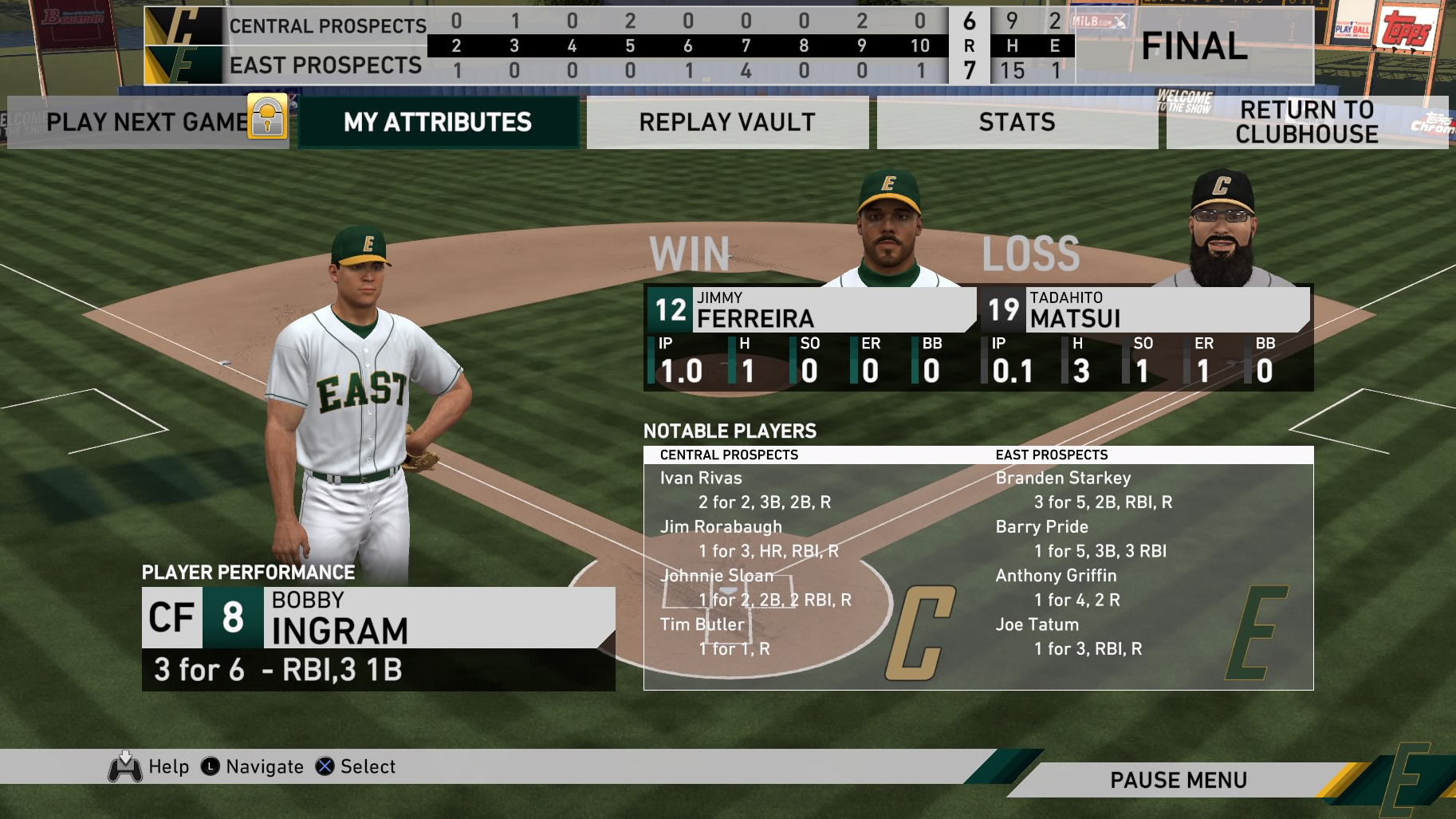 Not So Momentous Moments
As an added feature on top of the game's more traditional modes, it's hard to complain too much about the new Moments mode, but it's also easy to wish there was just a bit more invested in it, as well.
In Moments, you take over in a series of predesigned scenarios, with moments coming in a variety of modes. The Innings Moments are a series of time-sensitive challenges played out with your Diamond Dynasty team against MLB greats. The debut features Andruw Jones, Ty Cobb, and Goose Gossage, with players tasked first with besting the legends. They're then offered challenges playing as them if they succeed.
The game also introduces four legendary series of Moments, with Babe Ruth, Willie Mays, the 2016 Cubs, and Bryce Harper's rookie season highlighted.
As enjoyable as some of the Moments can be, the mode is not without its flaws. Playing as Ruth drops you into a black-and-white world, with Ruth's shuffling run reproduced wonderfully — but your opponents are generic cookie cutters. Other challenges see recent but retired legends squaring off with the players of today. It's not game-breaking, but it is immersion breaking.
The shorter challenges also suffer for drama. While a situation like the one presented in Bryce Harper's Philly debut — down a run, bases loaded, and two out in the bottom of the ninth inning — represent as high of stakes as there can be in a real game, they fall flat in Memories.
Your task is a success or failure immediately after one at-bat, meaning that with the very quick reset times following failure, you're presented with a task which simply amounts to taking a series of at-bats until eventually, you get the desired hit. When your total time investment prior to almost recreating Babe Ruth's famous called shot was one button press, it's hard to be that bummed at failure.
All told, Moments is still a pleasant addition to the game, even if the quality varies greatly from one to another. As a style of mode which dates all the way back to recreating Super Bowl classics in early 2000's Madden games, it's a wonder why more sports titles don't still offer similar modes.
Calling in the Closer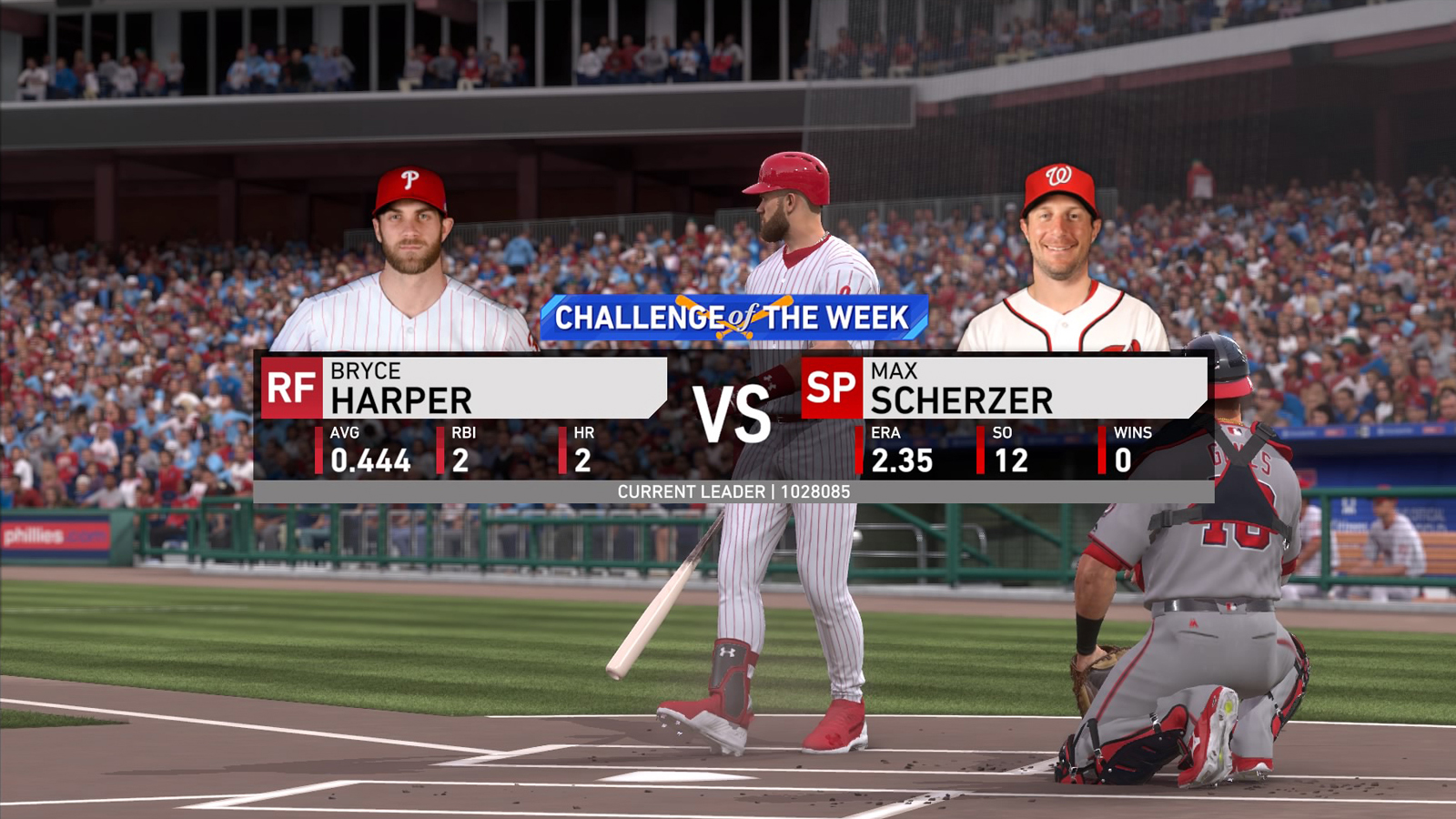 Pros
Lifelike simulation of a real major league baseball game

March to October makes a full campaign more accessible than ever
Road to the Show remains a premier sports solo campaign mode
Cons
Gameplay changes feel minimal if you already own The Show 18
Some memories fall flat
Microtransactions hang over Diamond Dynasty mode
So, should you buy MLB The Show 19? That depends on which of three camps you fall into.
Players who are used to picking up every edition with the knowledge there may not always be massive overhauls to gameplay can make their purchase confidently. This is still the same excellent baseball game you know and love, just a little different, and a little better. Similarly, anyone who has not bought a new baseball game for several years should consider giving the latest, greatest edition a try.
Where things get complicated is in between the two. If you're not inclined to automatically make the switch every year, and have The Show 17 or 18 sitting on your gaming shelf already, you can give this a pass. It's a fine game, and you would enjoy your time with it, but the same can likely be said when MLB The Show 20 drops, only you'll probably enjoy that one just a little more.
8
MLB The Show 19 Review: Another Season of Your Favorite Show
The Show is back with the latest, but just barely the greatest, addition to the world of baseball video games.
What Our Ratings Mean
About the author