Ever since the Pathfinder RPG made its debut in 2009, it has won over fans of classic RPGs time and time again — including Dungeons and Dragons, which Pathfinder owes its lineage to.
The Pathfinder tabletop game earned its popularity and devoted fan base by staying true to more traditional elements of Dungeons and Dragons. But does Pathfinder: Kingmaker stay true to those same roots?
In a world where the RPG has been popularized and ultimately toned down by the likes of The Elder Scrolls and World of Warcraft, is there a place for the unforgiving nature of tabletop RPGs?
Spoiler alert: the answer just might be yes.
Interface and Controls
For anyone who has played anything similar to a true roleplaying game in the last 15 years, Pathfinder: Kingmaker's user interface should automatically feel familiar. It features a small menu with different character management and game system options. The character screen offers a very familiar inventory and equipment management interface that centers around dragging pieces of gear around an animated model of your character.
On a more practical action based front, the camera controls are your standard WASD keys. Then the combat controls themselves come on a tried and true action bar.
That's really where the similarities end, though. Pathfinder: Kingmaker isn't the PC RPG (CRPG) that you're probably used to. Kingmaker is a tabletop RPG in digital form. It is your dungeon master, and you're playing much the same game you would if gathered around with a group of friends.
Such a relatively bold move presents a unique set of challenges when it comes to controls. Most gamers, even RPG fans, have never played a game that controls like a tabletop game. That means that the controls would need to be highly intuitive to your average gamer while still preserving the tabletop gameplay elements.
Pathfinder: Kingmaker mostly succeeds in its control design. There are elements of that pen and paper gameplay that translate very well into a PC game. However, there are others, like live action combat and formations, which feel sort of strange and out of place initially.
It never gets perfectly smooth, but it is possible to adapt to it and feel mostly comfortable down the line.
Gameplay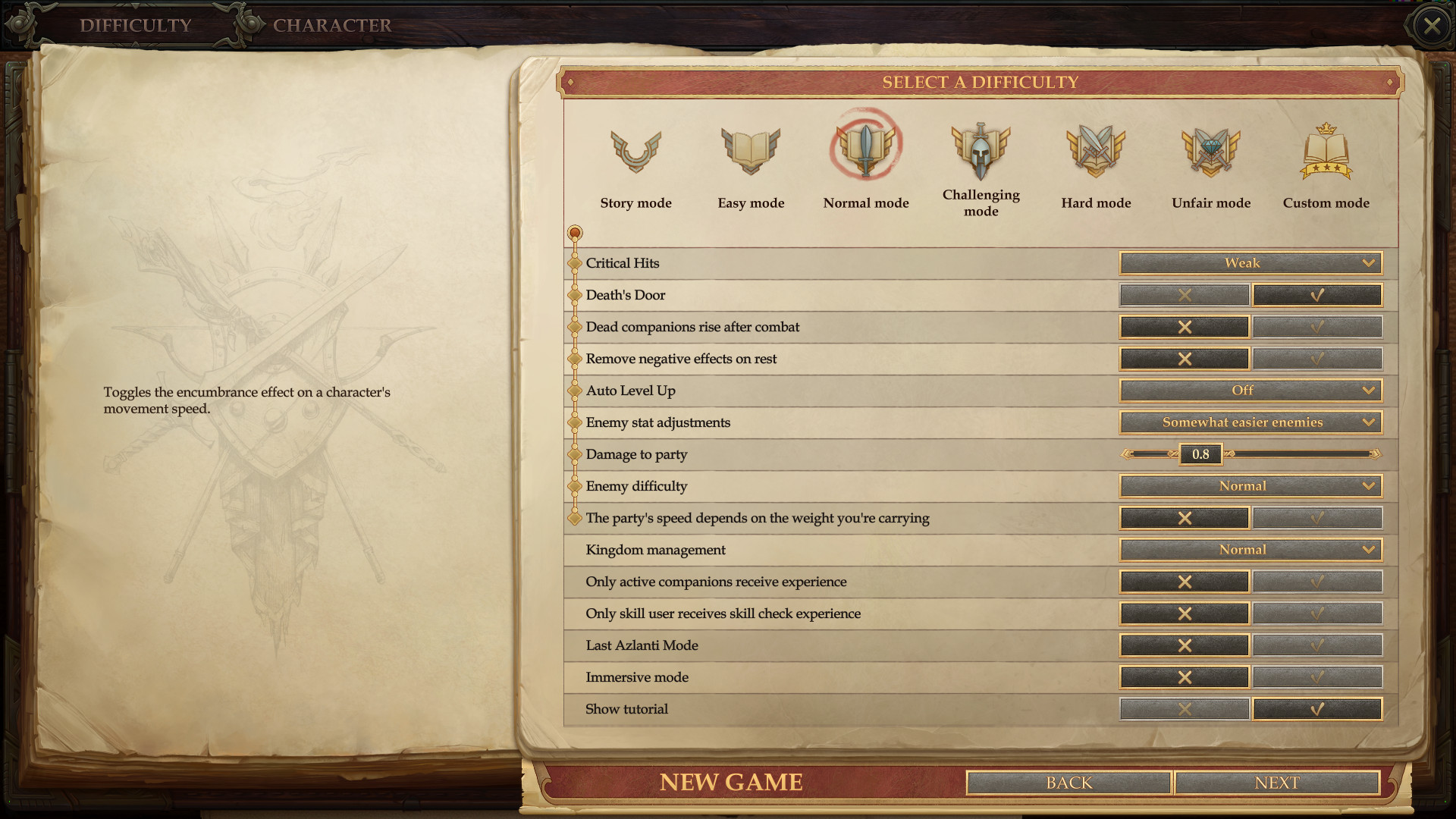 Diving deeper into its gameplay, you'll really feel how strange Pathfinder: Kingmaker seems at first. Your first instinct will probably be to dive in and start mashing the buttons on your action bar, much like you would in countless other RPGs. That's, of course, not the way Pathfinder works. It is a virtual tabletop RPG, and it plays like one. That includes automatic dice roll mechanics. Yes, it rolls virtual dice.
When you first engage in combat, time freezes and gives you a chance to plan out a strategy for your party. This part is well explained in the initial tutorial, and it works great. After you have your strategy in place, you unfreeze time and dive into the fight.
That's where things get a little weird.
After the live-action combat kicks off, it's not all that easy to manage your party anymore, and attempting to attack just feels clunky, especially with the dice rolling mechanic factoring into the combat as well.
That's why, in practice, Pathfinder: Kingmaker feels a bit like a cross between an RPG and a Real Time Strategy (RTS) game. That wouldn't really be the case if you were only controlling your one character, more like it's pen and paper origin, but it's also clear why that system wouldn't work all that well in the context of a PC game.
Altogether, the combat experience in Pathfinder is fun, but it definitely takes some getting used to, and there is a learning curve.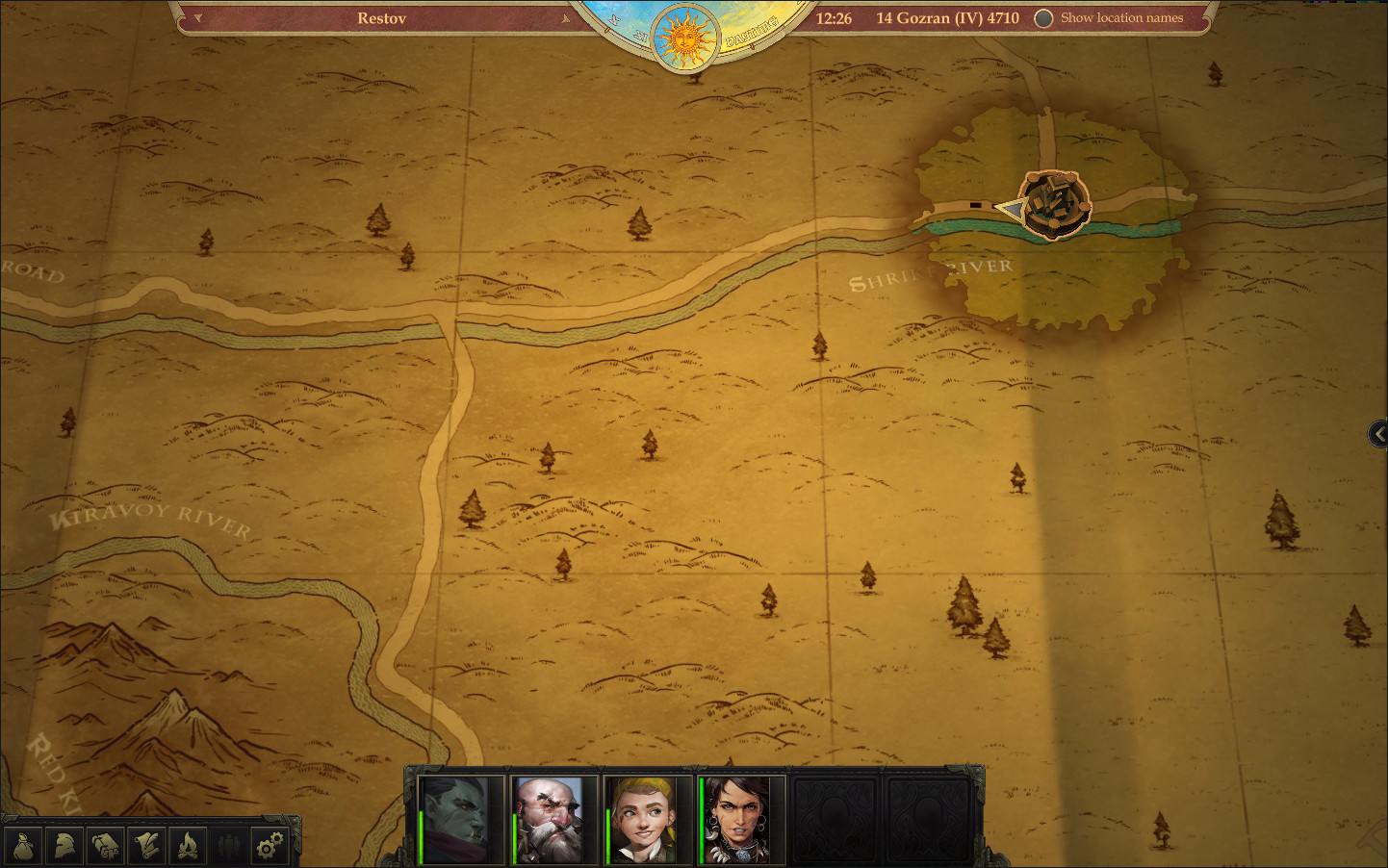 The game also features a fairly unique travel system that aims to replicate the experience of the tabletop game.
The map interface is nicely designed, and it cuts out a lot of what could be nonsense while retaining the adventuring feel present in a pen and paper RPG. Most of it is fast travel until you encounter a challenge on the road. At that point, you'll drop down to a ground-level view to fight.
Stopping also means setting up camp to rest and gathering rations. Rest resets your party's abilities and heals them up. You can also find interesting side content on the road that leads you down different narrative paths that build on the story and flesh out the world.
Art and Graphics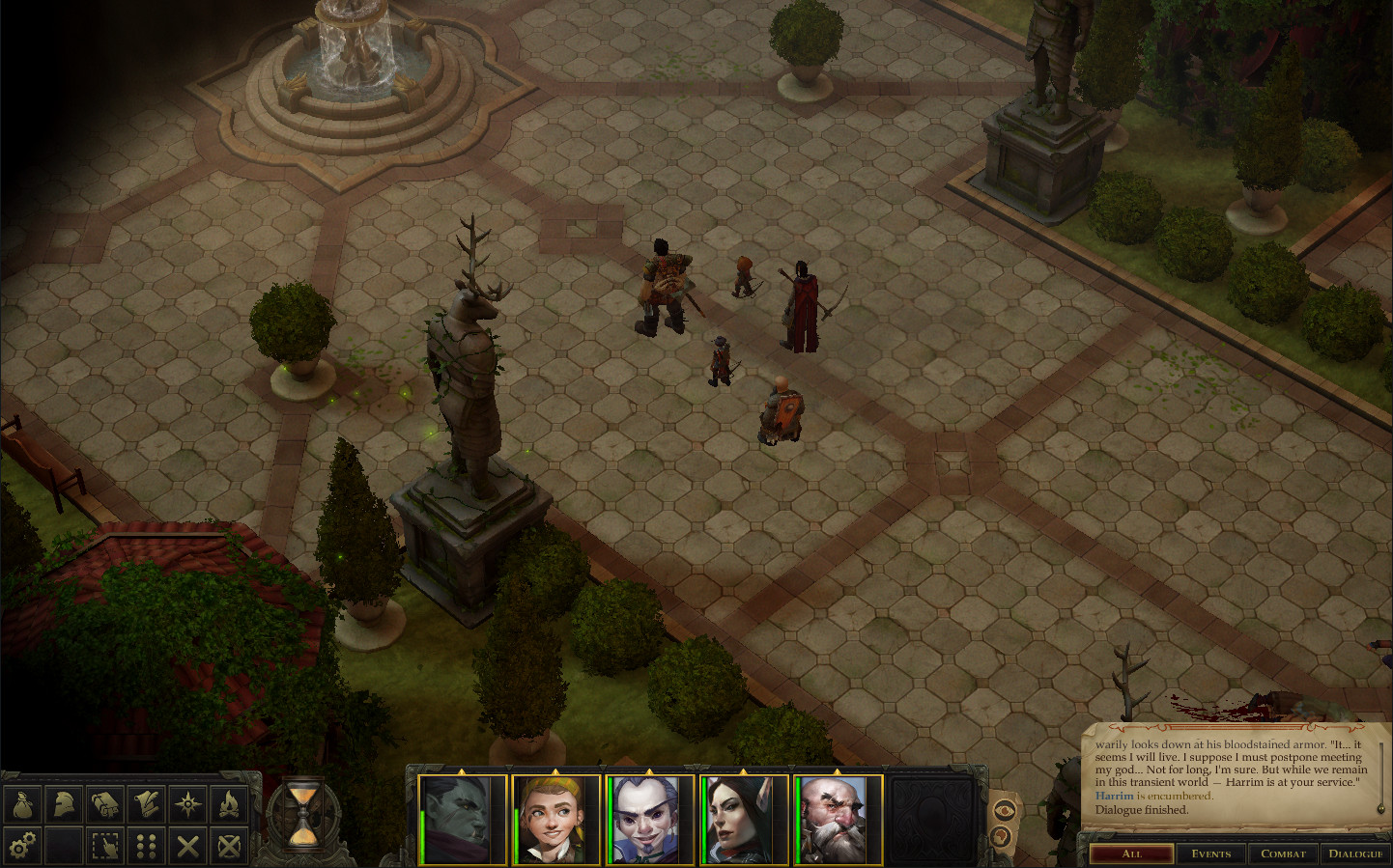 The art and graphical aesthetic of Pathfinder: Kingmaker are fantastic. The key here is not to go in expecting the same level of graphical polish that you'd find in a AAA title with a gargantuan budget. That's not what this game is, and it doesn't try to be.
Kingmaker's static artwork is essentially the same art that you'd associate with the Pathfinder or Dungeons and Dragons tabletop games. If you're not familiar, it's a painted style that takes advantage of a wide color pallet and a sense of motion. That same style is common in other media within the fantasy genre, especially with novels. It fits well with Pathfinder, and it really does help build the overall ambiance of the game.
The in-game environments are great as well. They expertly set the scene in the locations that you're playing through, and really do help with immersion, which is a huge deal in an RPG.
The game does a great deal with environment detail that helps to set the stage of the world, helping players understand bits about the plot and overall lore, without the need to play through any additional content.
There is one weak point with the in-game artwork, though: character models. They just aren't that detailed. In some cases, they even feel slightly out of place. The world itself seems more finely tuned graphically, while it's hard to shake the feeling that the character models feel dated.
Story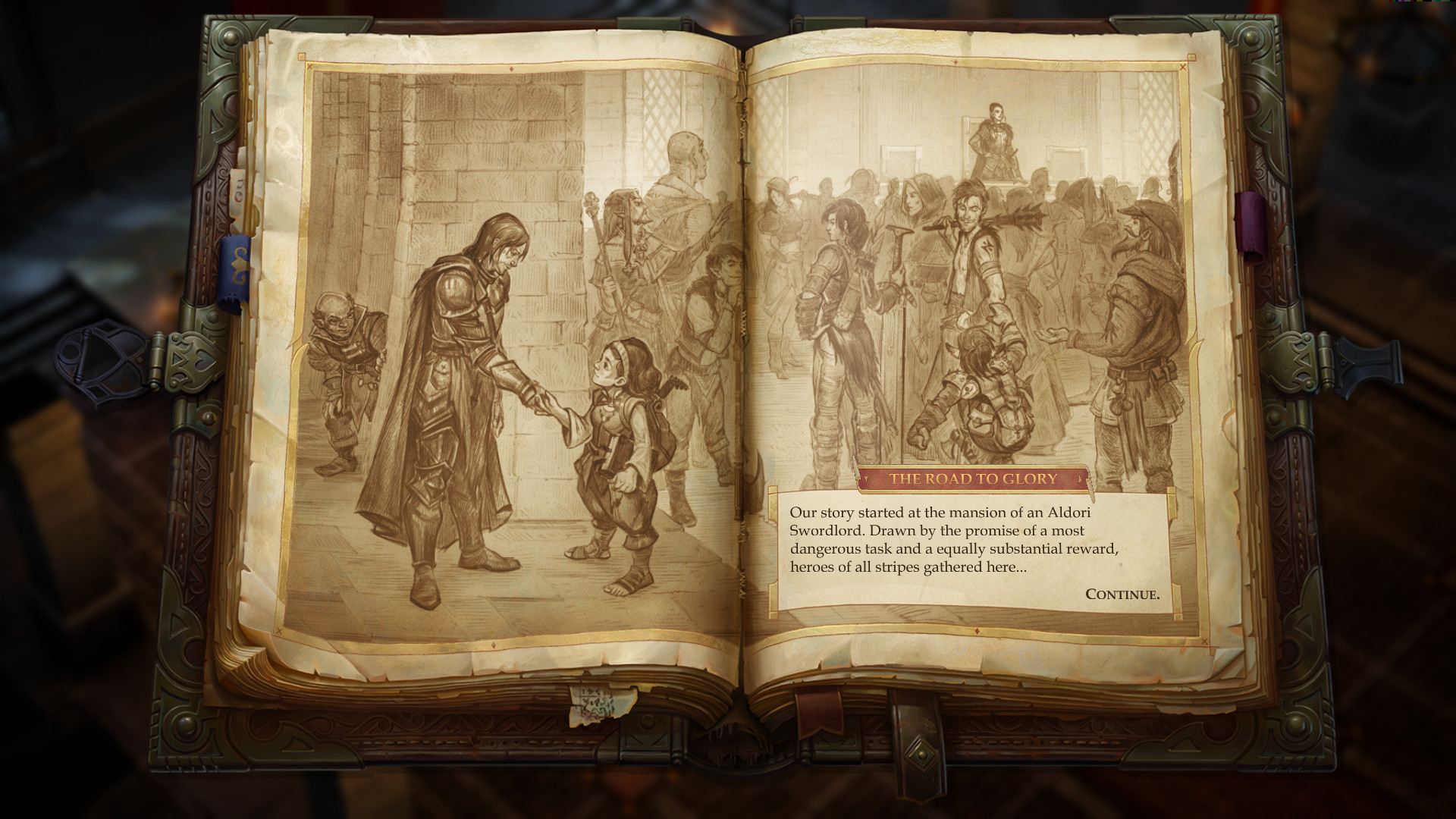 There isn't too much to say without revealing any spoilers, but Pathfinder: Kingmaker's story feels like a very well put together tabletop campaign.
It comes complete with a main quest line that brings your character along through a story complete with meaningful decisions and the ability to shape your own narrative. It even partners you with a bard character to chronicle your story, which is a nice touch.
The story kicks off with your character attending a gathering of heroes and mercenaries, all of whom were brought together for a chance to claim a lordship of their own complete with land and titles.
Of course, there's a catch. The land is occupied by a somewhat mysterious warlord. Within a few minutes, things at the gathering go violently wrong, and your adventure kicks off prematurely and chaotically.
Customization, The World, and RPG Elements
No RPG is complete without real role-playing aspects. This is another area where Kingmaker really delivers. The first part of every RPG is character creation.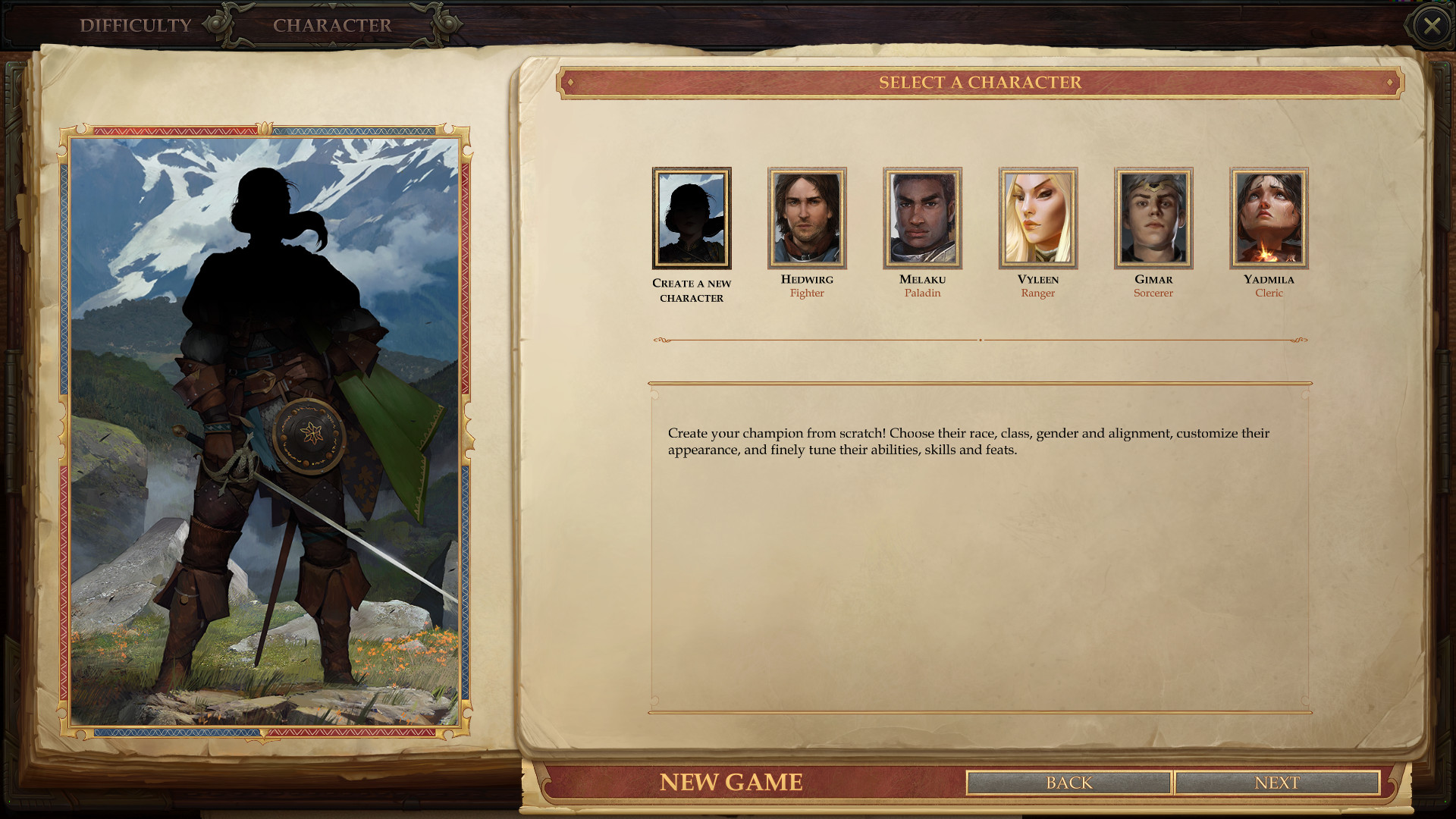 So, when you first start up your campaign, you're able to create your character. There are a handful of template characters that you can pick and get started with right way. Chances are, though, you're an RPG player, and you want to make your character from scratch.
Of course, that is an option, too.
The beginning of the character creation process is probably also the weakest. There aren't many playable character races to choose from. It would have been nice to see more options, especially in a landscape where RPG fans expect a broad range of options.
Once you do pick your character's race, you'll get to customize their appearance. Unfortunately, the available options are limited. It would have been nice to see more variation here, especially with how invested RPG fans tend to get in their characters.
Beyond that, the class customization options are great. Pathfinder: Kingmaker brings an impressive range of character classes and subclasses to the table. The classes do feel unique, and each variation changes the flavor of the class and changes the way you play.
Of course, you get to choose specific talents and abilities for your character and customize their stats. Stats are a huge part of creating characters in a pen and paper RPG, and they're still very present here.
The world itself feels very alive. There are secrets, items, and NPCs to interact with through the entire world. Some just give you interesting loot. Others provide additional side stories or enhance the main plot of the game.
A lot of the game is fully voice acted. While not all of it is great, there are some real stand out characters that help to bring the game to life and build investment in both the characters and the story.
The Verdict
Pathfinder: Kingmaker is a breath of fresh air in a fairly stale RPG landscape. It takes some seriously bold risks, and they pay off for the right audience. If you're a fan of tabletop RPG games, or you're looking for an unexpected challenge in the form of something truly different, you won't be disappointed.
It's important to note that the launch of the game was plagued with a really nasty bug causing saved games to fail to load. While there are some easy temporary fixes on Windows, Mac and Linux players are having a rougher time of it.
In reviewing this game on Linux, it was extremely frustrating having to start the entire game over every time the full party died because saved games couldn't load. That said, it's just a bug, and hopefully, it'll be fixed soon.
Pathfinder: Kingmaker set out to bring the look, feel, and gameplay experience of a classic tabletop RPG to the PC and, in that, is an absolute success. It's not without its flaws, but all of them could be corrected with additions and further content patches, which a game like this lends itself to very well.
You can pick up Pathfinder: Kingmaker on Steam for $39.99.
[Note: The developer provided the copy of Pathfinder: Kingmaker used in this review.]
8
Pathfinder: Kingmaker Review — Boldly Rolling the Dice
Pathfinder: Kingmaker brings a classic tabletop RPG to the PC. Does it succeed in balancing PC gameplay with traditional RPG aspects? You bet it does.
What Our Ratings Mean
About the author