Sony stands alone as the only console maker to have created dedicated virtual reality hardware. While the original PSVR had a decent install base and library of games, it was more proof of concept than the arrival of new technology. But with PSVR 2, there's much to be excited about, including a massive boost in resolution boost and an increase to processing power. That's not to mention some smart design revisions.
Since the PSVR 2 is strictly a wired system designed to work exclusively with the PlayStation 5, you'll need both the headset, which retails at $549.99, and a PS5, which ranges from $399.99 for the Digital Edition and $499.99 for the disc-based version. It's a significant barrier to entry, but in exchange, you'll be getting an exceptionally powerful virtual reality set up.
Image by GameSkinny
The PSVR 2 boasts a resolution of 2000 x 2040 per eye, quadruple that of the 960 x 1080 of the previous generation PlayStation VR; field of view is increased from 100 to 110 degrees. This puts the PSVR 2 squarely ahead of both the Meta Quest 2 (1832 x 1920) and Valve Index (1600x 1440) from an image clarity standpoint.
The first generation PSVR required the PlayStation camera in order to track your movement, whereas the PSVR 2 opts for an inside-out approach. Four cameras mounted on the front of the headset track the environment around you. Not only does this give you one fewer device to set up, but it also allows you to track the space around you in greater detail.
During your initial setup, the simple guided tour will direct you to look over your surroundings while the headset maps out the space you're in. It's a simple but extremely effective way to define your play space.
It also means that a simple touch of a button sends the camera feed to your display, so you can easily see your surroundings. Overall, it works very well, but it's dependent on ambient light. During the day or in well-lit rooms, I found it to be nearly flawless. At night, I found I needed to turn on additional lights around the room; otherwise, I would be pulled out of games and warned that the headset was having trouble "seeing."
Fit and Comfort
Image via Sony
The headset feels solid in hand. Its white and black motif matches the standard PS5 look, and its neutral tones help it blend with almost any entertainment system. The overall look is a kind of "unassuming-modern" that belies the powerful hardware underneath.
Putting on the PSVR2 headset is very similar to its predecessor. An adjustable headband with a quick-release button handles the general placement of the unit on your head. A tension-adjusting knob is a nice touch to make sure the fit is snug but not headache-inducing.
The Scope (the visor portion that goes in front of your eyes) slides in and out with the touch of a button and blocks out light with a soft, rubber-like extension. A dial that adjusts the distances on the lenses is a new addition and rounds out a quick and easy step process.
I was surprised by the heft of the unit. With an approximate weight of 560g, it's actually heavier than the Meta Quest 2, despite not containing an internal battery. The PSVR 2 also lacks the soft padding of the Quest 2, feeling more like a thin rubber gasket over hard plastic. Combined with the extra weight, the PSVR 2 is noticeably less comfortable, though not enough to dissuade me from wanting to play.
Controllers
Image by GameSkinny
The VR2 Sense controllers match the black-and-white color scheme of the headset perfectly. They're housed in plastic that's both smooth enough for comfort and grippy enough to not easily fly out of sweaty hands; straps also help keep the controllers from flying off and into your TV.
As for inputs, the face buttons are split between the two hand units, with Circle and Cross on your right hand and Triangle and Square on your left. A PlayStation button, thumbstick, and trigger button on each.
Technologically, the VR2 Sense controllers are a massive upgrade over the repurposed Move controllers Sony used on their previous generation VR device. The addition of haptic feedback and adaptive triggers lends a surprising level of tactile immersion.
Playing Horizon: Call of the Mountain, I was able to dip my hand into a flowing stream, and just the right amount of vibration conveyed that change in resistance. I was equally impressed by the excellent tracking; it always felt like the placement and angle of my hands were correctly translated in game, which is no small feat.
Sound Quality and Headphones
Immersive sound is an important component of a believable VR experience, and the PSVR 2 handles it well with a few connectivity options. The headset has a standard 3.5mm jack and comes with some decent earbud-style headphones that snap into place. Wireless is also an option, as well, like Sony's own Pulse 3D offering.
The audio quality is generally strong. Sounds come in crisp and clear, with no obvious compression artifacts or distortion from the PSVR 2's onboard Digital to Analog Converter (DAC). It does a quality job of tracking audio as you turn your head, panning left and right when I tested it by spinning in place. A built-in microphone is a nice convenience as well.
Using a third-party headset was a bit of an uneven experience. I was able to connect a pair of Logitech G Pro wired headphones, and they fit well. The larger cups on my Sennheiser Game Zero set, however, overlapped with the headband. Try as I might, I couldn't find a position that fit comfortably and aligned properly with my ears. It's not a deal breaker, but it may be an issue for some that prefer larger headphone options.
Gameplay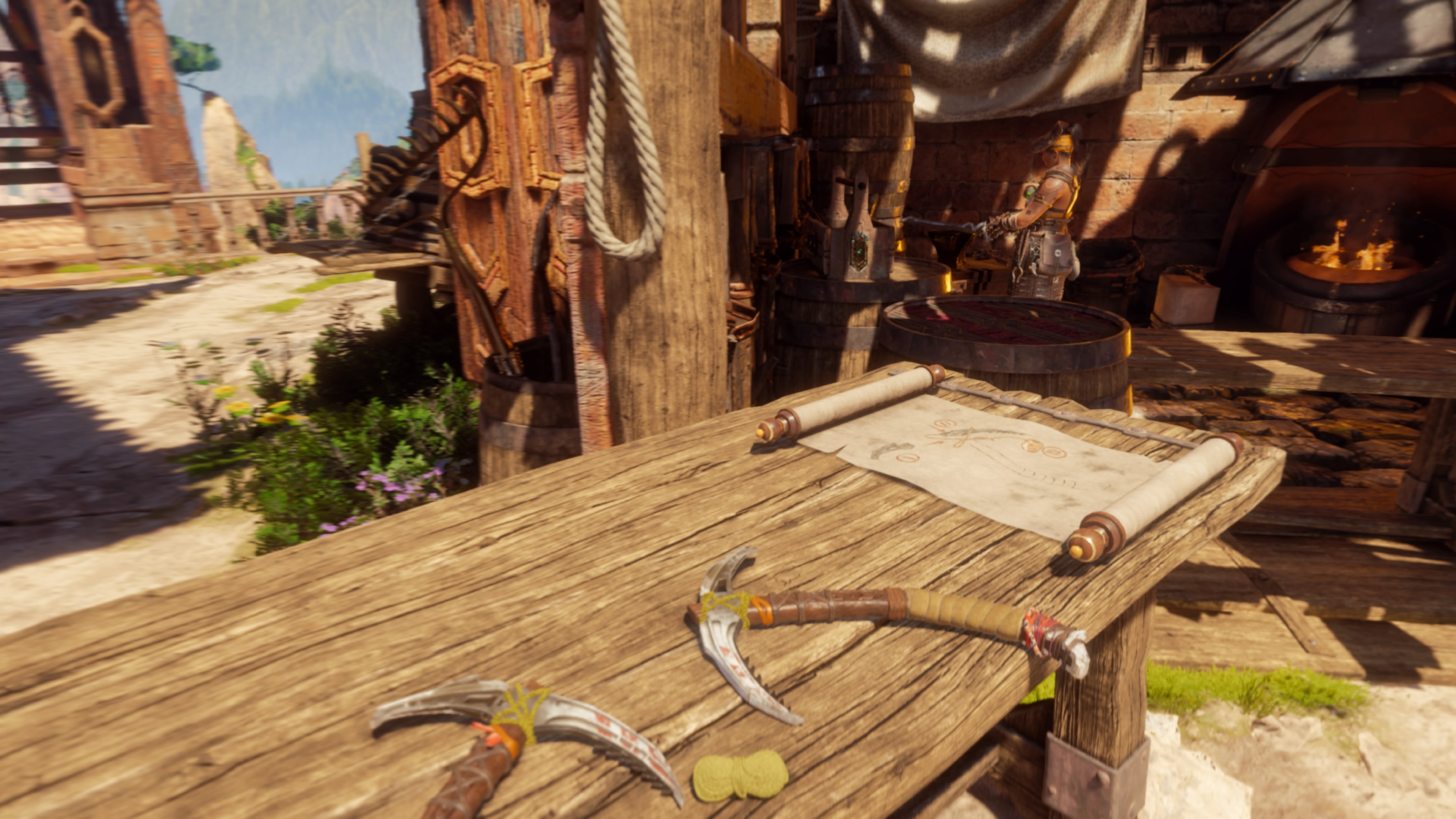 Screenshot by GameSkinny
None of the impressive tech matters if the gaming experience isn't up to snuff. Fortunately, the PSVR 2 plays great.
The very first thing I played was Horizon: Call of the Mountain. After some quick configuration to make sure I was using an appropriate control scheme, I was thrown into a lush jungle. The headset's high resolution was an immediate difference maker. There was no screen door effect, and my unusually discerning eye saw detailed, crisp textures throughout. The color quality was exceptional. The greenery all around was rich and vibrant thanks to the HDR OLED display.
The tracking was outstanding, too. I'd look up at a mountain peak, and the view would pan up at just the right rate to feel comfortable. As I climbed around rock faces, I found myself leaning or turning my head to get a better view of handholds. I've never free-climbed a mountain while running from robot dinosaurs, but in those moments, I felt like I was really doing it.
Even conversing with characters felt natural, as NPCs and I all turned to face whoever was speaking like in a normal conversation. The sense that it was all the result of cameras and calculations disappeared, which is the best thing the tech can do.
Next, I jumped into NFL Pro Era. Taking snaps from the shotgun was easy, and once I got the hang of it, I found accurately timing and delivering passes to my wide receivers was fun. Looking at my wristband to see playcalls was a neat touch, and the way the headset and controllers vibrated when I took a sack was really effective at communicating big hits.
Finally, I took to some space travel in No Man's Sky. The VR interface appears largely the same as the original PSVR version, but the additional graphical fidelity was readily apparent. Motion was smooth, colors were vibrant, and approaching an unknown planet from the fully fleshed-out cockpit of my spacecraft was a joy. Entering the atmosphere, I started circling the planet at high speed. There was still some pop-in, but it was distant and subtle; it wasn't enough to break my immersion.
PlayStation VR2 Review — The Bottom Line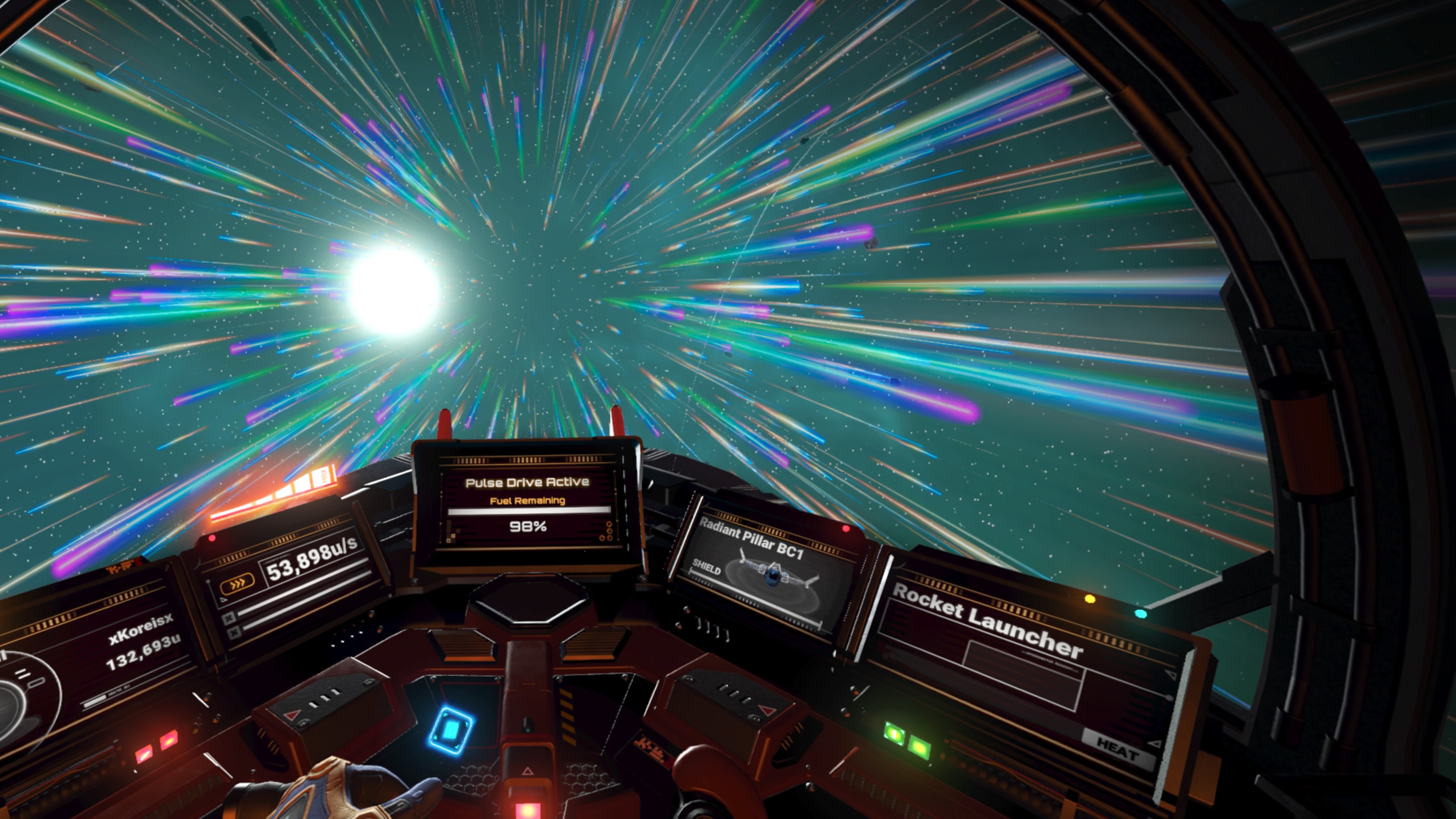 Screenshot by GameSkinny
Pros
Fantastic image quality.
Good 3D audio.
Haptic feedback is very immersive.
Cons
Less comfortable than other VR headsets.
Uneven performance in moderate-light environments.
Steep cost to get started when you factor in the required PS5.
The PlayStation VR2 is an extremely impressive VR option. It's powerful, easy to set up and use, and works great. The image quality, in particular, is exceptional, as is the tracking. The haptics in the controllers add a surprisingly immersive element.
While the PSVR 2's 4.5-meter USB-C connection is a big step up from the tangle cords and smaller accessory boxes of the original PSVR, you'll still be tethered, unlike with competing VR units, such as the wireless Meta Quest 2. There are also some minor issues around comfort, though results will vary by user, and which third-party headphones work well with the kit is TBD.
The price tag is steep, especially when you factor in the cost of the needed PS5, but as things stand, this is one of the best VR systems available and a great way to immerse yourself in your favorite games. It remains to be seen to what extent developers will support this next generation of virtual reality, but there is no doubt that PSVR 2 is a great piece of hardware that has clearly just scratched the surface of its potential.
[Note: The reviewer purchased the PS VR2 headset used for this review. Featured image via Sony.]
8
PSVR 2 Review: The New Standard for Console VR
The PlayStation VR2 is here with a host of hardware and feature upgrades.
What Our Ratings Mean
About the author