Despite playing video games for as long as I can remember and owning virtually every platform between SEGA Genesis and Nintendo Switch, there's one platform I've just never been able to get into: mobile.
I'm not one to say mobile games are all bad. I know many developers play to the strengths of the platform and millions around the world are hooked on all sorts of games for the platform. But it's just never been for me.
Last year I played hundreds of hours of video games and probably not even five of them were on phones and tablets — and it's mainly because of touch controls.
This year, the same has been true. However, the second half of the year is about to be a lot different thanks to the Rotor Riot Made for iPhone (MFi) Gamepad.
Form Factor
The Rotor Riot controller takes all of its design cues from the Xbox One controller. Considering I think that's the best form factor on the market, that seems like a wise decision. The Rotor Riot even sports the L3/R3 clickable thumbsticks, which the company says makes it the first MFi controller to do so.
Combining that with the same face buttons (albeit with a slightly different color scheme), the same off-center thumbsticks and middle D-pad, and the same trigger and bumper buttons, the Rotor Riot will feel right familiar for anyone who has used an Xbox controller before.
That's not to say the form factor is quite as strong here. Instead, it's a really good imitation, but it lacks the sturdiness Microsoft's product provides. Every button responds well and without issue, but the D-pad feels loose and clunky, reminiscent of the Xbox 360's D-pad. Though unlike the version pictured above, my review model has the eight-way lattice design of the Elite Controller for Xbox. Suffice it to say, the Rotor Riot's D-pad feels less than elite.
Overall, though, it's more than a decent imitation with reliable, responsive buttons in all ways but one. Those touted clickable joysticks feel great, the size of the controller is nearly identical to that which it's trying to mimic, and it all just feels comfortably familiar.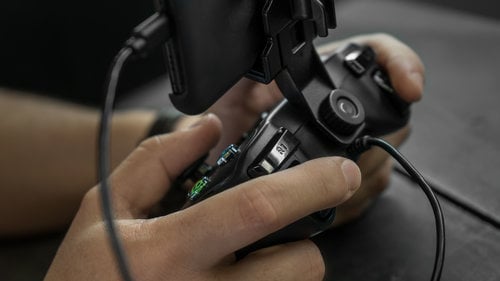 As for the phone holder, I've had no issues during my extended use of the device. The weight of a newer iPhone like my 8s Plus does take some getting used to. Despite the Rotor Riot's supposed zero gravity design of the stand, it's a feeling that, while not uncomfortable, isn't nonexistent either.
The part that closes around your phone is very tight, as it should be, and when I tested trying to get it to fall out, it never did, even with several good shakes. Once you get used to the weight of the phone sitting above the controller like a top-heavy Switch, it's not awkward. Even my six-year-old son got a lot of playtime out of it and never complained of the weight of the complete contraption.
The stand is, of course, optional, and it could work just fine on a table or propped up against a book or something else if you prefer, but the stand really suits gaming on the go, like on a bus, train, or plane.
In any case, you'll need to be plugged directly into the phone. The Rotor Riot controller is not wireless, but that wasn't an issue in my time. The cord is just the right length to allow iPad use without getting in the way when you're playing instead on your docked iPhone.
The wire is meant to cut down on latency, and while I can't compare it to a wireless counterpart, I can say I streamed PS4 games to my phone all week with very few problems. The entire experience has really been eye-opening. I didn't quite realize this tech was already here, and now I find myself excited to play games on my phone for the first time in my life.
The controller is stated to use less battery than a pair of headphones and that seemed about right in my time with it. As usual, it appeared to be the games that were so taxing on phone battery life, but if the controller exacerbated this drainage at all, it was so minimal I didn't notice.
If you're really worried, you can even charge your phone via a charge-through USB-C input on the controller. By that time, your setup would start to look a bit surgical, with wires and hard plastics popping out in different directions, but it's not obstructive. If you believe in function over fashion, this sort of setup could last you a transcontinental flight and beyond.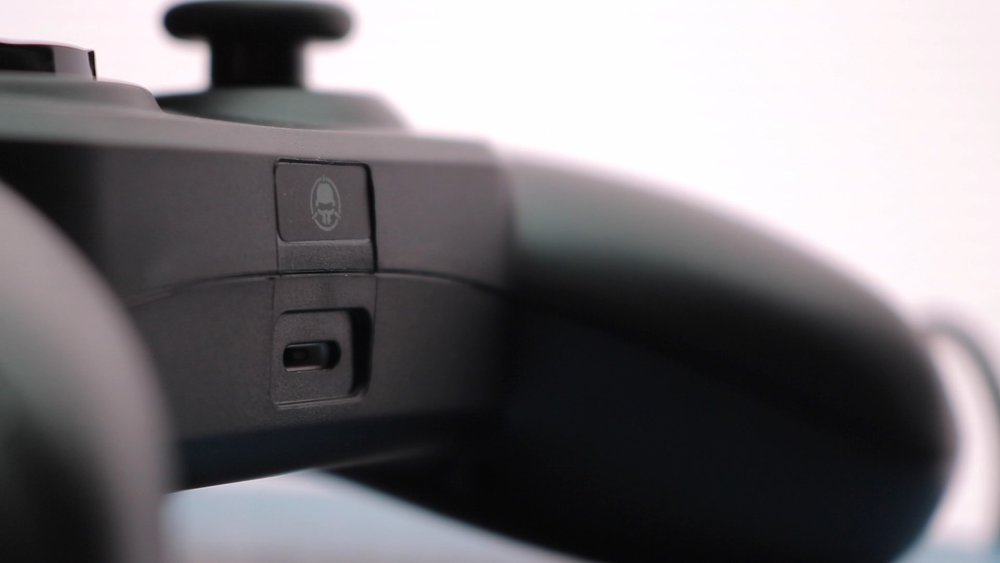 Compatible Games
So far, it's been mostly good news for the Rotor Riot, but a mobile gaming controller is only as exciting as its compatible games list. Thankfully, the Rotor Riot's library is quite varied, and it includes some major titles that anybody would love to have.
Some, like Fortnite and Stardew Valley are already available for mobile gamers with Nintendo Switch, but if you don't have one and already have an iPhone, the controller is a much more affordable means of taking such major console games on the go with you.
My favorite games from the compatible library, which features over 1,000 titles in the controller's affiliate app, Ludu Mapp, are the PS2-era Rockstar Games. Nearly all of them — GTA III, Vice City, San Andreas, Liberty City Stories, and the DS classic Chinatown Wars — are all revived thanks to this functionality, and even as the series has come so far, replaying San Andreas wherever I go has actually been a highlight of my time with the Rotor Riot.
Other classics such as Bully and Max Payne are in the store, too.
Popular indies like Hyper Light Drifter, Playdead's Inside, and Fez all place near the top of the platform's available titles. With 1,000 games working with the Rotor Riot, there is a surprisingly deep roster on offer, though many have likely played some of its best games on home consoles.
Perhaps the Rotor Riot's best feature is its compatibility with streaming apps like PS4 Remote Play and Steam Link. Using these, you can play your home PC or PS4 from anywhere in the world. There's also an Xbox streaming app, though it's not free like the others and demands the same network.
It's worth noting, though, that Microsoft's xCloud technology is meant to debut soon, which will hopefully mean future compatibility with the Rotor Riot.
Playing Days Gone on my iPhone was stunning. That was the precise moment I realized technology had surpassed what I was aware of. The world looked just as gorgeous as it does on my big screen TV, and the game ran with only the occasional slowdown.
This feature will be the one that brings mobile gaming into its next phase, where it redefines the ubiquity of games, and as of now, the Rotor Riot is the best tool for the job.
It's worth noting that before the end of the year, both the DualShock 4 and the Xbox One controller will be iOS-compatible via Bluetooth, and when that happens, the same library will become available as it does for all MFi controllers, so while the Rotor Riot is the best option today, it may feel more redundant in the future, unless you really prefer the wired connection or don't want to take any special controllers you may have out of the house.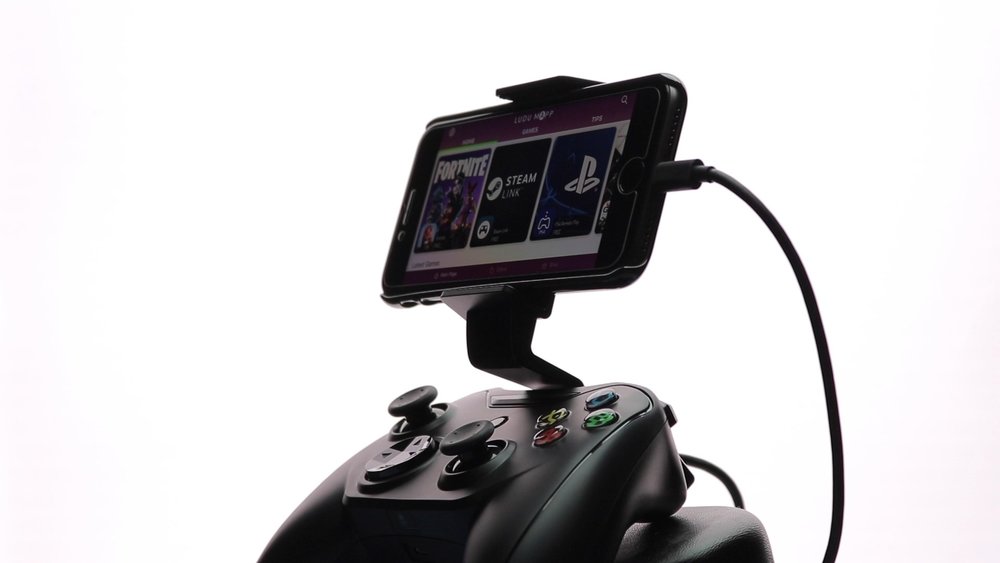 The 25 Best Rotor Riot-Compatible Mobile Games
If you're wondering about more of the MFi-compatible games that are out there right now, I've curated a list (in no specific order) of some of my favorite mobile games that you can jump into with full controller support. Goodbye, touch controls. You will not be missed.
Grand Theft Auto Vice City
Grand Theft Auto San Andreas
Stardew Valley
Life is Strange
Telltale's The Walking Dead
NBA 2K19
Minecraft

Terraria
Bully: Anniversary Edition
Max Payne
Fortnite
Star Wars: Knights of the Old Republic
Hyper Light Drifter
Oxenfree
INSIDE
The Talos Principle
The Witness
The Binding of Isaac: Rebirth
Tales from the Borderlands

Oceanhorn

FEZ
NecroDancer: Amplified
Transistor
PAKO 2
Bastion
I'd be remiss to not also mention Final Fantasy IV-VII are all compatible, too. I've never played any game in the series, but I imagine many fans would want to know. I'm also partial to console-quality experiences on my mobile device, but there are quality mobile-first games on there, too, like the addictive Asphalt 9: Legends and the unique Stone, an adventure game starring a koala bear without a care.
As the console-like gaming scene is still pretty new to mobile devices, the library could use more of a boost. A ton of popular games like Madden Mobile and PUBG Mobile are natural fits with the Rotor Riot and MFi controllers in general, but they aren't available yet. That's not really a problem in the hands of Rotor Riot, but as it's being sold all the same, such a caveat unfortunately comes along for the experience.
Pros:
Good form factor comes via replicating the industry's best

The only MFi controller with L3/R3 triggers
A robust library of mobile games, console ports, and classics from the old days
Can be charged while playing and hardly taxes your device's battery anyway
Works great with PS4 and Steam streaming apps
To hell with touch controls
Cons:
D-pad feels flimsy and imprecise
With console controller compatibility just weeks away, the shelf life feels anxiously brief
Some glaring library omissions, although that's not really their fault
I have a Switch already, but I've quickly found having the Rotor Riot isn't redundant. It broadens the possible games on my docket when I'm on the move, and it's awesome to have a controller that allows for my phone to be a legitimate gaming device for the first time in my life. I've never used any other MFi controllers but browsing them in stores, they always seem like cheap science-fiction knockoffs one might see in a movie or TV show.
With the Rotor Riot, I've found my favorite controller form factor is now available on the go with many of my favorite games and more being added all the time; coincidentally, Hyper Light Drifter was added as I wrote this review.
An ever-expanding library and a quality controller have gone far to open my eyes to the world of legitimate mobile gaming on iPhones and iPads, and the Rotor Riot is the first sign that the future we all hoped for is finally here.
[Note: A Rotor Riot MFi review unit was provided by Rotor Riot for the purpose of this review.]
8
Rotor Riot Controller Review: This Mobile Gamepad Expands Our Horizons
The Rotor Riot MFI Gamepad brings a design very similar to the Xbox One controller to iPhones, and in turn, allows mobile gaming to finally feel compelling.
What Our Ratings Mean
About the author