One of the things that makes or breaks a gaming headset is its level of comfort. There are other factors at play, of course. Just being able to properly communicate with your teammates is a must. But if the headset isn't comfortable to wear, nothing else matters.
That was the case with Sennheiser's GSP 370 Wireless Gaming Headset. Featuring the popular closed acoustic tech developed for the GSP 300 series, a great noise-cancelling microphone, and a long-lasting battery – it checks off a lot of the right boxes. Just not the most important one.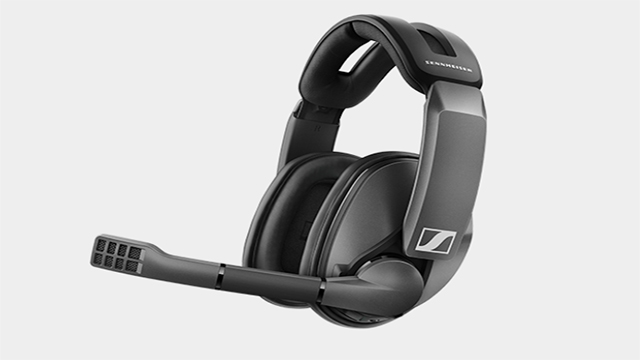 GSP 370: Design
Sennheiser creates top of the line headsets. Their GSP 370 is no exception. Design-wise, it sports some impressive specs. The earpads are wrapped in memory foam/leatherette exterior, with a suede interior that adds a level of comfort and serves to isolate ambient noise.
Integrated digital sound processing helps the sound quality. That, along with software like the Sennheiser Gaming Suite – where players can fine tune individual sound levels – allows for an enhanced audio experience.
The other half of the equation is also solid. GSP 370's noise-cancelling mic doesn't bend. That said, I never had trouble communicating with others. Even at lower levels, my words always rang clear; there was no need to raise my voice, regardless of what was going on in game.
Being wireless, Sennheiser made sure to keep things simple. Is the game/video/etc. too loud? Give the volume wheel located on the right earpad a spin. Need to mute your mic? Raise the boom arm straight up. Wondering if you need to charge the cans? Flick the power toggle, under the left pad, up to see how much juice is left in the tank.
Basically, it's possible to improve or the experience using buttons and such on the GSP 370 itself.
GSP 370: Undue Pressure
The GSP 370's design mostly works. Unfortunately, it struggles in the comfort department. The earpads are soft to the touch. Their suede interior helps to keep them cool and absent of sweat. And while it's a bit bulky, the headset isn't heavy.
All of these things are made to provide comfort. When you get to the padded headband – and to an extent, the adjustable bands – though, things take a bad turn. This is because of the pressure placed on the ears. It hurts to wear the headset for long gaming sessions.
No matter how much a fiddled with the headset, I couldn't improve this aspect. My ears would be screaming after a few hours. I'd have to take breaks. At one point, it got so bad that I had to stop wearing headsets all together – my ears seemed to be extra sensitive to pressure days after I hung the GSPs up.
GSP 370: 100hr Battery
It's a shame that the headset was so uncomfortable to wear. Everything else about it rocked. Especially it's battery life. I was skeptical at first. One charge equals 100hrs of life? Really? The short answer: yes.
No hyperbole. The GSP 370's battery is nuts. All it took was connecting the micro USB Cable to my PC and the headset for a few hours. After that, I was good to go. For days. Gaming. Listening to music. Streaming on Youtube. All of that and the indicator showing how much power is left stayed green.
Two weeks of infrequent use (because of the pressure issue) and I've yet to recharge the unit. That's impressive to say the least.
The Cost to Play
Sennheiser's GSP 370 wireless headset is almost perfect. It provides a great means of communication, its battery life is amazing, and it features user friendly elements. The wireless dongle is solid, allowing it to be used with PC, Macs and the PS4.
The headset just isn't very comfortable to wear. The first few hours are fine. Any longer and you're risking hyper sensitivity; my ears still aren't pleased with me.
Of course, your mileage will vary. Not every size/adjustable band can be fitted to every head. That said, at $200, a one-size-fits all approach is expected.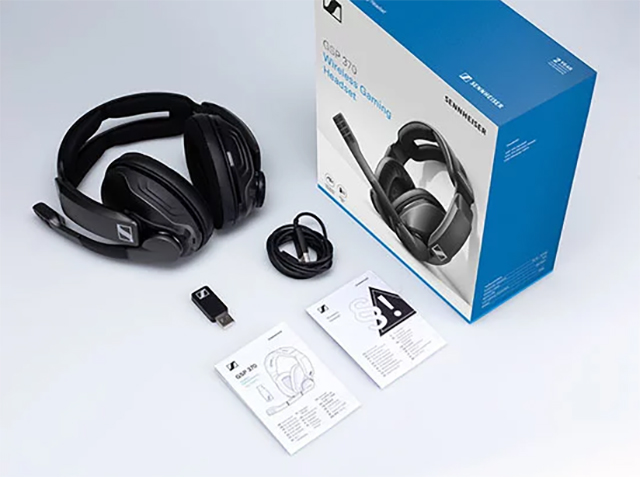 Pros:
Provides top of the line audio experience
100hr battery life
Utilizes customizable software
Easy to use/plug and play
Works with PC, Macs, PS4 out of box
Cons:
Uncomfortable to wear for long periods

Boom mic can't be unattached
While the GSP 370 isn't a bad headset, I can't recommend it for gaming. A few short rounds of Overwatch. Sure. Watching some videos on YouTube. Okay. But the strong pressure placed on the ears will prevent most from using them for longer gaming sessions or competitive play.
[Note: A GSP 370 review unit was provided by Sennheiser for the purpose of this review.]
6
Sennheiser GSP 370 Review: Tarnished By Undue Pressure
Sennheiser's GSP 370 headset provides a solid audio experience. Unfortunately, it doesn't offer a comfortable fit.
What Our Ratings Mean
About the author