Since debuting in 2014, Yacht Club games' Shovel Knight has become a global gaming icon. On top of five additional games to date — four platformers and a platform fighting game — Shovel Knight has made plenty of cameos ranging from indies like Blaster Master Zero to AAA releases like For Honor.
Now, Yacht Club games has teamed up with Vine to bring a puzzler into the family of Shovel Knight games in Shovel Knight Pocket Dungeon. With a fun gameplay loop and plenty of characters and callbacks to previous games, Pocket Dungeon is a fun time for newcomers or longtime fans that have been there since the beginning.
Shovel Knight Pocket Dungeon Review: Fast-Paced Puzzling at its Best
Unlike previous Shovel Knight games, Pocket Dungeon ditches platforming entirely to create a mashup of Tetris, Candy Crush, and Grindstone that is unique but familiar from the second that you sit down to play. The core gameplay mechanics are simple: bump into enemies, knock down their health, and find the door to the next screen. Bumping into enemies deals damage to them and to you, meaning that it's important to plan every move and make sure that your health can hold out through the fight.
In Pocket Dungeon, the bigger the mob of enemies is, the better off you'll be. Connected enemies of the same type share damage, meaning that targeting large groups is key as enemies drop down and stack up. Thankfully, there are plenty of tools along the way to help make your journey easier.
Enemies drop gems that can be used in the hub world's item shop to unlock weapons and perks that drop or can be bought from merchants scattered in levels randomly. While the item shop isn't overflowing with hundreds of items, there is a good enough variety to shake up gameplay and give you a proper bump without straying too far from the core gameplay elements.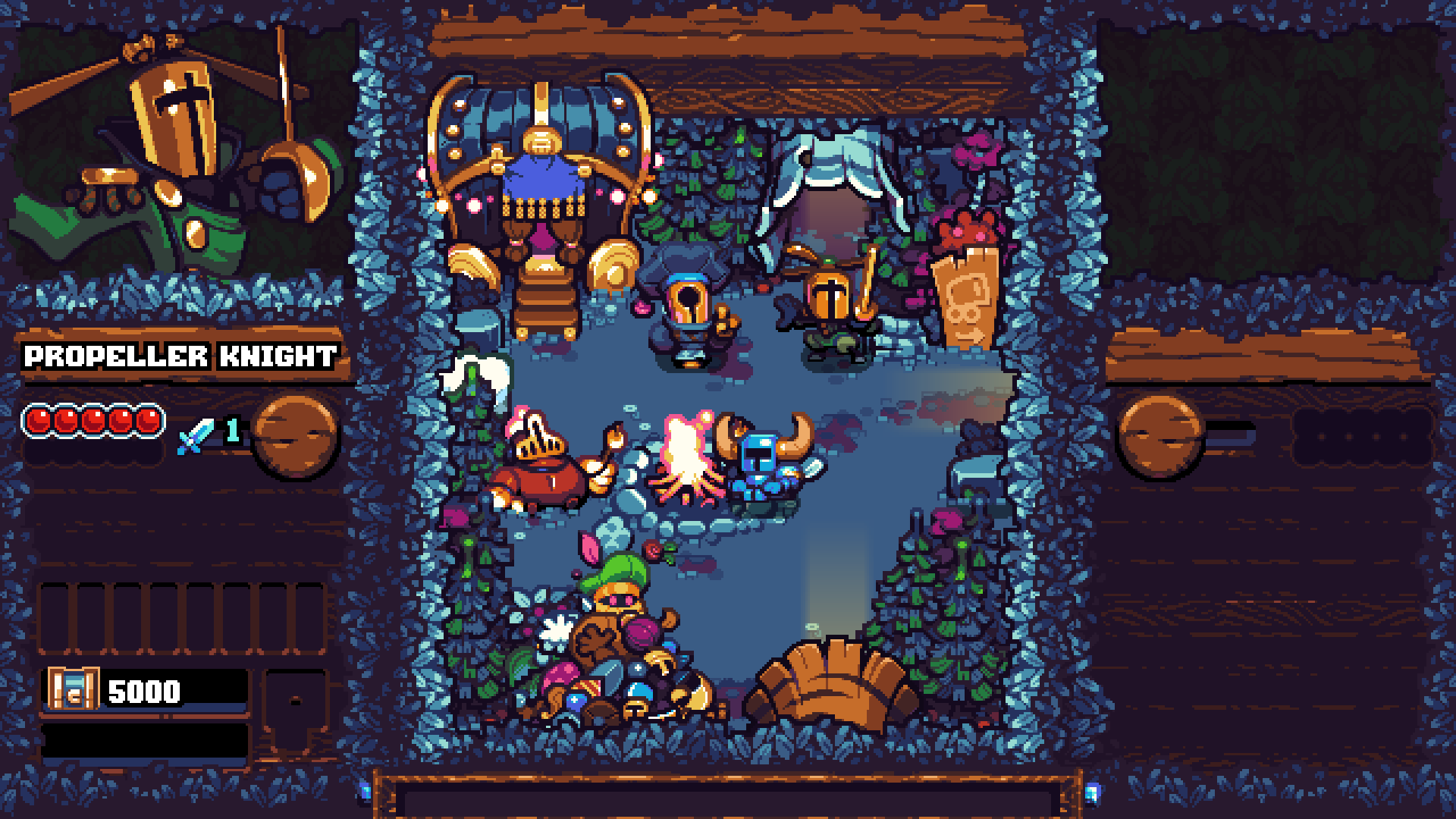 Items aren't the only elements shaking up Pocket Dungeon's gameplay loop. Boss fights throughout unlock 12 knights from past Shovel Knight games, each with their own unique perk that shifts the gameplay and reaps a different reward. While switching characters isn't a requirement (I found myself sticking with Shovel Knight most of the time), each character's perk changes the style of the game just enough to keep it feeling fresh when things start to get repetitive.
Shovel Knight Pocket Dungeon also caters to your liking with two different gameplay styles to choose from in Adventure mode. A roguelite mode raises the stakes and adds value to every death, meaning that each death puts you back at square one. A puzzle gameplay style makes deaths less punishing, dropping a bag of gems where you died and reviving you at the top of the screen where you'll have to make your way back down to your loot.
As someone who dies a lot in games, this option was a lifesaver that made the whole experience feel much more approachable. That's not to say that puzzle mode is the easy way out — each death leaves a few seconds for enemies to keep stacking up without any issue, meaning that an untimely death could leave you back in the hub world.
While deaths are punishing, it's easy to make up for lost progress — at a cost. A quick travel canon can launch you to different sections of the map for 500 gems per shot. Gems are easily earned, but at that price, fast travel isn't the go-to option for anyone wanting to unlock items in the gear shop or drop some gems on a new armor color.
It's inconvenient for those trying to save time by skipping those first few levels of a new run, but the reasonably high cost of fast travel encourages you to spend more time discovering new items, testing out different knights, and learning the best way to approach every enemy type.
Outside of the single-player Adventure mode, Pocket Dungeon keeps things fresh with daily challenge runs and a versus mode. While daily runs are a fundamental part of any good roguelite puzzle game, it's Pocket Dungeon's versus mode that truly shines. You have the option to go head-to-head with another player in couch co-op or face off against a CPU opponent in a Tetris-style competition to clear screens faster than the other player.
Unfortunately, the lack of online functionality means that those hoping to connect to their online friends or pick up matches a la Tetris Effect are going to be out of luck. Even without any online functionality, these bonus modes add some nice variety to the core Adventure mode that give you a reason to keep coming back.
Shovel Knight Pocket Dungeon Review — The Bottom Line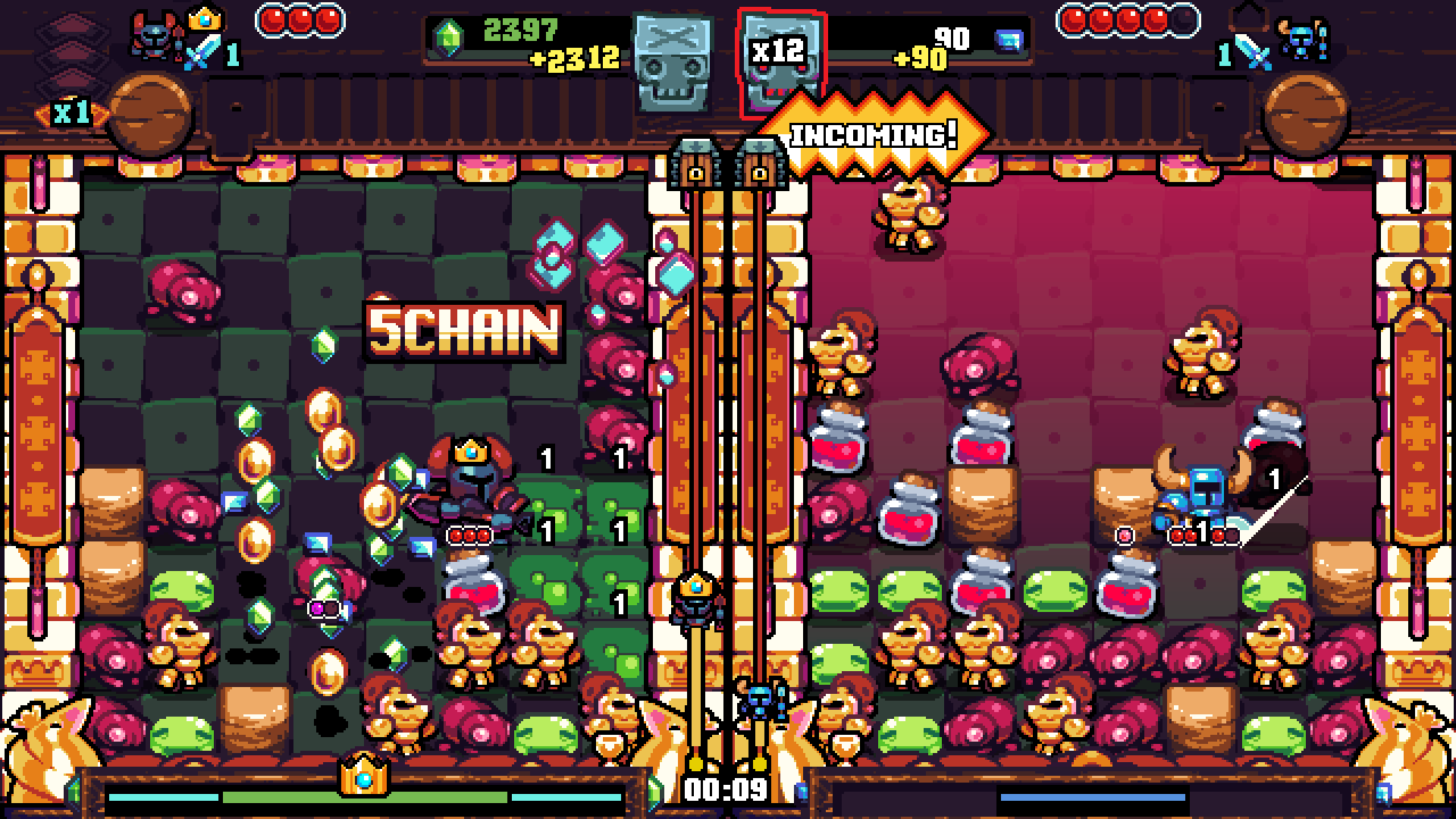 Pros
Engaging gameplay loop
Tons of replayability
Nice variety of enemies and characters
Cons
Underwhelming item shop variety
No online functionality
In the same way that Shovel Knight Showdown broke new ground for the franchise, Pocket Dungeon is the next step in pushing Shovel Knight beyond its old-school platformer roots. With a nice variety of gameplay mechanics and a comfortable amount of challenge, Shovel Knight Pocket Dungeon is another great addition to the Shovel Knight family.
While Vine went in an entirely new direction and introduced a new art style, Shovel Knight Pocket Dungeon brings one of the best puzzle games of the year while staying true to its roots and delivering the retro-style fun that is the mark of a true Shovel Knight game.
[Note: Yacht Club Games provided a copy of Shovel Knight Pocket Dungeon for review.]
8
Shovel Knight Pocket Dungeon Review: Fast-Paced Puzzling at Its Best
Shovel Knight Pocket Dungeon brings one of the best puzzle games of the year while staying true to its roots.
What Our Ratings Mean
About the author